Dave Matthews To Launch Wine Collection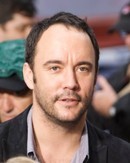 Musician Dave Matthews has teamed up with a California vineyard to release a collection of high-quality wine.

The Dave Matthews Band frontman has joined forces with winemaker Steve Reeder to produce The Dreaming Tree, a line named after the singer's 1998 tune.

Reeder explains, "Dave and I wanted to make wines that are complex yet approachable - fun wines that are food friendly and available for anyone to enjoy. With The Dreaming Tree wines, we've combined the worlds of wine and music and have created something that we personally enjoy, and enjoy sharing with friends."

The brand offers both red and white blends and can be purchased in the U.S. later this month.