Daughter Says Courtney Love 'Exists' On Xanax, Adderall, Sonata, Abilify, Sugar And Cigarettes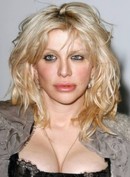 Kurt Cobain's daughter Frances Bean accused her mother Courtney Love of killing two of her childhood pets as part of a restraining order she sought against the Hole star in 2009.

The newly-published details from the then-17 year old's deposition allege a cat died after it became entangled in fabric and papers left lying around by Love. Frances Bean also claims a dog passed away after ingesting her mother's prescription medication.

The deposition has been made public in new book, Courtney Comes Clean.

Author Maer Roshan was given copies of the sealed deposition papers that were drafted when Cobain filed a restraining order against Love.

Frances Bean, who is now estranged from the rocker, also revealed her mother "exists" on drugs "Xanax, Adderall, Sonata and Abilify, sugar and cigarettes," adding, "She rarely eats."

The book also features Love talking about her past drug issues - she admits that doing crack has its benefits, stating, "I've never been good with numbers, but when I was on crack I could do math really, really well. I became a f**king wiz at calculus."

Love insists she's now sober, adding, "I have a few character defects, but I'm not dishonorable, and I'm not a liar. I have a good heart."