Daryl Hannah: 'Oil Pipeline Is Incredibly Bad News'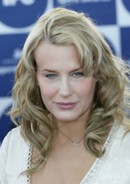 Actress and activist Daryl Hannah is calling on lawmakers to reconsider plans to construct a major new oil pipeline from Canada to the U.S., insisting the $13 billion project will make America a "slave to fossil fuels."

The Splash star has been campaigning against proposals to build the Keystone XL pipeline, which would stretch from Canada to America's Gulf Coast, and she was arrested last month as she joined a sit-in protest outside the White House in Washington, D.C.

Hannah stepped up her fight for the cause on Monday when she claimed the construction of the pipeline will be a disaster waiting to happen.

In an interview with CNN, she says, "It's not if it will have a spill, it's when it will have a spill..."

And the actress insists few people will actually benefit from the project.

She adds, "I highly doubt that it's actually gonna make oil prices cheaper and it will shackle us essentially to being a slave to fossil fuels for the next however long, I mean for very long because it's a $13 billion project. So it's incredibly bad news. We need to move towards clean, renewable, safe jobs and safe energy."