Darren Criss Pulled Offstage By Overzealous Fan At 'Glee' Show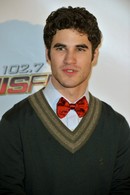 Actor Darren Criss narrowly escaped serious injury after he was pulled off the stage by an overeager fan during a Glee tour concert last week.

The cast of the hit show is currently performing at venues across the U.S., and the tour stopped in Washington, D.C. on Thursday.

During a group performance at the city's Verizon Center, Criss bent down to shake the hand of a female fan in the crowd - but he was pulled off the stage by the gig-goer.

The star was uninjured in the fall and remained a true professional by dusting himself off and returning to the stage.

In a series of posts on his Twitter.com page, he writes, "To the lady who pulled me off the stage and into the pit... if I ever see you on a stage... keep your wits about ya (sic). Btw (by the way) I'm lucky I didn't hit my head on the gate in front of this lady. Seriously close call... Like, please don't kill me. I'm nice."