Darien Brockington Preps Debut Release Somebody To Love

Darien Brockington
's name is an ancient Persian word meaning "He who upholds the good." Darien believes that his name is the embodiment of his purpose in life and is the essence of the music he creates.
As Darien puts it, "I'm trying to create music that can be played throughout the ages." Drawing from a wealth of musical influences, Darien's music fuses jazz, rock, R&B and soul. With his talent, this dynamic artist hopes to set the standard by re-introducing the world to true music.
After meeting in college, Darien linked back up with
Little Brother
around the time their debut,
The Listening
, was completed. Similar to the way Little Brother spread their initial buzz, Darien caught the ear of fans much like they did, via the internet with his nine-track EP, The Feeling, which soon transformed Darien from local artist, to global artist.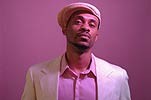 Before he even released his proper solo-debut, Darien has had the privilege of working with a host of talented artists, including gospel great William Becton, hip hop legend Pete Rock (Soul Survivor II),
Jaheim
,
Common
("Testify" remix) and of course his extensive work with Little Brother; as Darien appeared on three tracks on Little Brother's sophomore LP,
The Minstrel Show
, Phonte & Nicolay's
Foreign Exchange
and Darien also appeared on Big Pooh's solo-debut
Sleepers
.
Darien's sound is a reflection of both the past and present. His music speaks of life, love, faith and so much more. Drawing from a wealth of musical influences, Darien intends to take the R&B world by storm with his debut
Somebody To Love
(which will be released on 10-03-06). Executive produced by Little Brother's Phonte (who knows a little something about soul),
Somebody To Love
finds Darien ready to become the next Soul artist to leave a major and lasting mark on the music populous.
The future holds limitless possibilities' for Darien Brockington. As the world is introduced to his wonderful gift, Darien is proving that he is ready to reach new heights through his expression of true soul, true love, true life and true music with
Somebody To Love
.
Track Listing:
Somebody To Love Intro (Produced By E. Jones)
Think It Over (Produced By 9th Wonder)
More And More f/Chaundon (Produced By E. Jones)
Don't Say Goodbye (Produced by Khrysis, co-produced by Shelden "The Official" Williams)
I Got What You Want (Produced By E.Jones)
Lover And Friend Interlude (Produced By Shelden "The Official" Williams co-produced by Chaka Harley)
Come On Over (Produced by E. Jones)
I Miss You (Produced By E. Jones)
Crazy (Produced By E.Jones)
I Need You f/Little Brother (Produced By DR)
He Will Break Your Heart (Produced By S1)
Can We Fall In Love Again (Produced By Vitamin D)
Thank You (Produced By Khrysis co-produced by Shelden "The Official" Williams)
All We Ever Need (Produced By 9th Wonder)