'Daredevil' Courtney Stodden Shows Off New Hairdo In A Risque Cleavage-Bearing Mini-Dress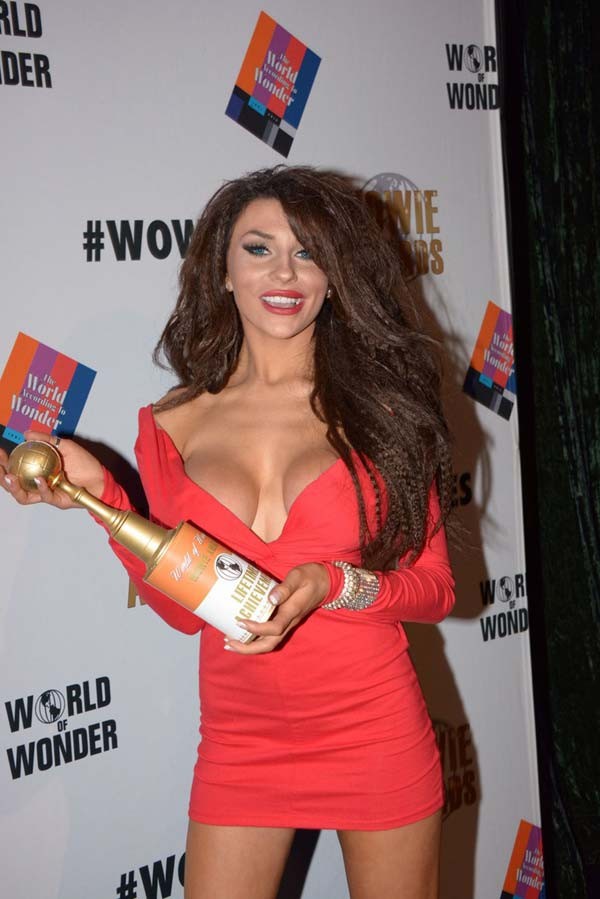 Courtney Stodden left very little to the imagination at World of Wonder's First Annual WOWie Awards, held at the Globe Theatre in Universal City, California, last Thursday night.

The newly single reality TV star, who became famous for marrying 54-year-old actor Doug Hutchison when she was just 16-years-old, showed off her new brown hairdo and her recently enhanced breasts in a very revealing red dress that she almost wore.

The aspiring actress/singer/whatever-she-has-to-do-to-stay-famous split from Hutchison last month, but she's still living with him -- and he's also her manager. But she's moving on.

"Lately I've been a little bit of a daredevil, and I'm trying to enter into the next chapter of my life," she told Us Weekly at the event. "I thought this was kind of a good example to prove to myself that I can do it. It was a huge risk, but I'm glad I did it."
Courtney was photographed holding the WOWie Lifetime Achievement Award.
We assume (and hope) that she was presenting the award and not receiving it.
Other celebs at the event included Adam Lambert and La Toya Jackson.
See more pics of Courtney's daring dress after the jump. And remember: her "eyes are up here."