Danzig Upsets Fun Fun Fun Festival Fans With Late Set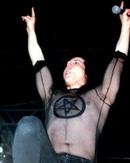 Rocker Glenn Danzig angered fans at a Texas music festival after he arrived late, ranted onstage and cut short his set.

The former Misfits frontman was due to headline Austin's Fun Fun Fun festival on Friday but upon arrival, he told promoters he was too unwell to play.

According to RollingStone.com, Danzig demanded French onion soup, a fast food chicken sandwich and onstage electrical heaters in order to perform. The star finally took the stage more than 45 minutes past his scheduled time and ranted at organizers after he was told to cut his set short due to a mandatory curfew.

He told the crowd, "We want to do a lot more songs for you but they're telling us that they're gonna shut our power off in five minutes. But don't blame me! We're here to play, motherf**ker. We came halfway across the country to play for you guys... Whoever's in charge, whoever the f**k you are, why don't you come out here and tell all these people that you want us off in five minutes?"

Fans grew angry over Danzig's behavior and threw beer bottles, while fellow rockers Slayer later poked fun at the temperamental star by posting a photo of French onion soup on their Facebook.com page with the caption, "Great show tonight at FunFunFunFest, got everything we needed."