Danzig Cancel Their South American Tour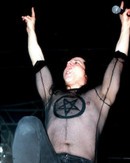 Heavy metal band Danzig have cancelled their entire South American tour due to travel complications.

The group, fronted by Glenn Danzig, is currently touring Europe and was scheduled to kick off its South American trek in Santiago, Chile on July 21st.

However, the band has now pulled the dates amid logistical issues hindering their trip to the continent.

A post on their website reads, "Due to complications with travel that were beyond anyone's control, Danzig regretfully has had to cancel their tour of South America until a later time."
 
"Danzig regret any inconvenience to their fans and promise to return as soon as possible."