Danny Trejo Turned His Life Around After Prison Chat With God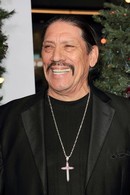 Machete star Danny Trejo dedicated his life to helping others after seeking guidance from God during a three-month solitary confinement spell in a Soledad, California prison.

The tough guy, who spent much of his youth behind bars for armed robbery offenses, turned his life around in 1968 after he was placed in "the hole" for his alleged part in a prison riot.

He tells Hustler magazine, "It was alleged that during the riot I hit a lieutenant in the head with a rock... They put me in solitary."

Trejo adds, "I walk into the cell, see that somebody had smeared 'GOD SUCKS' with human s**t on the wall, and I think, 'This is the culmination of my life.'"

But weeks of introspection and prayer turned Trejo into a man with a mission.

He adds, "I remember praying, 'God, if you're there, it's going to be OK. If you're not, I'm f**ked.' And then I said to God, 'Just get me through this. Let it be over, and I got your back. I'll do whatever you want me to.'

"I sat in the hole from Cinco de Mayo to August 23rd. The charges were thrown out of court, and when I got out of prison a year later, I dedicated my life to helping other people."