Danny Masterson Previews Season 2 of TBS's 'Men At Work'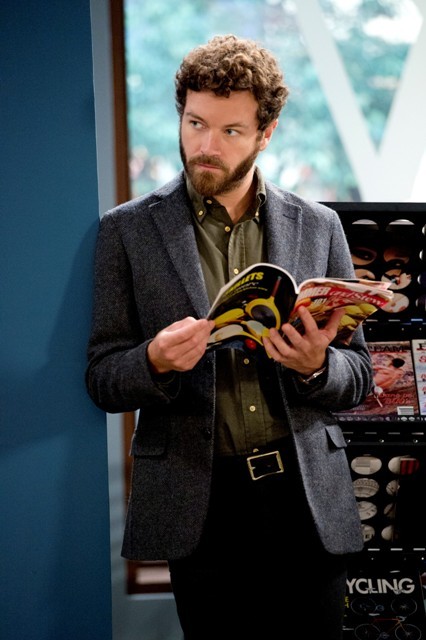 Danny Masterson has carved out a distinct niche in television comedy. While he's still best known as the hilarious rebel Steven Hyde from FOX's That 70's Show, he's since moved on to make us laugh in a whole different way as the star of TBS's sitcom Men at Work. Before tonight's second-season premiere, BFTV spoke with Danny to ask him what's ahead in the ten new episodes and find out if he considers himself a comedy guy.
"It's funnier than season one," he said of the second cycle. "You're going to sort of see characters evolve - and more of the same good things that we have. The four of us [messing with] each other, and watching each other trying things and failing miserably."
Men at Work has already attracted some interesting visitors, from Danny's brother Christopher Masterson to his 70's Show co-stars Wilmer Valderrama and Laura Prepon, and Danny added that will continue in season two. "We have so many awesome guest stars," he explained. "Having people I've worked with and known my whole life come and guest on my show has probably been the most fun.
"My friend Jason Lee, who I've known since I was fifteen, he'd never been on a sitcom before," he added. "Watching him figure out how to perform in front of a live audience was so weird to me, that this unbelievably famous actor had never performed in front of an audience before!"
"I really enjoy discussing the scenes, seeing the same crew, seeing the same actors," he continued. "I got to work with my director from That 70's Show, David Trainer. on a couple episodes. He's one of my favorite people."
On Men at Work, Danny plays the main character Milo, which has allowed him to continue to stretch his acting muscles. "I'm playing a version of [series creator] Breckin Meyer. so there's a lot of times where I'm like, 'I don't know if I would do that,' and Breckin's like, 'It's not you, it's me.' That's been fun," he said. "It's been fun playing a person who's kind of a polar opposite from who I am, and a total opposite in a different way from Steven Hyde."
Given that his biggest roles have been in comedies, does he consider himself primarily a comedy actor? While he enjoys the work, Danny said he's not intentionally choosing to stick with the genre. "It's my favorite thing to do, [but] I've done also a lot of drama, just nothing that's been as famous as the comedies that I've done," he explained. "I enjoy both. I like shooting an indie movie that's dead serious and then going back and playing summer camp on a sitcom. It's kind of the perfect life."
Men at Work's second season premieres tonight at 9 PM ET/PT on TBS. You can also keep up with Danny on Twitter (@dannymasterson).
(c)2013 Brittany Frederick. Appears at Starpulse with permission. All rights reserved. No reproduction permitted. Visit my official website and follow me on Twitter at @tvbrittanyf.