Danity Kane Fight Leads To Second Breakup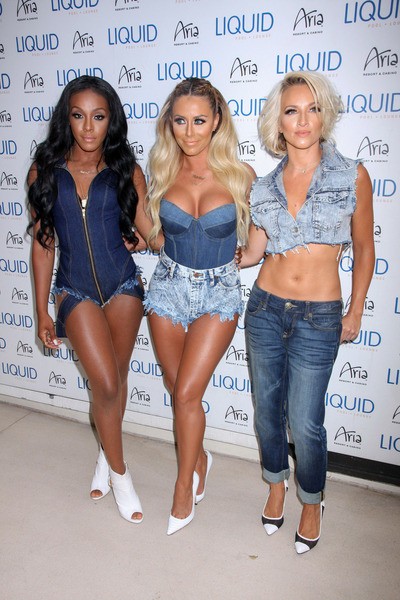 As the saying goes (or should go) divas will be divas.
Yes, it's over again for Danity Kane - the band has broken up for a second time after reforming in 2013 from their 2009 breakup.
For those that don't remember, the all girl group was formed way back in 2005 by P. Diddy in the MTV reality show "Making the Band." DK is most know for their two top 10 hits, "Show Stopper" in 2006 and "Damaged," 2008 (ironic isn't it).
Two of the three members, Shannon Bex and Aubrey O'Day, released extensive and lengthy statements on Danity Kane's website - here comes the drama.
"During a recent group meeting, a business conversation took a turn for the worst when my group member punched me in the back of my head while I was speaking to another associate.  To be clear, she was not physically engaged or threatened prior to her attack on me.  This is the same information I provided to the police, and witnesses also corroborated this account of the incident.  I cannot condone or excuse any form of physical violence, particularly at the hands of someone I considered family.  Disagreements happen.  But a war of words and ideas should never end in physical aggression.
It breaks my heart that this violence is followed by no sign of remorse.  For the past year, I watched small lies turn into bigger lies.  Those bigger lies turned into verbal abuse.  Now the verbal abuse has deteriorated into a physical assault.  I put what I knew was right second to what I knew I could handle for the sake of the big-picture success this incredibly talented group of women could have achieved together.  It was my goal to prove that with enough understanding the issues behind the scenes could be resolved, and we could continue to create content for one of the most inspiring fan bases I have ever witnessed.  I realize now that in order to achieve that reality all three girls would have to want that. And, unfortunately, only two of us put our solo ambitions and lives to a halt and consistently put the team first," said O'Day in just part of her statement.

And from Bex, "My heart is heavy. It is all I can do to pull myself out of bed to face this task. But, I know it must be done. There are many people besides myself that this impacts. Bottom line, it is not fair! I am not asking that you validate it being so. I am writing because you— the fans and our loved ones — deserve an honest and transparent explanation. My desire is to genuinely apologize to everyone who has poured their time, heart and energy into us.  So many lives have been affected by this chain of events.

In the first chapter of Danity Kane, I did my best to be the glue that held us together. Assuming the role of the "quiet one," I tried to keep my opinions to myself and worked behind the scenes to balance our strong personalities for the good of the Danity Kane name. Unquestionably, there were amazing times and truly genuine moments. Please do not believe anything different. Those honest moments kept me motivated through the battles. That being said, people eventually made choices I could not control."

The full and lengthy statements can be found on Danity Kane's website.
Dawn Richard did not release a statement but did send a tweet on the matter.


Extremely sorry to the fans. You don't deserve this. You're worth more.

— Dawn Richard / NEON (@DawnRichard) August 8, 2014