Daniel Radcliffe Warns Parents About Scary 'Woman In Black'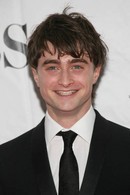 Daniel Radcliffe has warned parents his new movie The Woman In Black is "genuinely frightening," despite film bosses fighting for a lower age rating.

The Harry Potter actor stars in the creepy new movie, adapted from Susan Hill's book of the same name, which was given a 12A rating in Britain after producers agreed to cut out several minutes of spooky footage.

The age restriction means children under the age of 12 can see the film if accompanied by an adult, but despite the ruling, Radcliffe is adamant adults should think carefully before taking their kids to see it.

He tells Sky News, "It's pretty scary. I know it's got a 12A rating, but I would think long and hard if you are thinking about taking a kid under 12 because it's a very, very, genuinely frightening film. You will be scared."