Daniel Radcliffe Walks A Very Large Number Of Dogs On 'Trainwreck' Set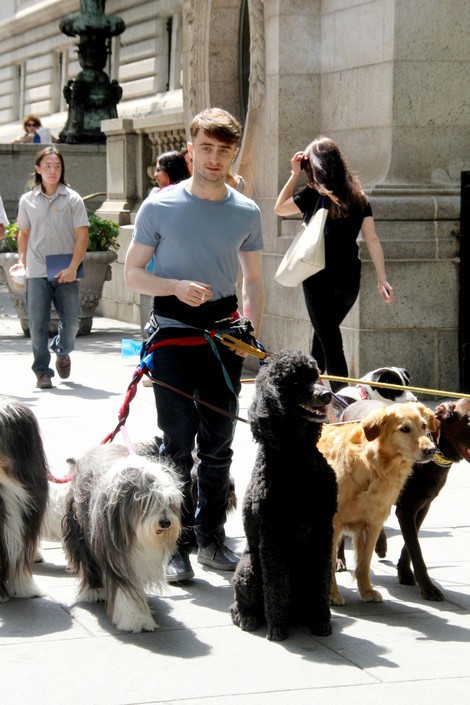 We spotted Daniel Radcliffe surrounded by a posse of dogs on the set of "Trainwreck" in New York City on Monday. The actor was literally strapped to a dozen of the furry friends while wandering through Bryant Park.
Although Radcliffe doesn't have a confirmed role in the upcoming Judd Apatow comedy, it appears at the very least he's making an interesting cameo.
In response to the rumors that the former "Harry Potter" star will be in the film, Apatow tweeted: @danradcliffecom:Dan to cameo in Trainwreck? READ: http://bit.ly/1jEaP2v  pic.twitter.com/D2XcNoHeEU" Not true! He was just walking his dogs."
Somehow we doubt that Radcliffe has that many pooches or needs a dog walking job to pay the bills. You're not fooling us, Apatow!
Few details have been released about the film, which stars Amy Schumer, Bill Hader, Colin Quinn, Brie Larson, and Marisa Tomei, who was spotted with Radcliffe on set.
The movie centers on a basket-case girl who tries to get her life together. It will hit theaters in July 2015.