Daniel Radcliffe To Bare All For Ginsberg Film 'Kill Your Darlings'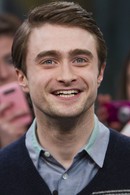 Harry Potter star Daniel Radcliffe is set to shock fans if plans for him to bare all in new movie Kill Your Darlings come to fruition.

The young Brit has already stripped off onstage in London and New York for his role in Equus and now he will disrobe onscreen to play poet Allen Ginsberg if director John Krokidas gets his way.

The moviemaker has already told Radcliffe of his plans and urged the star not to shave his public hair - just in case.

The actor tells Britain's The Sun, "I've just been having a discussion with the guy who's directing my new project. It might have a bit of nudity and he said, 'Just to let you know, if you're getting naked, no landscaping of any kind. This is the 1940s.'"

Radcliffe admits he does a little 'manscaping' around his genitals - so the warning from his director was necessary.