Daniel Radcliffe: 'I Was Allergic To The Harry Potter Glasses'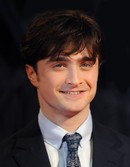 Daniel Radcliffe's stint as Harry Potter almost ended before it even began after he realized he was allergic to the boy wizard's iconic spectacles just days into filming the first movie.

The British actor landed the lead role in the franchise as an 11 year old and after his first week on the set of the 2001 film, Radcliffe realized he was suffering a nasty skin problem.

He tells Digital Spy, "We put the glasses on and eventually we realized I was allergic to them. I was allergic to the Harry Potter glasses because these two rings of whiteheads and spots had come up around my eyes. It took us about a week to realize that it was actually the glasses."

The author of the Potter books, J.K. Rowling, is pleased the allergy didn't put her off casting Radcliffe.

She jokes, "It's lucky neither of us believe in signs, isn't it?"