Daniel Radcliffe Cuts A Stranger's Hair, Clayton Kershaw Throws At Jimmy Kimmel's Head On 'Jimmy Kimmel Live'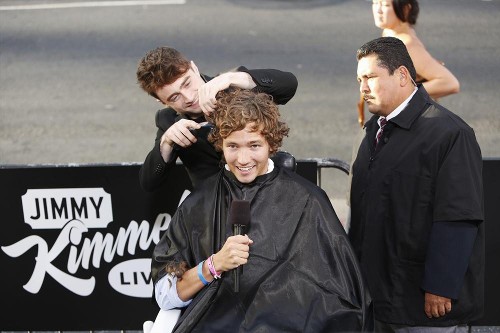 Would you let Harry Potter star Daniel Radcliffe cut your hair? This random guy off the street did on Jimmy Kimmel Live, and the results aren't pretty.
The young fellow, ironically named Dan, is studying Event Planning in Florida with the hopes of being able to one day plan a musical festival. Being the good sport he is, he allowed Radcliffe to try cutting someone's hair for the first time - with his hair.
Jimmy's pal Guillermo helped out a little bit too and offered Dan a look in the mirror to see how the actor did, and it seems like he knew what he was getting himself into!
Earlier this week, in case you missed it, Jimmy decided to get all William Tell with Los Angeles Dodgers pitcher Clayton Kershaw and ask him to hit an apple off his head with a baseball. Check it out below, because he definitely doesn't hit thee apple with his first toss!