Daniel Radcliffe Bets $5,000 On The Giants To Win Super Bowl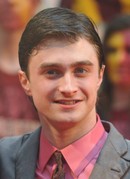 Daniel Radcliffe has made a $5,000 charity bet on the outcome of Sunday's Super Bowl.

The Harry Potter star is a huge New York Giants fan and he's so convinced his team will beat the New England Patriots he has challenged TV host Ellen DeGeneres to a wager.

Taping a pre-Super Bowl chat on her show on Thursday, the young Brit challenges the host to the big bet, suggesting the loser should hand over the cash to the Trevor Project - a gay rights charity they both support.

He said, "I have a proposition for you... We obviously both support the Trevor project. I was wondering if you would like to place a bet on behalf of the Trevor Project. You can name the sum. I'm obviously backing the Giants... The Giants are going to win."

When DeGeneres suggested the bet should be $5,000, game Radcliffe added, "If the Patriots win I give the money. If the Giants win you give the money."