Daniel Craig Shocked By 'Dragon Tattoo' Violence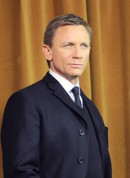 Daniel Craig was horrified when he was shown clips from his new movie The Girl With The Dragon Tattoo because of the "graphic" and "powerful" violence in the film.
 
The actor stars in the Hollywood adaptation of the first of Stieg Larsson's popular Millennium Trilogy books, which feature controversial scenes of rape, torture and murder.
 
Craig was recently shown footage from the film shoot by director David Fincher, and admits he was shocked by what he saw.

He tells Esquire magazine, "It's as adult as you can possibly make it. This is adult drama... He (Fincher) showed me some scenes recently and my hand was over my mouth, going, 'Are you f**king serious?' It's not simply that he showed me footage that was horribly graphic. It was stuff that was happening, or had happened. And somehow you don't see it."

"There's more than one way to sense violence - much more powerful ways than seeing it step-by-step."