Daniel Baldwin's Kids Taken From Estranged Wife's Care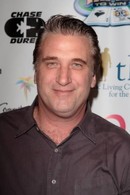 Actor Daniel Baldwin's daughters have been removed from their mother's care by child welfare officials amid fears for their safety.

The Mulholland Falls star's estranged wife Joanne received a visit from Department of Human Services representatives in Oregon on Wednesday night, after officials decided to take the couple's two young daughters away.

They were placed under the care of a family friend until Thursday night when Baldwin will return home from shooting a movie.

In a statement issued to Eonline.com, Baldwin says, "Sadly I must report that my daughters, Avis and Finley, have been removed from their mother's home by the Department of Human Services in Oregon last night.

"DHS is sighting multiple potential improprieties and the children's welfare as reasons for this action. The children were removed from Joanne's home and given to a family friend and are in this friend's custody until I return from filming in Texas (on) Thursday night.

"At this time, in accordance with DHS's directive, the children will return to my care. I am sad for all involved but feel that this measure was in the girls' best interest. I love my beautiful babies and will continue to be the caring protective parent I have always been."

The incident took place on the same day it emerged the Baldwins' divorce is back on. Joanne filed papers earlier this month, weeks after the actor agreed to dismiss his initial petition in August.

In the divorce papers, Joanne requested sole custody of their two girls and demanded $4,000-per-month in child support.

The couple wed in 2007.