Danica Patrick Makes History By Winning The Daytona 500 Pole Award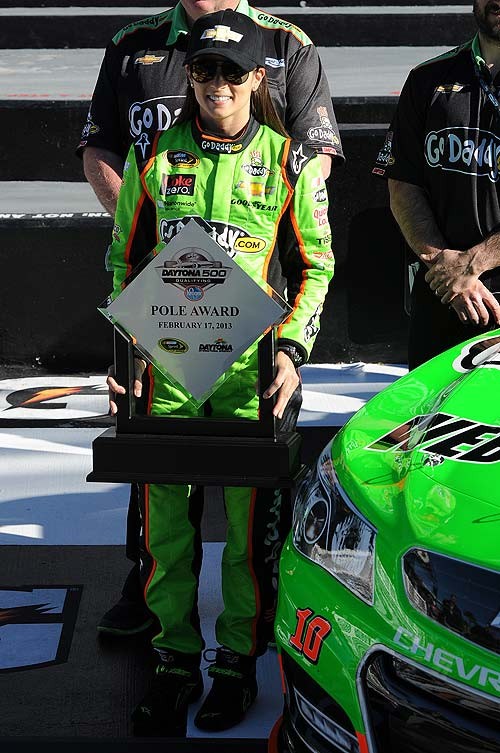 Danica Patrick made history on Sunday by becoming the first woman driver in the sport's history to land the pole position for a NASCAR Sprint Cup race; and she did it for the sport's biggest event -- the Daytona 500.

Patrick drove her Chevrolet SS 196.434 miles per hour to land the lead starting position at this year's race, which begins Sunday at 1pm. She'll be joined by Jeff Gordon, who came in second at the qualifying time trials, held this past Sunday.

"I was brought up to be the fastest driver, not the fastest girl," Patrick told the Associated Press. "That was instilled in me from very young, from the beginning. Then I feel like thriving in those moments, where the pressure's on, has also been a help for me. I also feel like I've been lucky in my career to be with good teams and have good people around me. I don't think any of it would have been possible without that.

"For those reasons, I've been lucky enough to make history, be the first woman to do many things. I really just hope that I don't stop doing that. We have a lot more history to make."

Patrick bested the previous mark of the ninth place starting position, held by Janet Guthrie when she qualified for the spot twice in 1977.

But being the polesitter at the Daytona 500 isn't the first major racing accomplishment for Patrick, who began racing in the IndyCar series in 2005. She became the first woman ever to lead a lap of that same year's Indianapolis 500 (ultimately finishing in fourth place); and she was the first woman to win an IndyCar race in 2008, at the Japan 300 in Motegi, Japan. She beat Brazilian driver and Dancing With The Stars contestant Helio Castroneves by five seconds.

"It's great to be a part of history with Danica being on the pole," Gordon said. "I think we all know how popular she is, what this will do for our sport. Congratulations to her. Proud to be on there with her."

The rest of the race's starting field will be determined Thursday night in qualifying races.