'Dancing With The Stars': William Levy Sets The Ballroom On Fire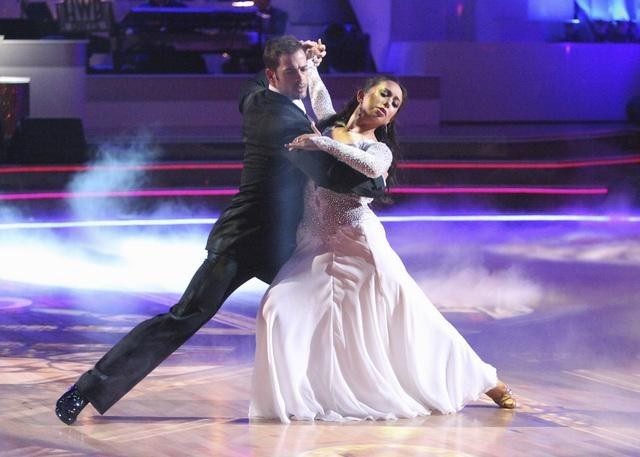 The heat was on as the stars battled it out for Trio Week. For week eight contestants had to learn and perform two routines, which would end in double eliminations. And with the pressures some of the contestants came out giving their all, and some seem to let their nerves get the best of them.

William Levy set the ballroom on fire, landing the second perfect score of the season. Roshon and Donald also ruled the night with two dances that were nearly perfect. And Melissa stunned with her sexy threesome.
The top two ladies seem to let their nerves get the best of them. Katherine's trio performance was amazing, but at one point her nerves seem to takeover. As for Maria, her first performance was breathtaking, but in my opinion the trio dance was a bit cheesy.

Overall the evening was another perfect one, and the trio challenge and bickering from the judges made it even more exciting. If I had to pick a favorite, I would say William. As for eliminations, I think that Melissa and Roshon will be sent home.
What about you? Here is the full recap from last night's show.
1. Donald Driver (NFL Football Star) & Peta Murgatroyd
Dance: Tango
Song: Stevie Wonder- "Higher Ground"
Scores: 9, 9, 9
Judges: Carrie Ann said you were in a zone and the shapes were dynamic. Just a little more drama. Bruno said when fatal attraction turns into blood. You were going for it like there was no tomorrow. Len said didn't he deliver a first round knockout. Lovely. Great way to start off the night.

My Opinion: Donald and Peta started off the night with a big bang. The connection between these two keeps getting stronger and stronger, and I'm pretty sure that they will be in the semi-finals.

Dance 2: Jive
Trio Dancer: Karina Smirnoff
Song: Little Richard- "Rip It Up"
Scores: 10, 9, 9
Judges: Carrie Ann said I loved your threeway it was great. Bruno said it's hard to be in a threesome, but you handled it well. Len said fun, fun, fun. I liked it.

My Opinion: The trio worked well together, and Donald was in full control. Definitely one of my favorites in the competition.


2. Maria Menounos (Actress, Author and TV Host) & Derek Hough
Dance 1: Viennese Waltz
Song: Christina Perri- "A Thousand Years"
Scores: 10, 8, 10
Judges: Carrie Ann said sometimes dancing speaks to you and sometimes it sings to you. There is a connection between you two that makes it special. Bruno said Maria heavenly fluidity and seamless transitions. If you combine that with emotional involvement this is amazing. Len said Derek this girl in hold is the best and I think you missed a great opportunity here. I would have liked a little more dancing in hold.

My Opinion: I'm going with Carrie Ann and Bruno on this one. The dance was perfect and the connection between these two was very powerful. Beautiful dancing.

Dance 2: Samba
Trio Dancer: Henry Byalikov
Song: Rizzle Kicks- "Mama Do the Hump"
Scores: 9, 7, 9
Judges: Carrie Ann said I agree with Bruno. There were a few slip ups, but this was good for my Asian senses. Bruno said Maria goes to Bollywood. You lost timing a couple of times, but the choreography was fabulous. Len said there were no connections for me with a samba.

My Opinion: Not my favorite from Maria. I felt like it was a little cheesy, but despite the slight disaster I think that she will be back next week.


3. Melissa Gilbert (Actress, Writer and Producer) & Maksim Chmerkovski
Dance: Foxtrot
Song: Rod Stewart-"Maggie May"
Scores: 8, 8, 8
Judges: Carrie Ann said your shoulders were down. That was your best dance ever. Unfortunately there were a few mistakes in the beginning that will take away from your score. Bruno said the presentation was the best you've done. Len said this was your best dance so far. There were one or two incidents that messed it up, but good dancing.

My Opinion: Melissa continues to improve week after week, but with the two eliminations this week, I think that she will be sent home.

Dance 2: Samba
Trio Dancer: Val Chmerkovskiy
Song: Otis Redding-"Hard to Handle"
Scores: 9, 9, 9
Judges: Carrie Ann said you are a very good creme filling in the middle missy. Bruno said is that Melissa or Ms. Rita Hayworth? It takes two to get the best out of you. Len said three usually makes a crowd, but that was your best dance.

My Opinion: I have to agree with Bruno, it took two dancers to bring out the best in Melissa. This performance was by far her best.

4. Katherine Jenkins (Singer) & Mark Ballas
Dance: Viennese Waltz
Song: David Gray- "Kathleen"
Scores: 8, 9, 9
Judges: Carrie Ann said your technique was outstanding, but you have to be careful. You lost your balance. Bruno said your technique is superb. Coming up you had a single moment when you lost it, though. Len said this had plenty of content and lots in hold. I didn't think the spinny thing was in character, but terrific.

My Opinion: I thought the dancing was wonderful for Katherine's first dance, but her nerves seem to show a little.

Dance 2: Cha-Cha-Cha
Trio Dancer: Tristan MacManus
Song: Tom Jones-"She's a Lady"
Scores: 10, 9, 10
Judges: Carrie Ann said last time I thought you were lacking a little fire, but this time you owned the dance. Bruno said to catch a thief. Sexy and cool, like watching Charlize Theron out there. Len said clean and clear.

My Opinion: I loved this trio. The dancing was very exciting and despite Katherine's wardrobe malfunction, I thought it was perfect.

5. Roshon Fegan (Disney Star) & Chelsie Hightower
Dance: Foxtrot
Song: Amos Lee- "Sweet Pea"
Scores: 10, 9, 10
Judges: Carrie Ann said grandmas did he make you proud? You made your grannys proud and us proud. Bruno said the sweetest of sweetest. What you've done in a week was fantastic. It was like watching a young Mickey Rooney. Len said it was wonderful.

My Opinion: Roshon performed wonderfully, but based on his popularity I think that he may also be eliminated.

Dance 2: Paso Doble
Trio Dancer: Sasha Farber
Song: David Guetta feat. Nicki Minaj- "Turn Me On"
Scores: 9, 9, 9
Judges: Carrie Ann said I loved the routine, but you went off a few times. Bruno said your strength power and artistry. There were moments when I couldn't distinguish between you and Sasha. Len said you were like two skinny fries chasing the ketchup. I loved it.


My Opinion: The dance trio showed just how talented Roshon is. Great and fun dancing.


6. William Levy (actor) & Cheryl Burke
Dance: Foxtrot
Song: Stray Cats-"Stray Cat Strut"
Scores: 10, 10, 10
Judges: Carrie Ann said meow, meow, meow. Sexy hot, pink panther. The movement was exquisite. Bruno said you heartbreaker. I hate you even more. Len said there was a mix of care and flare.

My Opinion: Amazing way to end the round. Very very hot, and the perfect score was well deserved.

Dance 2: Paso Doble
Trio Dancer: Tony Dovolani
Song: Rodrigo y Gabriela- "Diablo Rojo"
Scores: 9, 9, 9
Judges: Carrie Ann said the lines were incredible. You matched perfectly, except for once. Pretty insane to watch. Bruno said there couldn't have been more. You used Cheryl like a cape. Len said you did it. Wonderful.

My Opinion: William has to be the hottest man on Earth. Lol. Amazing!