'Dancing With The Stars' Wicked Harsh Week Five Elimination: Carson Kressley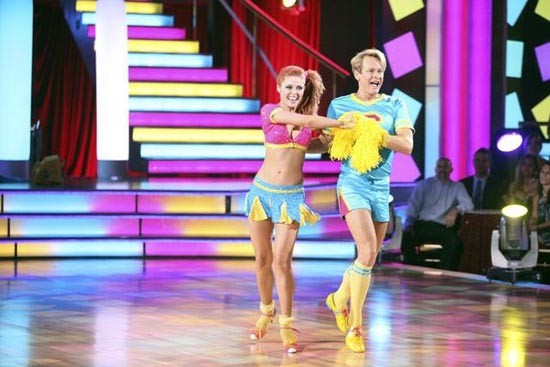 80s week came to an end last night, and fortunately for you dudes and dudettes, that means I'm going to have to stop with the 80s slang.  Well, I don't have to, but you'd all probably quit reading my totally tubular reviews.

Okay, I'm done.  Here's how the stars stood on the leader board after Monday night:

1. J.R. and Karina - 28
2. Rob and Cheryl - 25
2. David and Kym - 25
3. Hope and Maks - 24
3. Ricki and Derek - 24
4. Nancy and Tristan - 22
5. Chaz and Lacey - 21
6. Carson and Anna - 19

We jumped right in with our 3rd place finishers, Ricki moving on to next week while Hope was in jeopardy.  Ricki pulled the "I want to quit" card first, but now it seems like Hope is, based on the backstage clips they showed before the results.  Seriously, if you agree to do this show, come with your big girl (or boy) pants on!

After David sweetly said he voted for J.R. (I kind of adore his silly sense of humor), the next package was interesting, with the stars talking about their partnerships with the professionals.  The kicker was Rob saying his relationship with Cheryl was just a working relationship and nothing more, considering most teams go on and on about how they love each other.  Nancy calling Tristan a dictator was a little ridiculous, too.  I'm pretty sure the issue is on your end, Ms. Grace.

Kelly Clarkson performed a song, then gushed about how sexy the dancers were, and maybe got herself on the list of stars to ask to dance next season.  Inspirational stories came back this results episode, and they started off on a great note with a dancer named Charm.  He story was inspiring, and best of all, she had Derek and Mark for back up dancers.  And she held strong with them every step.  That's a tall order, and she killed it.

Annnnd now that we're getting to the half-way point in the season, we're getting more filler during the results shows.  The Band Perry played next, and then we were finally back to results.  J.R. and Rob were safe, but David was in danger.

More filler. More Kelly Clarkson.  More blah blah blah.  I lost interest for a couple minutes around this time, but I'm pretty sure I didn't miss anything important.  Then Chaz and Nancy passed through to next week, but Carson's future was uncertain, which was not unexpected.  This put him in the bottom three with David and Hope. Pretty sure where this is going...

Who went home?  Carson.

It was time.  I enjoyed every minute of Carson, even the ones that were a little cringe-worthy.  He was a fantastic sport, and always gave us some levity.  I'll miss him.  But it was time.

Next week the stars are going to Broadway!  Well, not literally, but they're going to pretend.