'Dancing With The Stars' Week Two Performances Review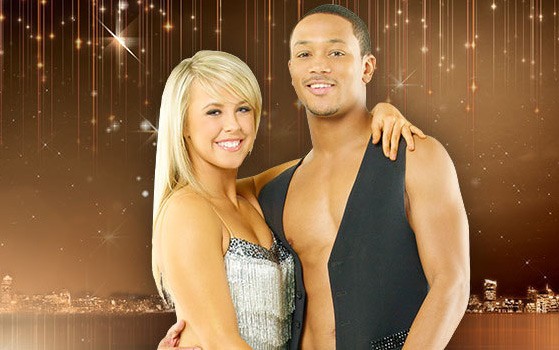 It's week two of 'Dancing With The Stars', and expectations are high.  For some.  Ralph Macchio and Kirstie Alley came out on fire last week, and we wanted to see if they can keep up the high standard. Was it luck? A product of the opening night high?  I was especially interested in seeing Kirstie, considering I expected utter clumsiness last week.  She shocked a lot of people.  Can she do it again?

The rest of our stars are... not so heavily anticipated.  In fact, Mike Catherwood couldn't get worse.  Well, I shouldn't say that.  He could fall down this week, or have a nervous breakdown on stage under the stress.  How great would that be?

Okay, not great, but the moment would go down in 'Dancing' history.  My own fantasies aside, however, here's what really did go down:

Sugar Ray Leonard (Retired Boxer) and Anna Trebunskaya
Dance: Jive
Scores: 6, 5, 6
Len said Sugar Ray was in jeopardy of going home after that dance, and that it lacked refinement.  Bruno said it was sweet and pleasant to watch, but it was too loose.  Carrie Ann said if she was just watching Sugar Ray's face, it was a 10, but when she widened out the picture, it was spastic.

Okay, first off, Anna looked completely adorable.  And Sugar Ray is just fun to watch.  That said, it was awkward. His kicks were really weak, knees bent, and often off at weird angles.  Jive needs to be sharp and clean, and this wasn't.  I had a big smile on my face watching it, though!

Kendra Wilkinson (Reality Star) and Louis van Amstel
Dance: Quickstep
Scores: 7, 6, 6
Bruno said she was very tight and messed up her footwork.  Carrie Ann said she saw more to the dance than just the choreography this week, and it was a step forward.  Len said her posture was hit and miss, and her "chesticles" were pressing into Louis, but he saw improvement.

Kendra was a lot nicer to watch this week.  I didn't really see anything to love or hate in her last dance, but this kept me watching.  Louis created some choreography that was elegant, but fun, and I think it suited her--not too elegant, yet not as boyish as she thinks she is.

Chelsea Kane (Disney Star) and Mark Ballas
Dance: Jive
Scores: 6, 5, 7
Carrie Ann said she likes this sort of choreography, but this was the wrong time for it.  She didn't see enough of the jive in the dance.  Len said he would have enjoyed it if he was a fan sitting at home, but didn't like it as a judge; it was too much messing around.  Bruno said he couldn't disagree with Len and Carrie Ann, but he really liked it.  

Mark went way out with choreography this week, and it ended up a little odd.  And they played it cute again.  I know she's a Disney star, but I would really like to see Mark push her out of that mold.  That said, it wasn't as sickly sweet as last week, and it was impossible to take my eyes off.  It was a weird jive, but I liked it!  I liked it a lot, actually, and I think it showed Chelsea is a real contender.  Carrie Ann and Len were too hard on them with their scores.

Chris Jerico (WWE Wrestler) and Cheryl Burke
Dance: Quickstep
Scores: 8, 7, 8
Len said it was bright and breezy with good frame.  Bruno couldn't believe it, and said Cheryl turned the beast into a gazelle.  Carrie Ann said she loved it, and it was light and compact.

That was impressive after last week!  He looked like he was leading her, and there was a nice combination of strength and lightness.  Of course, the fact that they were sans last week's weird black leathery costumes with chains really helped.

Petra Nemcova (Supermodel) and Dmitry Chaplin
Dance: Jive
Scores: 6, 6, 6
Bruno said she needed to work on her core strength, but her performance was great.  Carrie Ann agreed with Bruno because Petra gets "a little funky in the shapes".  Len called it a fatal combination: short skirt, long legs, and bad technique... but she did it beautifully.  I have no idea how that even works.

I thought Petra looked awkward, like she was unsure where her feet were supposed to go, and we saw her in the package struggling with taking small steps.  It was a nice effort, but she looked like a dancing scarecrow.  A pretty dancing scarecrow, but a scarecrow none the less.  Am I being too harsh?

Kirstie Alley (Actor) and Maksim Chmerkovskiy
Dance: Quickstep
Scores: 7, 6, 7
Carrie Ann said she was totally in her element, and the connection between her and Maks was going to be unstoppable.  Len said she lost energy near the end, and that it was good, but not great.  Bruno said she started beautifully, but wilted throughout the performance.

The kiss!  I cannot believe they kissed at the end!  I think I may have actually squealed.  It was great, and while I still think they look weird as a couple, their chemistry is getting stronger.  I can't explain it.  The dance itself wasn't quite as clean as last week's and she got a little unsteady in a spin at the end, but it was good.
Mike Catherwood (Radio Personality) and Lacey Schwimmer
Dance: Jive
Scores: 6, 5, 6
Len said it was better than last week, but it wasn't good.  It was like he was "flying around like a wasp at a picnic".  Bruno said some of his kicks were good, but he sometimes "looked like a fly stuck on fly paper".  What's up with the insect analogies, guys?  Carrie Ann said he needed to work on looking at the routine as a whole instead of in chunks.

This week was definitely an improvement over last week.  He actually had a couple moments where he was doing well, and had some good sharp kicks.  He seemed stiff as a board most of the time, though, which made it very jerky.  He didn't look like he was having fun to me, and that's what the jive should feel like.

Romeo Miller (Rapper and Actor) and Chelsie Hightower
Dance: Quickstep
Scores: 7, 8, 8
Bruno said Romeo was the one to watch, and he had great musicallity.  Carrie Ann wants Romeo to work on his posture.  Len said it was the best dance of the night.

I don't have a whole lot to say about this one.  It certainly didn't impress me as much as the judges, or leave me with a very strong impression in either direction.  There were times that it felt like he was pulling Chelsie off center, but overall it was a good.

Wendy Williams (Talk Show Host) and Tony Dovolani
Dance: Quickstep
Scores: 6, 5, 6
Carrie Ann said Wendy gave them what they asked for the week before, but she lost her steam in the middle.  Len said it was economical with the movement.  Bruno said it was a step in the right direction.

Like Mike Catherwood, Wendy was way better this week.  Of course, last week she didn't really move at all, so it would have been hard not to improve.  I agree that the movement was "economical" here, though, and I wonder if Tony is toning down his choreography for her.  He can do so much more.

Ralph Macchio (Actor) and Karina Smirnoff
Dance: Jive
Scores: 7, 7, 7
Len said it was overdone and got a bit frenzied.  Bruno said Ralph was hugely likeable, but he agreed that his jive wasn't very precise.  Carrie Ann said he dances very well, but if he wants to go further, he needs to sharper.

From the package before the dance, we can see Ralph was overanalyzing again, and this week he had the extra pressure of having to live up to last week.  I don't think he did.  He seemed to lose timing a few times, and I'm not sure if it was pressure or the speed of the dance.  In spite of that, I loved it.  His performance level was through the roof!

Hines Ward (Football Player) and Kym Johnson
Dance: Quickstep
Scores: 8, 7, 8
Bruno said he had ease and confidence.  Carrie Ann liked his posture, technique, hold, ease, grace, control... basically she loved it.  Len said his frame was terrific, and he was very impressed.

Oh, Hines made me feel warm and fuzzy again this week.  He and Kym make a great couple, both on the dance floor, and in their rehearsal footage.  I think this was one of the better dances of the night.

So the rankings changed dramatically at the top of the leader board for this week.  Ralph and Kirstie got knocked out of the top spots, and were replaced by a three-way tie at 23 points between Hines, Romeo, and Chris. Seeing Chris and Romeo at the top was a shock to me!  At the bottom with 17 points, we have Wendy, Mike and Sugar Ray.  

In spite of the leader board shake up, though, it's the combined total of this Monday and last Monday that give us the final scores, and on that there wasn't a shift.  Ralph is still top dog, while Mike is dragging along behind the rest.

I was really pretty impressed this week!  I was sort of expecting a little bit of a let down from the top performers under the pressure of doing so well last week, but I didn't see some of the others coming.  Even the worst of them wasn't too bad.  Mike and Wendy were at least watchable this week.

The big question is who is going home tomorrow?  Mike has the lowest scores, and probably doesn't have a huge fan base.  On the other hand, models have a habit of getting booted fast, and it's not like Petra blew anyone out of the water.  If I were to bet, I would pick one of them.  But you never know.  Us fans like to throw a curveball once in a while.