Dancing With The Stars Week Two: Best Season Ever?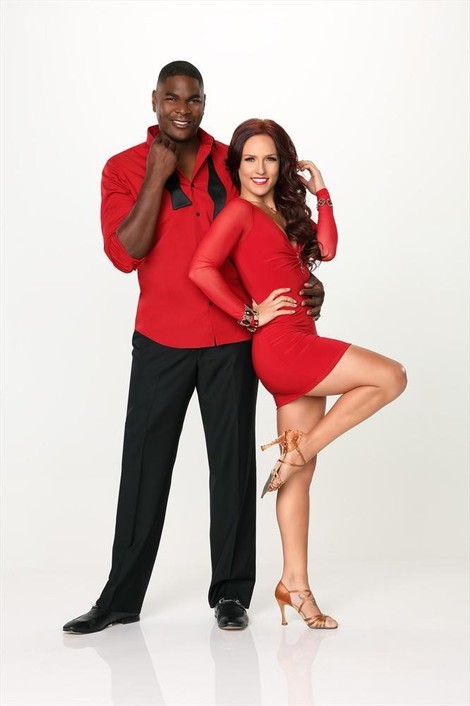 This is the best season ever for 'Dancing with the Stars' ('DWTS').
I love the new format. Love, love, love it. I hated watching 'DWTS' in the past because of the overblown talk sequences. But, this season I love every single second because the formatting's tighter and cleaner. There's no filler talk and if the celebs/judges wax poetic too long, the hosts cut them off. I no longer define Brooke Burke as useless wasted space. Previously, I found watching her ask obvious, paint-drying questions hideously painful. But, this year, she's an actual host who asks relevant questions without irritating the crap out of me.
What else do I love about this year? I love the opening dance sequences that show more pro focus and have great bits of celeb dance interaction (while reminding us who they are and who their celebs are). Maybe they did it in the past, but it really stands out. Staging-wise, I love placing the stars in the audience with each other, keeping them more engaged. Whether it's real or not, it's nice watching the stars/pros cheer each other on.
I also love this season's cast. My biggest complaint in the early 'DWTS' seasons surrounded casting models who could only pose or athletes who only cared about sports. However, as seasons progressed, the producers realized they should cast female stars with brains and the pros started challenging their celeb partners.
I enjoy this season's casting because they chose people who either accomplished something we previously respected or had a nostalgic link to our childhood/contemporary pop culture. In recent seasons, 'DWTS' resorted to stunt casting to pull in viewers; but, this year, even Snooki relates to our contemporary MTV culture and Bill Engvall's a comedian. Plus, both can SHAKE it!
Finally, I love this season because EVERYONE has natural ability and puts 157% into their routines! This is the first time I don't want ANYONE to go. I just want to watch them week after week. 'DWTS' claimed their returning star season didn't work because no one wanted to see a talented cast. That isn't true. They just brought back stars I didn't care about. However, this year, from start to finish almost everyone's amazing and I related to almost everyone save Keyshawn. OK, sure, Bill Nye had missteps but he, like Valerie Harper, is a national treasure.

Last week featured more contemporary performances where the stars with natural dance backgrounds and dance capabilities shone. This week shunted them back to traditional ballroom where they didn't shine as well. On Monday, the female pros provided great challenging choreography for their stars, while the male pros ... didn't. Oddly, the more outrageous reality stars freaked out when they pulled the more sensual dances. While week one was way too good a premiere, this week we see the actual weaknesses of the stars.
Elizabeth B ('Saved by the Bell,' 'Showgirls') and Val
Last week, Liz's contemporary piece incorporated perfect choreography which she performed beautifully. While I felt she deserved a 27, I can see why the judges gave her 8s. Technically, she rocked, but she lacked fire. This week, I was even more disappointed. Val gave her incredibly simple choreography and didn't correct her weak knees or overtly stiff arms. While the dance featured a couple nice moments including an under arm turn. Although Carrie Ann loved the choreography, I don't believe it took advantage of Elizabeth's strengths.
Score: 25 (9 from Len)
Christina Milian (Singer) and Mark B, Pasa Doble
Out of all the stars, Christina has the biggest dance/performance background. Unfortunately, she doesn't know how to push herself outside her early 2000s pretty girl performer personae. Last season, Mark seemed perfectly matched with Aly Raisman. Despite her lack of dance background, she shared his enthusiasm for experimentation. This season, he has an INCREDIBLE dancer, but she doesn't know how to (or want to) push herself. If she goes next week, I won't feel sad. I'd rather stars who push themselves, stay in the show. Her arms were weak and stiff, she featured missteps and .she lacked the passion that I know she could pull off. Plus, Mark who pulled out an awesome choreography last week, gave her a simple one this time around.
Score: 25 (Carrie gave a 9)
Bill Engvall and Emma S, Jive
I love Bill Engvall. I thought he did an excellent job last week and this week. I love when he snarked he wasn't intimidated by Corbin or Amber, despite their age (30 years younger) and rubber band flexibility. I really want him to go far. Forget about Red Neck Dance King. How about Dance King? I love Emma's cheating, 'Bring it On'-style dance strategy. If we can't beat Emma and Amber on dance capability, we can steal all their moves before they perform and screw them over. Bill did a great Jive. He had a lot of energy and as Carrie Ann said last work, he showed a great frame and great musicality. The choreography fit him and he never looked lost. Honestly, Emma deserves kudos for the choreo. It wasn't simple and included a complicated between the leg turn which he easily pulled off. Bill and Emma deserved 24s last week and they deserved 24s this week. I swear the judges are judging him lower because of his age. VOTE FOR BILL E!
Score: 21 (7s all around)
Jack Osbourne and Cheryl Burke, Rhumba
I don't think Sharon should've dropped NBC because they didn't put her son into extreme danger with an extreme sport game with his MS diagnosis. This show is a better fit. Dance can challenge you without killing you. It's interesting watching former wild child Jack get squiggly over the rhumba's intimacy. Dude, you have a gazillion tattoos, grew up with a bat-eating dad, underwent drug treatment, did a producing stint and you think the rhumba's 'porno?' Really?! Like last week, he did a good job. His knee placement seemed a little off. In some bits he struggled with carrying Cheryl, but he also had great lines. Overall, I loved the choreography.
Score: 24 (8s all around)
Keyshawn Johnson (former footballer, ESPN announcer) and Sharna [ELIMINATED]
Last week, despite his mad dance skills, Keyshawn came across as an arrogant jerk who viewed dance as effeminate and overtly challenged his pro. This week, he appeared affable and humble. I enjoyed the dance and Sharna did a great job with choreography. Keyshawn has natural rhythm and amazing facial expressions. His arms were stiff in parts and he almost dropped the female pro in the end. But, overall, it was good. In the post-dance interview, he admitted he was too arrogant going in, but realized its difficulty post-week one and thanked his pro for the amazing experience. He was so earnest and respectful this week pre-vote. I love that he's the only contestant who could make Bruno blush. 18 was a fair score, but he deserved 21.
Great Quote from Len: You were working your 'asset.'
Score: 18 (6s all around)
Snooki and Sasha, Rhumba
Why are the most outrageous people (who've filmed acts of public indecency) freaked out by clothed sensuality? Snooki literally sucked a pickle for five hours on MTV and made out with multiple hot tub dudes, but somehow the rhumba creeps her out? WTH? Snooki is ridiculously pretty (which I never noticed before). Sasha did a great choreography giving her amazingly intricate footwork (the rhumba's core). However, Snooki's a great dancer with GREAT legwork, great turns and amazing levels. She's flexible and can do splits/leg wraps/leg lifts/etc. There were a couple awkward moments where she flexed her foot during the leg wrap, but I loved her arms. Seriously, if someone ever told me that Snooki 'the pickle' paloozi would dance Christina 'J Lo's backup singer' Millian under the table, I would've said you're sh***ing me. But, I sh*t you not, Snooki's the sh*t. However, she could work on her facial expressions a little bit.
Great Quote from Tom and Carrie -
Tom: She's so little
Carrie Ann: But he's little, too.
Score: 20 (6 from Carrie Ann for the deadlift)
Leah Remini ('King of Queens') and Tony, Samba
Leah's a great dancer. Although I feel creepy when she calls scientology a 'church,' I want her to succeed out of spite. She was a little awkward in the opening sequence until the dance itself started. Despite odd pauses, she has great footwork and follows Tony well. I don't understand how people who are professional actors can't act on the dance floor. In 'Saved by the Bell,' she played the hot girl and in 'King of Queens' she performed the hot wife. Why did she look so uncomfortable doing the 'hot girl' action in the beginning? Tony did a great choreo. Admittedly, it was a little too ambitious. It featured multiple drops, which Leah could do physically, but she looked stiff and uncomfortable. Honestly, part of the performance's drawbacks came from her clear lack of confidence. Damn, if I had her hair I would swing it like crazy and OWN it.
Score: 24
Bill Nye (the science guy) and Tyne, Pasa Doble
Bill can dance. He's a natural swing dancer. But, last week's choreo didn't fit his personality or his capabilities. This week, she didn't force him to do a lot of floor coverage. Instead, she kept his floor movement tight and limited to a small space. The choreo remained partner focused and didn't force him into solos. While he still looked incredibly awkward, he hit the right intensity. I think the judges are spoiled by the amount of talent this year and forget previous seasons when marking Bill. Funny story, a friend of mine claims that a hungover Bill Nye strolled into her class, hung out for half an hour and then strolled out. While I'm cheering for Bill, I wish he'd stop hitting on twenty-something Tyne.
Great Quote from Bruno: There was actually some pasa doble there.
Score: 17 (5 from Len)
Corbin Bleu ('High School Musical') and Karinna
Are you f***ing with me? Why am I even reviewing him? Corbin is an amazing dancer. That was some type of breakdancing meets super classic jive with moves within moves. He had more wasted stocatto movements in 30 seconds than half of the other stars for their entire dance. OK, he gave an obnoxious 'HSM' yell, but seriously, I CAN'T describe his awesome dance floor moves. So, I won't.
Score: 26 (8 from Len)
Valerie Harper and Tristan
I love watching Valerie and Tristan. It's a great mother-son relationship (far less creepy than watching Bill Nye hit on Tyne). I love the expression on his face and quiet tears when watching her dance. She was a little stiff in the leg this week and awkward in the opening. She had great footwork in parts and great presence. But, the choreo pushed her too much and we didn't see the same smooth performance as last week. If Tristan slowed down the pace and given her time to catch up, it would've worked. I love how Valerie differed from the younger contestants. She clearly preferred constructive criticism over cotton candy feedback. On the reverse, when Snooki or Liz B received negative reviews you could see pissed off faces until the judges cycled back to more positive criticism. Tristan clearly loves Valerie. While the other male pros make a show of supporting the female celebs with overdone hugs, Tristan's affection peeks out in small ways that makes it seem more genuine.
Great Quote from Valerie (when Tristan tells her to slow down or she'll injure herself): With me, that doesn't matter I'm 74 and have terminal cancer.  
Total score: 19 (a well-deserved 7 from Bruno)
Brant Daugherty ('Pretty Little Liars') and Peta
Brant is really good. Unfortunately for him, he's in a cycle with so much amazing talent that his pretty boy looks are lost. I loved his stocatto moves and passionate facial expressions. He needs to work on his arms. While they aren't lazy, they're too straight and need nuance. Sometimes he goes into a weird mid-crouch, but for the most part he and Peta are well-matched. This was a good choreo. And, I loved when the judges went into cluster-fark which Tom broke out to maintain the time schedule.
Great Quote from Bruno (on Brent's disrobing): Why stopping at the jacket?
Total score: 23 (6 from Len)
Amber Riley and Derek, Jive
That was a cute jive. But, last week Derek pushed Amber incredibly hard. This week he gave her a nice, safe, classic routine. However, he clearly needs to challenge her more, give her more internal moves and force her to lift her legs higher. He could've added more intricacies and amped the speed. Instead he kept at the level I could've done (and I'm hella old and hella outta shape).
Great Moment from Dereck (mimicking Amber's breasts knocking him out)
Total Score: 24