'Dancing With The Stars' Week Three Sends Home Reality Star Kristin Cavallari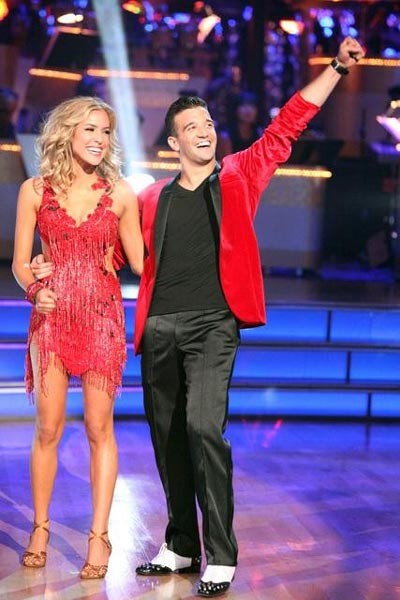 Monday night had me sniffling off and on throughout the show, so I was crossing my fingers that Tuesday night's elimination show wouldn't also make me sad.  Going into it, I was pretty sure it would be fine, and not just because Len was reported to be dancing on the show.  It also just seemed obvious to me that Chaz would got home.  Maybe Nancy.  No big loss either way.  But was I right?

Here's where the leader board stood after Monday night's show:

1. Ricki and Derek - 27
2. Chynna and Tony - 26
2. J.R. and Karina - 26
3. Rob and Cheryl - 24
3. Kristin and Mark - 24
3. Hope and Maks - 24
3. David and Kym - 24
4. Carson and Anna - 23
5. Nancy and Tristan - 21
6. Chaz and Lacey - 18

Mary J. Blige opened the show, looking fantastic, and sounding better, with Val dancing along with her.  Judging started right after that, and the tears started again briefly as they recapped J.R.'s dance and backstage clips surrounding it.  J.R. thanking Karina right before he walked away from her at the end of the dance, Karina's barely audible sobs before she got up to go to the judges table, and J.R. hugging Chaz to tell him that he was also an inspiration after all the attention had been on him... it all got me going again.  But we have an elimination to get to.

J.R. and Ricki were the first stars saved, so no surprise there, but then Chaz got saved too!  What?! Okay, that was not supposed to happen.

Chynna and Tony got the encore dance, and I'm not sure it would have been my choice, but it was what it was. Then the backstage clips resumed, and they really had some great ones this week.  Tom whispering "kick ass" to Nancy just before her dance, and Hope's sex on a stick comment (reminiscent of Mak's last season) both made me laugh out loud.  

Rob and Nancy were saved next, but Carson and Hope landed in jeopardy.  Wait, Chaz and Nancy are both safe?! My head started spinning, so I barely paid attention to the next dance, which was 'Gone With The Wind' themed.
The Macy's Star's of Dance performance sucked me back in, with Estelle singing the twist.... and then Chubby Checker joining in!  Brilliant. Len got dragged out to dance for a couple seconds, but it wasn't much at all.  I was disappointed that they promoted Len dancing, and that's all we got, but the performance as a whole was still awesome.
Blige lit up the stage one more time before we got down to the nitty gritty.  Chynna and David passed on to next week, which left Kristin in the bottom three with Carson and Hope.  That was not a bottom three I was happy with at all, and even though Kristin was good, I wanted her to go out of the three of them.  Carson is just much more fun, and Hope really has potential.  Plus she's partnered with Maks.  Not that I'm biased or anything.

Who went home?  Amazingly, I got my last ditch wish.  Kristin and Mark got their send off, and it's really kind of a shame.  I'm not going to lose any sleep over it, but she should have at least outlasted Chaz and Nancy.  And Carson, if I'm completely honest.

Yet again, it's a case of a good dancer going home too soon, but next week we're going to do another movie themed night, so I'm looking ahead already.  Especially since Carson "Mr. Drama" Carson is going to be there for it.