'Dancing With The Stars' Week Three Pulls Our Heartstrings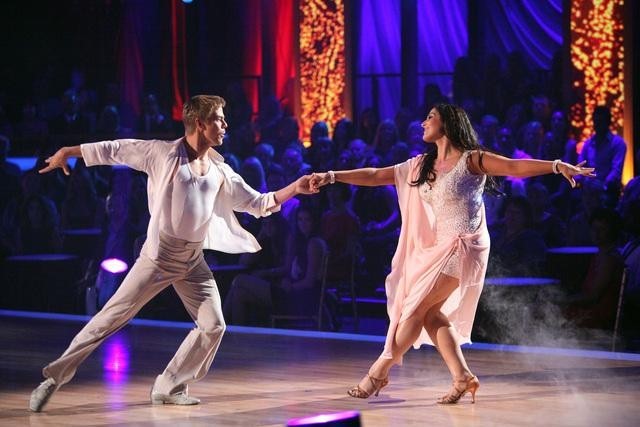 Every season we get a week with the personal stories, and this season is no different.  This week's theme was the "most memorable year" in our star's lives.  Based on the show's intro, I went searching for some tissues when the opening credits started.

Here's how the night went:

Rob Kardashian (reality star) & Cheryl Burke
Dance: Foxtrot
Scores: 8, 8, 8
Len said Rod put the "dash" into Kardashian.  I thought he was going to say "dashing", but ok.  He also thought Rob's footwork and posture were good.  Bruno said he liked the way Rob was starting to "play" with Cheryl, and that the dominatrix had met her match.  Carrie Ann said she thought that Rob stuck to the program, and genuinely makes progress each week.  She called it debonair.

Rob's dance this week was for his father, who passed away when Rob was in his teens.  I think it was a great start to the night.  Rob looked much more comfortable in his skin this week, and I'd guess it has equal parts to do with the dance being slower, and him just getting more and more hours logged in the dance studio.  Rob looked suave, and while he's not really my type, he and Cheryl looked dead sexy together.

Chynna Phillips (singer) & Tony Dovolani
Dance: Rumba
Scores: 8, 9, 9
Bruno said Chynna was a smoldering siren, and she was always expressive.  Carrie Ann said Chynna gave them what they asked for last week: more.  Len said if she kept dancing like she just did, she'd be on the show for weeks to come, instead of just holding on one more day (har har).

Chynna's dance was supposed to be about the time in her life when she wrote "Hold On" (A.K.A. The Only Song Most People Remember Her For), and left behind bad days for better ones... Annnnd if you've read my reviews before, it's really not a secret that rumbas tend to bore me.  Maybe once a season I'll get excited by one, but this wasn't it.  It was good.  Chynna was precise, but maybe a bit too precise.  The dance didn't seem to fit the song or the story, though, since rumba is supposed to be sexy.

Chaz Bono (author, activist, and son of Cher and Sonny Bono) & Lacey Schwimmer
Dance: Rumba
Scores: 6, 6, 6
Carrie Ann said that she is always impressed by his real, day to day courage, but that he seemed distracted and didn't dance enough.  Len though this was his best dance, and he praised Chaz for coming back and giving his all every week, even after negative comments.  Bruno said he thought was very endearing, but agreed with Carrie Ann that he looked unfocused.  

This week Chaz didn't have to worry about his knee too much, because he and Lacey got the rumba too.  It was a lot less sloppy than last week, but that"s not saying a whole lot.  Chaz just never seems to finish his moves.  It's like they're all half-realized.  The man needs some polish, stat!

Kristin Cavallari (reality star) & Mark Ballas
Dance: Samba
Scores: 8, 8, 8
Len said the Beyonce stuff wasn't his style (shocking!), but the rest of the dance was fabulous.  Bruno called her a fast moving devil woman.  Carrie Ann said she was doing difficult choreography, and she should keep going with it.

Kristin chose 2005 as her most memorable year, since she just finished high school and blah, blah blah, now I feel old.  Anyway, the judges and I disagreed again.  She started out strong, but part of the way through it started looking like Mark was having to yank her into every move.  Then they lost sync, and she never got her confidence back.  She has so much potential, but it's not coming out on stage.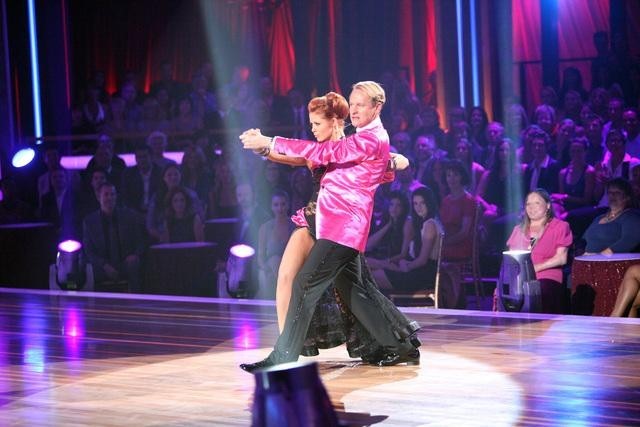 Carson Kressley (fashion commentator and former star of 'Queer Eye') & Anna Trebunskaya
Dance: Tango
Scores: 8, 7, 8
Bruno called the dance "insanely brilliant", and said Carson was at times arrogant, strong, full-blooded and spunky (or maybe spanky, you never know with Bruno).  Carrie Ann announced that she loved Carson, and he brought the fun, excitement, crazy, strange, sassy, and sexy (among other things).  Len said Carson put the "boy" in flamboyant, and that the dance had merit.

Carson chose the year that 'Queer Eye' came out, because it was the first time he could really be himself and be proud of it.  And my God, the little kid pictures they showed of him made me want to squish him.  That said, Carson showed a huge improvement.  It wasn't that good--there was something in his hips that bounced too much, and he does a weird crab legs thing when he kicks--but it was an impressive improvement.  My grin was plastered on all through the next set of commercials.

J.R. Martinez (actor and U.S. Army veteran) & Karina Smirnoff
Dance: Rumba
Scores: 9, 8, 9
Carrie Ann seemed like she wasn't going to get through her comments due to the threat of tears.  She called it one of the most profound and honest dances she'd seen on the show.  Len said the dance was wonderful and poignant, but lacked a little musically in the arms.  Bruno called J.R. a source of inspiration, and he was impressed at the way J.R. extended his lines in the legs.

J.R. chose do do a dance about when he was almost killed in Iraq when he was 19.  His story was so unbelievably touching, and I had to replay the dance because I started crying.  Then I cried even more the second viewing, as I started listening to the lyrics.  So, while I'm sure the dance was really well done, the best part was the emotion in it.  The expressions on J.R.'s face were amazing, the love and regret he showed, and Karina is always good at the achingly tragic love type stories, as evidenced by her Romeo and Juliet dance with Ralph last season.

Nancy Grace (TV host and journalist) & Tristan McManus
Dance: Waltz
Scores: 7, 7, 7
Len said she needed to work on her posture, but the emotion showed through.  Bruno said it was like a mother's embrace, but agreed with Len on the posture.  Carrie Ann said it felt like a live action lullaby.

Nancy chose the year she gave birth to her twins, which almost took her life and her daughter's.  Another sad one so soon after the super sad one!  We need happy memories now, please.  Anyway, I've been really impressed with Nancy so far.  She dances a lot better than I expected.   She does dance a bit like an old woman, though, so I'm apprehensive for the next time they do a Latin dance.

Ricki Lake (actress and talk show host) & Derek Hough
Dance: Rumba
Scores: 9, 9, 9
Bruno said every step was as expressive as a word in a poem, and it was the actress-dancer at her best.  Carrie Ann called it fabulous, breathtaking, and gorgeous.  Len congratulated Derek on a good routine, and Ricki for dancing it so well.

This rumba reminded me why Derek is so great at choreography.  He made this rumba interesting to me, a self-professed rumba disliker (it's totally a word), varying up the pace and throwing in some complicated moves.  It was beautiful, and Ricki is really showing she's still got some acting chops.

Hope Solo (goalie for U.S. women's national soccer team) & Maksim Chmerkovskiy
Dance: Cha-cha-cha
Scores: 8, 8, 8
Carrie Ann said it was sexy and hot, but needs to work on her walk.  Len thought the dance was a little too provocative, but that it was very good.  Bruno said the sexy minx was out of the cage, and it was good to see her embracing her gorgeousness, but agreed about the walk.

Hope decided to chose this year as her most memorable, as she went to the World Cup and lost.  Woohoo!  There's more to it, but it's not as amusing.  This was a big improvement over last week, and it looked like she put a lot more hours in the studio.  She has trouble acting sexy, seeming to be the definition of tomboy, and she got out of sync with Maks again... but it was still a lot better.

David Arquette (actor and producer) & Kym Johnson
Dance: Rumba
Scores: 8, 8, 8
Len said it was a mix of motion and emotion.  Bruno said David brought sensitivity and vulnerability, and called it wonderful.  Carrie Ann said it was a very nice comeback.

David wanted to tell the story about this last year; after his marriage fell apart, he turned to alcohol, and he's now getting better.  It's clear that David worked really hard this week.  Being a hair's breadth away from going home can light a fire under someone's butt.  It was a weird rumba, though.  It was too fast, and I thought David's hips were really stiff.  Still, much better than before.  I'm looking forward to him taking on a another fun dance with his new-found discipline.

With the notable exception of Chaz, who fell into the bottom spot again, three points behind Nancy, it was a pretty good night.  Of course, personal story nights usually are, if just because they have the advantage of sucking people in with the story, even if the dance isn't great.  I could have done without all the rumbas (J.R.'s excluded), but that's just me.

I don't really have to think this week, either, about who it should be going home.  Chaz isn't getting any better.  He's the only one not getting any better.  He probably has a huge amount of support from the LGBT community (and deservedly so), but I don't think it's going to save him.  At least I hope not.  Chaz is a strong man to be so open about his life, but his dancing muscles are atrophying fast.