'Dancing With The Stars' Week Three Performances Get Emotional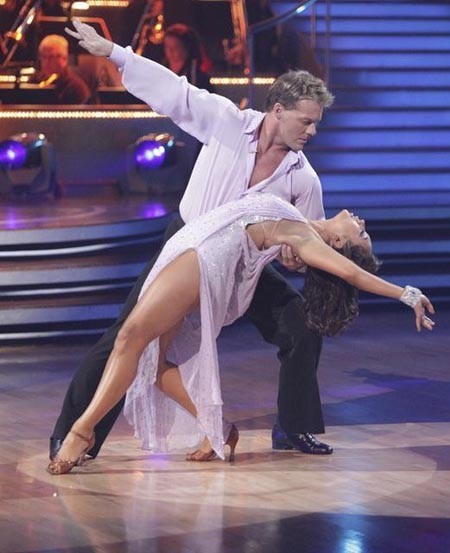 With Mike and Lacey gone, we now have ten stars standing, some good, some bad, some ridiculous. Some of them are all of those things at the same time, and this week they get to tell us their personal stories. Each star picked a song that they had an emotional connection to, and had to express it in their dance.  

It wasn't as silly as I thought it was going to be.

The outcomes were a little surprising, most especially because they gave us a brand new pecking order at the end of the night.  Again.  This season is shaping up to be unpredictable.  Don't these people realize that they're toying with our emotions?!  

I guess not.  Moving on...

Wendy Williams (Talk Show Host) and Tony Dovolani
Dance: Foxtrot
Scores: 5, 5, 5
Len said the dance was "a struggle" and more suited for the radio.  Bruno said she looked like she put down roots sometimes and didn't deliver.  Carrie Ann said this was a step back.

Wendy's story this week was about how she made her start in entertainment.  She did radio, and slept in her car and... brushed her teeth in bird baths?  Ew.  Why would you admit that?  Anyway, I agree that her dance was a step back from her previous improvement.  It was still "economical" in movement like last week's dance (Tony could have choreographed something more interesting here, but I have a feeling he's tailoring to her ability, or lack of), and the personality faltered again.  Maybe it was the music.  And maybe it was because she had to grope Tony's derriere, which she seemed uncomfortable with.  I was bored.

Chelsea Kane (Disney Star) and Mark Ballas
Dance: Cha-Cha-Cha
Scores: 7, 8, 8
Bruno called it tasty.  Carrie Ann said Chelsea was "on it", but needed to work on her hip action.  Len said it was her best dance.

Chelsea told the story of her first love, danced to a song written for her by that first love.  Sometimes her hips would move really well, and other times not so much, and I feel like she was lacking the connections in her movements again.  I'm not really sure what to think.  The judges loved it.  I didn't.  I liked it, but it felt stiff to me.  (Also, was she wearing a costume?  It was almost not there. Not that that's unusual on this show.)

Chris Jerico (WWE Wrestler) and Cheryl Burke
Dance: Rumba
Scores: 7, 7, 7
Carrie Ann got choked up.  She loved the emotion, though she admitted that his hip action was "a little strange".  Len said there wasn't enough arm movement, so it lost fluidity, but the lines he hit were excellent.  Bruno said Chris brought a raw vulnerability to the dance.

Chris' story was about his mother, who died in 2005. Okay, I have three things to say here.  First, yes, I got slightly teary, I admit, especially when Carrie Ann's voice got wobbly.  Secondly, I'm not a usually fan of the rumba, but I loved this dance.  Cheryl's choreography was beautiful and stayed away from sexy (which would have made the story weird) without making the dance something it wasn't.  Thirdly, if you would have told me I would be developing a tiny crush on a pro wrestler when this started, I would have told you that was crazy.  But it is what it is.  This show brings me to love people I never would have expected.

Kendra Wilkinson (Reality Star) and Louis van Amstel
Dance:  Rumba
Scores: 8, 7, 8
Len said she was a little unstable, but her leg action was gorgeous.  Bruno said the dance was teasingly erotic, hot and arousing.  Wow.  He may need to turn in his Gay Credentials, because he seemed pretty excited by Chelsea too!  Carrie Ann called it "hot, hot, hot".

Kendra's story was about when she and her husband got married, and the rejection they faced because of her Hugh-Heffner-dating-and-taking-off-clothes-for-money former lifestyle.  The smoke machine pretty much obscured the whole start of her performance, unfortunately, but I'm surprised to say that I actually felt the chemistry between Kendra and Louis this week.  Once she was visible, of course.  I thought they looked silly trying to be sexy in week one, but this week it worked for me.

Romeo Miller (Rapper and Actor) and Chelsie Hightower
Dance: Rumba
Scores: 7, 6, 7
Bruno said he could tell Romeo put his heart and soul into the dance, though the leg placement wasn't always right.  Carrie Ann said there was something nice about how he committed to the emotion, and that he'd refined some of his movements.  Len said he thought this week was "a huge step back", but he didn't have a chance to explain why, which was a little annoying.

Yet another Rumba for the night that had to steer away from sexy.  Romeo's story was about how he lost two cousins he was very close to at a young age.  At times the expression on his face was just great, strong and solid (and I saw that sex appeal Carrie Ann mentioned in week one, finally!), and the dance mirrored that.  I liked it a lot.  I just really want to know what Len didn't like!

Hines Ward (Football Player) and Kym Johnson
Dance: Samba
Scores: 9, 8, 8
Carrie Ann said he had bounce, and thanked him for it.  Len said said it was obvious his mother (who was in the audience) was proud of him, and he was too.  Bruno said this samba was an uplifting expression of happiness.

Hines' dance was a tribute to his mother, who sacrificed a lot for him to have "the American dream".  I thought the dance was a little sloppy at points, especially when Kym nearly fell at the end (not sure whose fault that was), but it was fun.  Maybe the choreography just wasn't for me, because I was not expecting such rave reviews.  Though I think Hines can make any dance look fun with that smile.

Petra Nemcova (Supermodel) and Dmitry Chaplin
Dance: Waltz
Scores: 8, 9, 8
Len said it had grace and elegance, and said that Petra was "the one".  Bruno said she was like a vision from heaven.  Carrie Ann said it was inspirational and well done.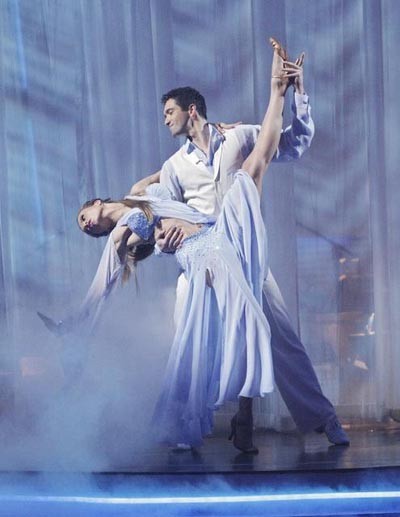 Wow.  The show really took advantage of the smoke machine!  It was hard to see their feet, which made it all sort of feel like it was gliding.  Petra's story was about her visiting the aftermath of a 2005 tsunami, and how it inspired her to start a foundation to aid in the recovery of communities after natural disasters.  It was very pretty to watch, and I think Petra is well suited for these sorts of flowing dances.  She has long graceful limbs when she doesn't have to move them too fast!

Sugar Ray Leonard (Retired Boxer) and Anna Trebunskaya
Dance: Paso Doble
Scores: 7, 6, 7
Bruno said he was back in business, but he needed to refine his Spanish lines.  Carrie Ann said she saw a lot of improvement.  Len said that he dominated the dance.

Sugar Ray's story was about beating the odds.  He definitely did improve a lot from last week, but he's not an actor.  Anna looked more powerful and aggressive than he did.  His "I'm the strong manly man" face was good, but I really can't keep from thinking of him as just plain cute most of the time.  Sorry, Sugar.

Kirstie Alley (Actor) and Maksim Chmerkovskiy
Dance: Rumba
Scores: 7, 7, 7
Carrie Ann said that in spite of the stumble at the beginning, something magical happened watching them recover from it.  Len basically said the same, that they came back stronger in the end.  Bruno said you can't keep good talent down.

Oooouch.  That was hard to watch.  Right in the beginning of their dance, Maks' leg gave out and they fell.  But the judges were right that they came back stronger.  It seemed to take Maks a moment to recover (it looked like he hurt himself), but once they picked up again, it almost had more life.  Kirstie's story was about overcoming the tragedy of her mother's death at the same time that she was getting her first big break in show business, and while falling on stage is not exactly the same as losing a parent by any means, the stumble and recovery almost seemed to reflect the story.  Man, Kirstie and Maks are becoming ones to watch.  Last week they kiss, this week they fall down... what's next?  Struck by lightening?!

Ralph Macchio (Actor) and Karina Smirnoff
Dance: Rumba
Scores: 7, 7, 7
Len said the routine was crisp and clear, but it needed refinement.  Bruno said the dance was beautiful, but said his hands were still weird, like "spatula hands".  Carrie Ann said it was a sweet rumba (which Len adamantly denied), and that Bruno and Len were "cuckoo".

It was Ralph's 24 year anniversary with his wife last night, and he dedicated his dance to her.  I agree with Carrie Ann, and thought it was sweet, and I sort of feel like the judges are a little hard on Ralph.  Maybe it was because he started out so strong, so they are trying to pick him apart more.

So week three of performances is done, and where did it leave us on the leader board?  Again it got a shake up.  Petra took the biggest leap from eighth place last week to sharing first place with Hines this week, with 25 points each.  Chelsea and Mark did more traditional choreography after the harsh reception their last dance got, and jumped back up the board from sixth place to being tied for second place with Kendra and Louis, who were in seventh place last week.  Kirstie and Maks held their third place position in spite of their fall on the dance floor, but Ralph and Karina fell from the top spot to meet them.  Romeo fell down the leader board too, and Wendy and Tony took over where Mike and Lacey left off, at the bottom with 15 points, a full 5 points away from their closest competitors.

That was a lot of numbers I just rattled off, but in summary, so far this is nobody's game.  The scores have fluctuated a lot, and it's kind of fun to watch and try to figure out who's going to pull away from the pack and stay there first.  Personally, I think Chris Jerico is looking that way.  He keeps creeping up in scores, and seems to be taking longer strides than the others.  Figuratively.

So who's going home on Tuesday?  Unless America takes crazy pills before they vote, it's gotta be Wendy.  Sugar Ray is in danger too, but I'm expecting him to pull through.  Then again, I expected him to escape the bottom two last week, and that didn't happen, so I guess we'll see...