'Dancing With The Stars' Week Ten: Stars Pull Out All The Stops For The Finals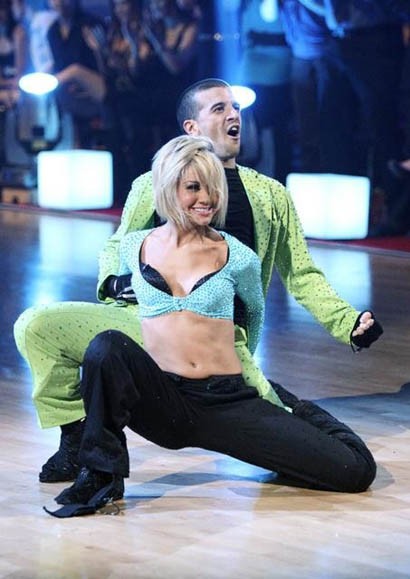 Two more dances for our stars, and five more votes for us.  Oh, who are we kidding, five?  You know everyone votes with multiple email addresses and phone numbers to get in more votes.  Regardless, two more dances and as many votes as you wish to sneak in (if you don't have a life, like me), and the season is over.  Tuesday we crown a winner, then go back to our regular lives where girls in barely-there sequins are not a weekly sight to see, and we have to figure out what to do with the gaping four hour chunk of the week that we suddenly have back.  It's bittersweet.

As usual, the final week brings back the judge's choice dances, where the stars are asked to redo a dance style they've already done, something the judges thought could have been better before.  That's not the exciting part of the night, though.  The second dance of the night is the highly-anticipated freestyle, the no rules dance that can often make or break a champion.

Round One: Judge's Choice

Chelsea Kane (Disney Star) and Mark Ballas
Dance: Samba
Scores: 10, 9, 10
Len said he liked what he was watching.  Bruno said Chelsea was an ultra-sexy bombshell, and the rhythm was flowing through her body.  Carrie Ann called the dance "hot, hot, hot!"

Carrie Ann stopped by to help Chelsea and Mark with their samba this week, and she totally pinpointed what I didn't like about Chelsea's last samba.  It was too perky.  So Carrie Ann helped Chelsea go a little sexier, and it worked!  Her legs were a little too straight at the start to get a lot of hip movement, but she fixed that pretty fast (I'm nitpicking!).  Loved it!

Kirstie Alley (Actor) and Maksim Chmerkovskiy
Dance: Samba
Scores: 9, 9, 9
Bruno said Kirstie was soft, rich, and full of womanhood, but noticed she was looking at the floor at times.  Carrie Ann pointed out that watching Kirstie and Chelsea side by side really showed how different they were, and that Kirstie had an "ooze factor" (ew?) where her transitions melted together.  Len said Kirstie's samba was less aggressive than Chelsea's, but he liked the naturalness of Kirstie's moves and had a nice mix of steps.

Firstly, samba roll!  I love the samba roll.  It's difficult to do, and looks great when done right.  Such a show off move, and Kirstie did it so well!  Once Kirstie did it, it stuck out like a sore thumb that Chelsea hadn't.  I actually prefer Kirstie's "natural" style to Chelsea's crisp one for this type of dance.

Also? Kirstie is looking great!

Hines Ward (Football Player) and Kym Johnson
Dance: Quickstep
Scores: 10, 9, 10
Carrie Ann said when he dances it makes her forget she's supposed to be judging.  Len said it was a vast improvement on the last quickstep, but it wasn't quite there.  Bruno said it was like watching a performance on Broadway.

I thought it looked a little too bouncy.  It's a skippy kind of dance, but the upper body is supposed to stay smooth.  Then again, I just can't get into Hines.  I've always been a sucker for an underdog, I guess.  It was very good, though, and his feet were a lot better than last time, thanks to Len's help.

Round Two: Freestyle

Chelsea Kane (Disney Star) and Mark Ballas
Scores: 10, 10, 10
Len said that it was full on, and fantastic.  Bruno said it was electrifying, and liked how they interpreted Latin rhythms with a contemporary twist.  Carrie Ann said... well she didn't know how to say what she felt, so she just did a happy dance.  Nice.

That dance was fast and fun, and I wanted to get up and do it.  It would have only ended in embarrassment (and maybe a heart attack) for me, though.  Chelsea, on the other hand, did great, and Mark really played to her strengths.  I really liked their music, too!

Kirstie Alley (Actor) and Maksim Chmerkovskiy
Scores: 9, 9, 9
Bruno said that ten weeks ago he would have never thought she would have been doing the lifts and things she did tonight.  Carrie Ann said that some of the lifts had an alley-oop kind of feel, but the dance embodied what Kirstie had come to show during the competition, a free woman living life the way it should be at 60.  Len said she took risks, and she's "got to risk it if she wants the biscuit".  Um... okay.
This wasn't the best freestyle ever, but I agree completely with what Carrie Ann said.  The first lift was impressive, and they worked in some of the ballroom dances throughout the performance.  I get a little tired of seeing the hip hop moves in every single freestyle dance, so I appreciated that they mixed in some of what she had learned through the season.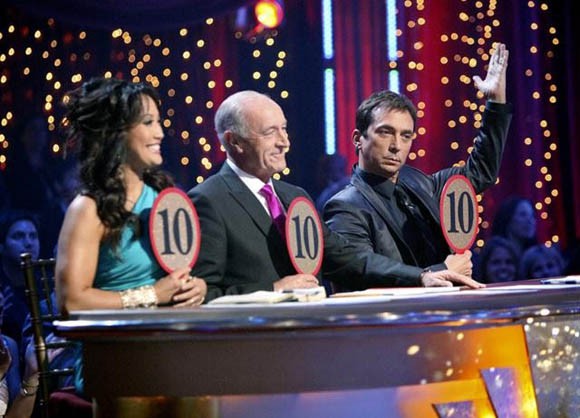 Hines Ward (Football Player) and Kym Johnson
Scores: 10, 10, 10
Carrie Ann said it was risky, and that it wasn't the half-time show, it was the whole Superbowl.  Len said Hines had given his all.  Bruno said they pulled out all the stops and created a crowd pleasing event.

Speaking of not aways doing hip hop moves, Hines and Kym's half-time inspired dance was more traditional in the dancing throughout.  The lifts were gorgeous, but it helps that the partner flying through the air is the pro, which isn't the case for the other two couples.

I think this might be the only time I've ever not had a 100% favorite going into the finals.  They are all good, and all totally different, and... and... yeah, I don't know.  But it's got to boil down to something for me this season, and I think I managed to work it out.

Kirstie is an Emmy winner, but she's also just so down to earth that it's not funny.  Okay, down to earth might not be the best descriptor, but she's real, and I really hope that I'm having as much fun at 60 as she seems to be having.  Plus, Maks is my favorite pro, and he's never won the competition before, though two seasons ago he took Erin Andrews to third place.  Erin was a better dancer than Kirstie, for sure, but I'd still like to see Maks finish higher.  

So there's is my mind made up.  Who do you guys want to win?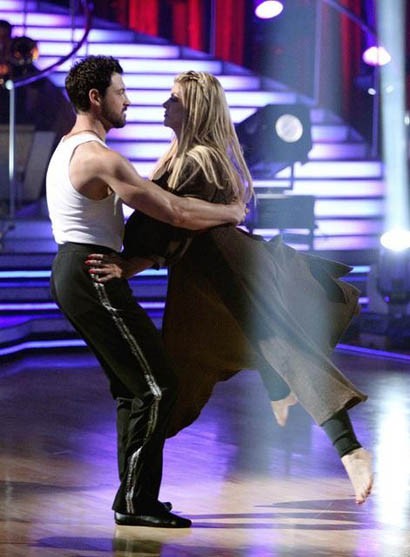 Latest Dancing With The Stars headlines:
• What To Watch: Viewers Say Bye To Oprah; 'DWTS'' & 'Idol' Crown Winners (May 22-28, 2011)
• Boston Rob Mariano Finally Named Sole 'Survivor' – Reality TV Highlights (May 15-21, 2011)
• Julianne Hough Shows Off Her Bikini Body At Miami Beach
More Dancing With The Stars news & articles