'Dancing With The Stars' Week Six Says Goodbye To Chaz (Finally)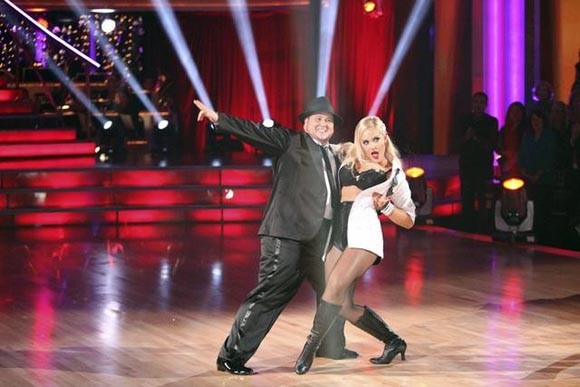 Monday night, Ricki picked herself back up, J.R. gave us a little dose of amazing, Maks lost his cool (hard to believe, I know!), Nancy scored way higher than she deserved, and Chaz landed in the bottom spot, a full ten points behind the leaders.  So it was interesting, to say the least.  With the exception of Ricki and J.R., though, I can't decide if it was interesting-good, or interesting-bad.

Here's where the leader board stood on Monday night:

1. Ricki and Derek - 29
1. J.R. and Karina - 29
2. Nancy and Tristan - 24
3. David and Kym - 23
4. Rob and Cheryl - 22
5. Hope and Maks - 20
6. Chaz and Lacey - 19

The encore dance went to J.R. and Karina, and rightfully so.  It was even better than on Monday, like they hit a few parts even sharper than before.  I love it when the encore dance lets the stars relax enough to do even better.  And J.R. was told he was safe after the dance, as if there was ever any question about that.

Kristin Chenoweth, who performed Monday night, was back.  The woman is a powerhouse in a miniature body, and always fun to listen to.  

Ricki and Nancy were declared safe next, which was disappointing on one count.  I think you know which one I mean.  Then Corbin Bleu gave us our Macy's Stars Of Dance performance, and Martina McBride sang us a song.  By week six, I'm losing more and more interest in filler.

David was safe, and Chaz was not.  And we got to hear Chaz's reaction to Bruno calling him a little penguin, after also calling him a little Ewok on an earlier episode.  Honestly, I was annoyed with the comment too, and it was worse that I could see the hurt in Chaz's face when it was made.  The first comment bothered me a little, but now these continued comments are getting insulting.

I was immediately cheered up by a Halloween themed dance that came next, which used "This Is Halloween" from Nightmare Before Christmas.  Annnnnnnd then my mood was dragged down again by them rehashing the Len/Maks war of words.  I was really glad that Maks at least apologized for saying "this is my show", even if he didn't relent on anything else.  Really, that was the most damning comment of the night.

Anyway, Rob was safe, and Hope was not, which put her in the bottom two with Chaz.  Not unexpected. 
So who went home?  Chaz.
This was weeks in coming, and I'm relieved on two counts.  First, I feel better that Chaz is no longer going to be on the receiving end of Bruno's little comments.  Second, I'm glad that both Hope and Maks are going to have another chance to redeem themselves.  Will they do that?  It's really questionable, but I'm hoping for it anyway.