'Dancing With The Stars' Week Six Performances See Another Tumble And Bring Out The '10' Paddles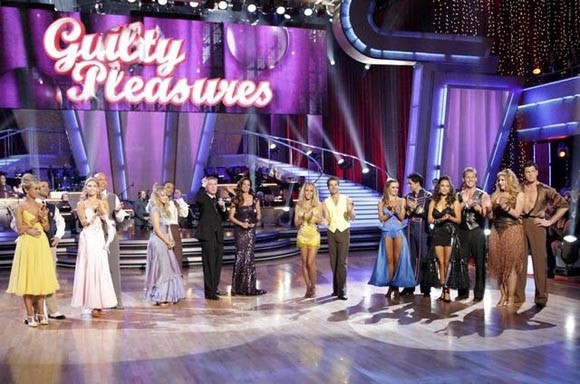 On the heels of Classical Week's success, last week's American Week was a big mess.  This Monday I was hoping we'd get a more coherent show with Guilty Pleasures Week, and maybe some good old nostalgia.  I was really glad to get a little bit of both.

Right off the bat we got a performance of "MmmBop" from Hanson, our musical guest for the episode.  Yes, Hanson.  1997's Hanson.  Yikes.  But I say 'yikes' in an oddly affectionate way, even if I was well beyond teenybopper age when they hit.  Speaking of which, when did those boys grow up?!

Moving on to the dancing...

Kirstie Alley (Actor) and Maksim Chmerkovskiy
Dance: Samba
Guilty Pleasure Song: "...Baby One More Time" (AKA "Hit Me, Baby, One More Time") by Britney Spears
Scores: 8, 9, 9
Len said that she had had a series of missteps since week one, but she hadn't fulfilled the potential he first saw again until this samba.  Bruno said she delivered a smooth and natural samba, like she was born to do it.  Carrie Ann said Kirstie was finally back from the rough patch she'd hit, and she wanted to see Kirstie in the finals.

Aside from her losing steam as the dance went on as she often does (I wasn't sure she'd make it back to Maks in time at the end!), and the fact that it seemed like he was doing all the moving to make their hip bumps work, I really enjoyed it.  Kirstie isn't perfect, but given her age (and yes, that she's got an average woman's body weight to move around), she does really well, and this was definitely her "come back" week.  Loved the samba roll!

Chris Jerico (WWE Wrestler) and Cheryl Burke
Dance: Tango
Guilty Pleasure Song: "Don't Stop Believin'" by Journey
Scores: 7, 8, 7
Bruno said he turned into a lump of granite and was cold.  Carrie Ann said she thinks the pressure got to Chris this week and seemed like he wasn't having fun, even if it was technically sound.  Len said Carrie Ann and Bruno were having an off night.  He agreed it was lacking an intensity, but that tango isn't supposed to be a "fun" dance, and he thought Chris was good overall.

Oh, this song is definitely a guilty pleasure song for me (and most people, I think), and a weird song to tango to.  I had to rewatch it because it seemed so odd, and you know what?  I think they worked it!  Yes, he messed up once or twice on the timing, and it wasn't as good as it could have been, but Bruno was a little harsh!  And so were the scores!

Romeo Miller (Rapper and Actor) and Chelsie Hightower
Dance: Waltz
Guilty Pleasure Song: "My Heart Will Go On" by Celine Dion
Scores: 10, 9, 9
Carrie Ann said the dance was magic, and she was completely transported watching them.  Len said the waltz had a romance about it, and the foot work was good.  Bruno said Romeo achieved a new degree of poise, finesse, and attention to detail.

Okay, this song usually drives me nuts, but Harold Wheeler and the 'Dancing' band actually made it more listenable than I'm used to hearing it.  On top of that I was too distracted by the gorgeous dance to care that it was Celine.  Chelsie kicked Romeo's butt this week, and it showed.  This is the first time that I have actually 100% agreed with the judges about Romeo.  This is my favorite of his dances so far.  And he got the first ten of the season!

Chelsea Kane (Disney Star) and Mark Ballas
Dance: Quickstep
Guilty Pleasure Song: "Walkin' On Sunshine" by Katrina And The Waves
Scores: 10, 9, 9
Len said they fused high energy with control, and this it was full on and fun.  Bruno said it was so bright that he was getting a suntan, and she did well with difficult choreography, though he noticed a little wobble.  Carrie Ann said magic happened for the second time in the night.

This was so much fun to watch.  The start looked just a little shaky, but once they really started to move, it was great, and Mark didn't upstage her this week... though he did have an ankle injury from earlier in the day (which they showed in slow motion, of course--oooouch), so that could have been why.  And like Carrie Ann said about magic happening twice, just like Romeo's dance, this was my favorite dance of Chelsea's too!

Kendra Wilkinson (Reality Star) and Louis van Amstel
Dance: Samba
Guilty Pleasure Song: "Livin' La Vida Loca" by Ricky Martin
Scores: 8, 8, 9
Carrie Ann said she was in her element, and she could be a contender.  Len said the more she gyrated, the more he palpitated.  He called it well done.  Bruno called it "Revenge of the Stripper, Part One: Attack of the Killer Boobs".  I'm not sure, but I think that was supposed to be a compliment.

Yet another fun one to watch, except this time it was Kendra.  I have issues liking her, as my reviews in the last two weeks have made clear, but I recognize that she can dance.  She got off timing near the end, but she shook it like nobody's business out there, and showed off the "inner Latina" Louis noticed back in the start of the competition.  I liked it for the most part.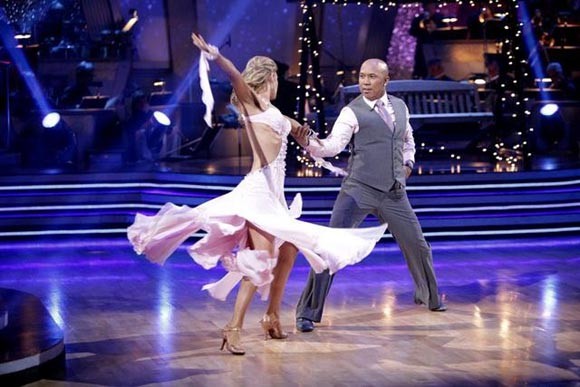 Hines Ward (Football Player) and Kym Johnson
Dance: Viennese Waltz
Guilty Pleasure Song: "End Of The Road" by Boyz II Men
Scores: 9, 9, 9
Len said he was becoming the MVP of the competition, even if he is a little flat footed.  Bruno said it was pure pleasure from start to finish, and his chemistry with Kym was perfect.  Carrie Ann said it was excellent, but she thought he seemed to be thinking too much in the beginning.

Hines is great, I will give you that.  I really like him, and he's at the top of the pack all the time.  But to be honest, I'm starting to get a little bored.  I like to watch people grow, or stumble and come back, and while Hines is growing, it hasn't been as dramatic as some of the others.  I think that as good as he is, I'm not very emotionally invested because of that.  Being good and staying good is... well, good, but I want Hines to wow me now, to shake something up!

Ralph Macchio (Actor) and Karina Smirnoff
Dance: Paso Doble
Guilty Pleasure Song: "Gonna Make You Sweat (Everybody Dance Now)" by C & C Music Factory
Scores: 8, 8, 8
Bruno said he felt the fire once they recovered from Karina's stumble.  Carrie Ann said that they fell, but the way they got back up put the dance to shame. Len commended Ralph on picking Karina right up and getting back into the dance.  He said it had fire and passion.

Okay, well this is shaping up to be a interesting season for our pros.  Maks falls and takes Kirstie with him, then Cheryl tears something during her Paso with Chris, then this week we have Mark's ankle twisting the wrong way in rehearsal, and Karina tripping on Ralph's ridiculous coat during this dance.  So that didn't help.

Plus Ralph tends to look silly when he tries to be aggressive, and he looked less like a matador and more like a flamboyant nutcracker in that costume... It wasn't bad, but there was way too many distractions, all of them negative, to keep me from really enjoying it.
Overall, this week was so much better than last week, though.  Romeo and Chelsea just killed it, and I can't help but find it ridiculously adorable that Hanson (little Hanson, as I recall them) was covering songs by Quiet Riot and Vanilla Ice (among others) during the night.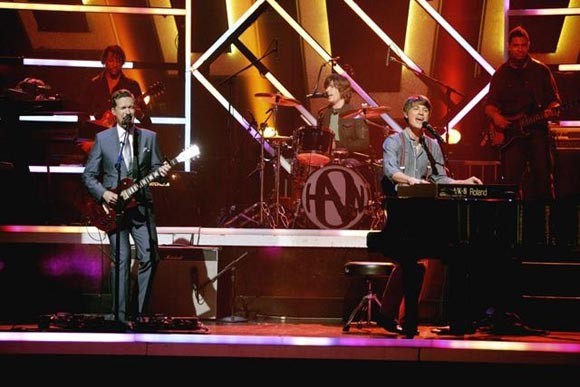 We got two kisses (Kirstie and Maks, then Romeo and Chelsie), two injuries/falls (one live), two tens, and one viewing of Elton John's "I'm Still Standing" video, just for the guilty pleasure of seeing Bruno dance around in a leotard.  Wow.

It was a great 'Dancing' night.  My only complaint is that my guy, Chris, dropped from second to last place.  No, it wasn't his best dance, and was disappointing, but I want to see him stick around and do better.  I think he can.  Maybe he should stay away from weird black costumes, if this and week one are any indication.  I threw a couple votes to Kirstie too, and finally caved and gave Romeo his due.  Really, how could I not after that waltz?