'Dancing With The Stars' Week Seven Takes Halloween To New Levels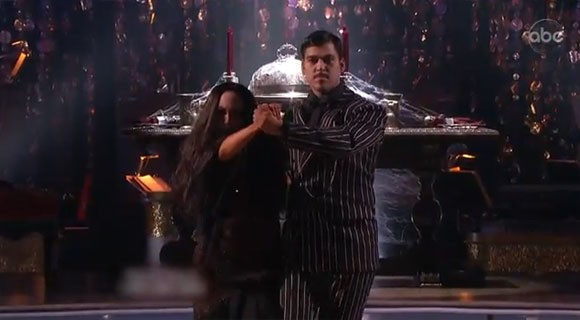 This week 'Dancing' was "dead from Hollywood," which was just the first in a string of goofy Halloween jokes sprinkled throughout the episode.  It was also plagued by some truly retro-looking "spooky" CGI, because Halloween just isn't campy enough for this show.  And of course all the dances were Halloween-themed, some more successfully than others.  Being a Halloween lover, and a lover of cloak-and-dagger theatrics, I loved the extra ridiculousness.  Most of the time.

And Harold Wheeler's zombie conducting was pretty impressive.

This week, in addition to the solo dances, the stars also had to perform team dances, but unlike the group dance before, these dances were judged, with the total score being added to each star's overall total.  Here's how it went:

David Arquette (actor and producer) & Kym Johnson
Dance: Cha-cha-cha
Scores: 8, 8, 8
Len said he'd turned himself into a dancer here, and his footwork is good.  Bruno said he was a natural at turning tricks.  Carrie Ann said his improvement was phenomenal.

What?!  They tell him he's excitable, and he reigns it in.  Then they say it wasn't enough, reign it in more... and then we get this.  This was one of the stiffest cha-cha-chas I've ever seen.  His hips looked like they were Superglued in one position.  And he did the hip action in the rehearsal footage!  I have no idea what the judges were seeing.  The footwork was good, and he is improving, but the hips!

J.R. Martinez (actor and U.S. Army veteran) & Karina Smirnoff
Dance: Tango
Scores: 9, 8, 8
Bruno said that if all ghosts looked like Karina, Ghostbusters would be out of business.  He said it was another solid performance, but he lost the timing a couple of times.  Carrie Ann noticed that they got out of sync too, but said they captured the tone well.  Len said the performance was substandard from what he expected of J.R.
It was pretty odd pairing the tango with Ghostbusters, but somehow it worked.  It wasn't as good as last week, but I think part of that was because Karina's costume was just so distracting.  It looked like J.R. may have missed a step or two (or got out of sync), but I wasn't sure when I watched it because of the whirl of crazy white fabric.

Nancy Grace (TV host and journalist) & Tristan McManus
Dance: Jive
Scores: 7, 7, 7
Carrie Ann said that Nancy went in and out of her choreography throughout the dance.  Len said the jive was not a good dance for her, the kicks weren't sharp and she was flat-footed.  Bruno said either the devil got her, or her shoes were too small.

When this dance started, it looked like it was going to be disastrous.  During the first few bars, it looked like she was lost.  She picked it up after that, and actually did a better jive than I thought she would, given the speed of it.  But it still wasn't good.  She lagged behind Tristan a lot, and her movements were less than half as big.  Yet again, he aged her a lot.

Hey, what happened to that cartwheel she did in rehearsal?

Rob Kardashian (reality star) & Cheryl Burke
Dance: Tango
Scores: 9, 8, 8
Len said it was a terrific job, and the footwork was good.  Bruno said Rob had never been as manly and in control as in this dance, but he needed to keep his butt tucked in.  Carrie Ann said it was his best dance so far.

Dancing a tango to Ghostbusters was weird, but dancing one to The Addams Family was utterly ridiculous.  It just looked so stupid.  So I rewound it and put it on mute and watched it again.  It was much better without the sound.  His feet were great, and he drove the dance.  Rob is getting better and better.  I'm starting to think he might make the top three.

Ricki Lake (actress and talk show host) & Derek Hough
Dance: Paso doble
Scores: 9, 9, 9
Bruno said it was like a blizzard of passion and fear.  Carrie Ann said her shaping was gorgeous, but she needed to watch her shoulders.  Len also loved the shapes she made, and said the footwork was great.
If they hadn't shown the rehearsal footage of Ricki going to the doctor with a rib injury (which turned out to be an inflamed nerve that the doctor says will get worse if she doesn't rest...yikes), I wouldn't have thought she was hurt.  Ricki held her ground as a front runner.  It was impressive.  I especially liked that little move where she wrapped her leg around Derek's, then slid down it to the floor.  It was seamless.

Hope Solo (goalie for U.S. women's national soccer team) & Maksim Chmerkovskiy
Dance: Samba
Scores: 8, 8, 8
Carrie Ann said she thought it was better than the Toy Story dance.  Len said she coped well with a difficult dance.  Bruno said her timing was better, and so was her foot placement.

This was way better than last week, but I wasn't as impressed as the judges.  I certainly didn't think it was better than the Toy Story dance.  I was as annoyed with her watching the rehearsal footage as Maks seemed to be.  She was having fun and giggling and chumming it up with the guy Maks brought in to rehearse with her (he hurt his foot), and wasn't really paying attention.  Maks isn't an easy teacher, bur he usually gets better results than he's getting with Hope this season.  She seemed to get out of step several times in this dance, though the smoke on the dance floor made it hard for me to be sure.  Maybe the judges had a better angle to see.

Coming out of that, we went straight into the team dances....

Team Tango: J.R., David, and Nancy
Scores: 8, 7, 8
Len said the group sections were excellent, but the individual performances were disasters. Bruno agreed with Len, pointing out specifically that David's shoulders went weird, and he was slightly behind tempo.  Carrie Ann echoed Len and Bruno.
This was one of the better team dances I think I've seen.  I didn't see anyone go out of sync with the rest of the group, and the group setting seemed to help Nancy and David.  Nancy did very well in her solo, and David kept calm and cool.  I don't even have to tell you that J.R. was awesome, I'm sure, but... he was awesome.

Team Paso Doble: Ricki, Rob, and Hope
Scores: 9, 8, 9
Bruno said it was powerful, moody, and building to a fantastic ending.  Carrie Ann thought it was amazing, poetic and powerful.  Len said the individual parts were fantastic, and praised Rob for keeping up with Derek and Maks.

Considering that Maks is my favorite professional dancer, it says a lot that I'm starting to care less and less whether he and Hope stay in the competition.  There was more drama between them in the group rehearsal, and it was just plain uncomfortable.  How much of that was bleed over tension from their solo rehearsals is hard to say.  Anyway, there was more smoke, and guys, I really hate smoke on this show.  Sure, it lends atmosphere, but it makes it hard to see their feet!  
Perhaps in a perfect example of how fans can be swayed by all the personal bull we see going on off the dance floor, causing us to react to the dance more viscerally than objectively, I completely disagreed with the judges. Nothing in this group seemed as cohesive as Team Tango.  I thought most of the individual dances were kind of 'meh' too, especially Hope and Maks'.

The night was overall fun, and I enjoyed every bizarre moment.  We're down to six stars now, so it's getting tight. I think if things stay on the same track here as they have been, Ricki, J.R., and Rob will be the final three.  Of course, Ricki's injury is a wild card.

For the first time since I started watching the show, I find myself not pulling for the underdog.  The underdogs in this season aren't really all that impressive.  I think I can lay down my loyalty with J.R. now, though I wouldn't be troubled in the least if Ricki took the trophy.  Question now is who goes home next.  It's gotta be Hope or Nancy, right?