'Dancing With The Stars' Week Seven Gives Our Celebrities Double Duty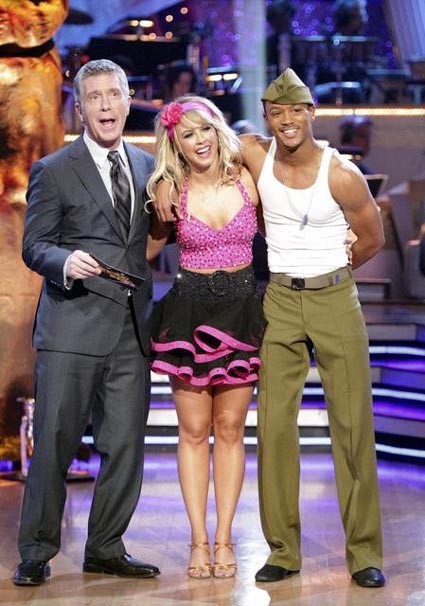 Only 6 stars are left from the original 11 that started this season out, and this is the first week that we are throwing more than one dance at them.  We get team dances, and individual dances, and we have a guest judge this week, Donnie Burns, a highly-decorated Latin dancer.  This is a man who Karina called the "ballroom god" and Maks said was ballroom dancing's Tiger Woods.

The team dances were the Cha-Cha-Cha, and the teams were chosen by the season's highest scorers, Chelsea and Hines. Chelsea picked Ralph and Romeo, while Hines picked Kirstie and Kendra.  Hine's team seemed a bit... weird, at first glance.  Or is it just me?

Chelsea, Ralph, and Romeo: Team Dance
Scores: 8, 8, 7, 7
Len said he thought they did a terrific job.  Bruno appreciated that they went "full throttle", but it caused them to go off timing several times.  Carrie Ann disagreed with Bruno, and was impressed that Ralph held his own in the "young, edgy" team.  Donnie said they did a great job.  He pointed out that Ralph flubbed some footwork, though.

Their formations weren't perfect, but they did pretty well.  Unsurprisingly, Ralph was the least successful when it came to the individual bits.  Not only is Latin not his strong point, but he's the only one of the three that hadn't done the Cha-Cha-Cha yet.  Chelsea pulled out the tightest performance, partly due to Mark's choreography being awesome, but also just because she always dances clean!

Hines, Kirstie, and Kendra: Team Dance
Scores: 7, 7, 8, 8
Bruno said the transitions were very good, and Kirstie was born to Cha Cha.  Carrie Ann agreed that Kirstie was on fire and Cha Cha was her dance, but her arms were behind on the group parts.  She said Kendra's arms were weird in her solo bit.  Donnie said the spacing between the couples wasn't right.  Len said Kendra was like a James Bond martini (she was shakin', he was stirred), and Kirstie was right on it.

Kendra did lots of shaking and shimmying, but it wasn't anywhere near the level of last week.  She seemed to have withdrawn a bit.  Again.  Maybe it was nerves from performing with the group.  Kirstie, on the other hand, seemed to pull it together at the last minute, given that the rehearsal package showed her and Maks unprepared.  And Hines?  I don't even have to mention he was great at this point, do I?  As a group, I thought their choreography and patterns were a lot more interesting than Chelsea's team.  It's interesting the way the scores for each team mirrored each other in reverse.

For the individual dances this week, each star got training from some of the greats in ballroom dancing, the champions that train the champions, Luca Baricchi and Shirley Ballas (Mark's mom).  Some highlights of the rehearsal footage: Mark in a passionate dance move with his mother (weeeeiiiird, though we know brother and sister Derek and Julianne Hough have rumbaed together, so...), Hines' confusion about who was the man when dancing with Luca, Shirley bringing out Romeo's "naughty" side, and... well, Kirstie flinging a tree across the room in frustration.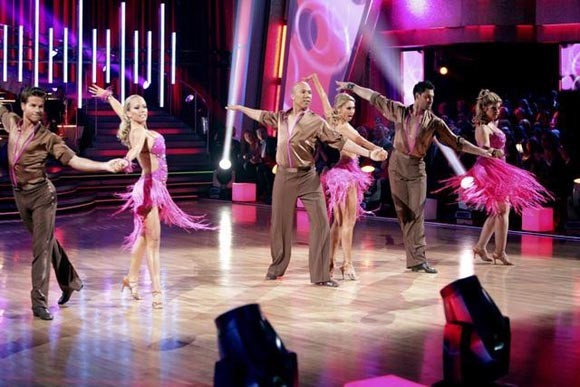 Chelsea Kane (Disney Star) and Mark Ballas
Dance: Paso Doble
Scores: 8, 9, 8, 9
Len said he thought there was too much aggression and it lacked refinement.  Bruno called it a Quentin Tarantino Paso Doble.  Carrie Ann liked that they pushed the boundaries.  Donnie said he was confused by the dance, as Len was.

I mentioned already how clean Chelsea dances, and with the intensity of this dance it stood out even more.  I loved finally seeing her try not to be cute, which was mostly successful.  Mostly.  I liked it, and in particular, I loved the ending (as tiny a thing as that is).

Kendra Wilkinson (Reality Star) and Louis van Amstel
Dance:  Tango
Scores: 8, 8, 7, 8
Bruno said Kendra had never looked so elegant and ladylike.  Carrie Ann said it was nothing but sophistication and confidence.  Donnie said the choreography they did was very difficult, and she did very well.  Len thought it was clean, but not as crisp as he would have liked.

I could tell that Luca's help with "finding the body" really made a difference for Kendra this week.  I think she looked more connected to Louis than she has since their rumba.  The judges said it all.

Kirstie Alley (Actor) and Maksim Chmerkovskiy
Dance: Jive
Scores: 9, 7, 6, 8
Carrie Ann said they went out of sync when they were side by side.  Donnie said he really liked it, even if she wasn't the best dancer, because of the spirit she put into it.  Len said he couldn't find much to compliment.  Bruno said her instinct is always on the money.

Oh no... when I heard Kirstie was doing the jive, I was worried.  It's the fastest dance, and Kirstie is heavy on her feet sometimes, even if she can pull off a Cha-Cha wonderfully.  I was right to be worried this time.  They took forever to start dancing, then she lost timing and lost her place a little bit.  Not a good dance, and I really don't want to see her leave this week.  I can't believe Donnie gave her a 9!

Oh, and Kirstie and Maks kissed again.  Maybe I should start keeping count... Really, they have the oddest chemistry, but it's kind of working for me now.

Ralph Macchio (Actor) and Karina Smirnoff
Dance: Quickstep
Scores: 10, 9, 8, 9
Donnie said Ralph's footwork was fabulous, and that he and Karina rocked.  Len also liked the footwork, though said the upper body was loose.  Bruno said it was a great performance.  Carrie Ann said this was the way she liked to see him compete.

Hmm.  You know, I don't have much to say about this dance.  It was good.  I enjoyed it, and can't disagree with the judges.  But it just didn't stand out to me.

Hines Ward (Football Player) and Kym Johnson
Dance: Tango
Scores: 9, 9, 8, 10
Len said it was a mixture from him, but he liked it over all.  Bruno said said he liked the light and shade of it.  Carrie Ann said he took command of the dance, but he seemed a little off balance sometimes.  Donnie said Hines has a winning mentality.

The music was a little weird, but I actually think it helped.  It lent itself to a nice balance of fast and slow, and power and elegance.  Kym really did great choreography this week, and Hines always keeps up.  I was a little annoyed by now in the show, though, because Donnie was so inconsistent.  How could anyone possibly give Hines and Kirstie the same score?!

Romeo Miller (Rapper and Actor) and Chelsie Hightower
Dance: Samba
Scores: 7, 8, 7, 8
Bruno said there was plenty of fire down below, but he needs to get his bounce right in the samba.  Carrie Ann agreed, and said the bounce he had wasn't sending the samba message, but another one entirely (for the ladies).  Donnie said Romeo may have a party in his pants, but he had an earthquake in his shoes.  Len said he didn't like it much, and that Romeo needs to up his game.

You know, I actually enjoyed it, but I can see what the judges meant.  And they were right.  However, as Donnie pointed out, Romeo has gone from thinking it wasn't cool to dance in the beginning to really building his skill.  I saw that on Monday.  Looking back on his first dance, where his stiff hips actually made me uncomfortable, to now is a huge transformation.

This competition is not getting any easier to judge, from an audience perspective.  My favorite went home last week and now I need to figure out where to go from here.  I just don't know yet, though, so Monday I gave all my votes to Kirstie.  It wasn't her best night by far, but I'd hate to see her go home because of it.  Plus, she gave me a good chuckle when she said, "When in doubt, shake your ass."  We'll see if that works next time I'm in a sticky situation.