'Dancing With The Stars' Week One: The Pomp And Flash Begins (Again)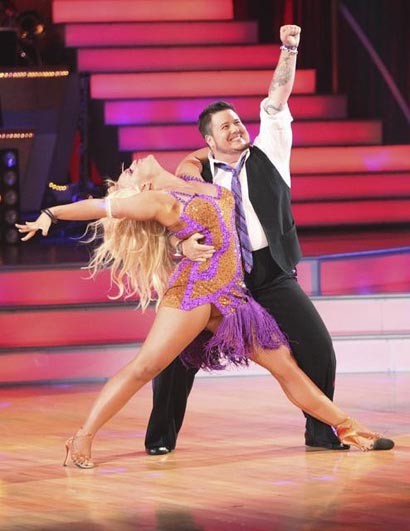 Tuning in to the first night of any season of 'Dancing With The Stars' feels a little like the opening night of a circus.  There are lots of flashy costumes, drama, and the worry that someone might fall off the high wire or have a lion confuse its tamer for a juicy steak.  Only on 'Dancing', the fear is more about falling off the high heels or having a "star" confuse their partner with a Twister board.

It's also the night we get to see if our presumptions about how well certain stars will do are going to go how we want them too.  There are obviously late bloomers, but you usually know on night one who won't be lasting long, at least.

This season I have high hopes for my favorite professional dancer, Maks, who has never won the Mirror Ball Trophy.  Athletes tend to do well on the show, and he's paired with U.S. Women's National soccer star Hope Solo. I don't follow soccer, so I don't know her, but with a name like that... nah, it's too easy to make a wookie joke, so I'll spare you.  Ricki Lake, who famously danced in 'Hairspray' in 1988, is partnered with Derek Hough, who is returning after being out last season to film a movie that no one will ever see.  He won the trophy in season 11 with Jennifer Grey, who famously danced in 'Dirty Dancing' in 1987.  Hmm...

Carson Kressly (of 'Queer Eye For The Straight Guy' fame) is just fab, and he gets the adorable Anna to dance with. I expect them to be the "awwww" couple of the season.  The controversial Nancy Grace got a newbie 'Dancing' partner in Tristan McManus, so we'll see if he can stand up to her, and then of course we got Chaz Bono. Bono has been stirring up controversy with fans since the announcement of this season's cast was made.  Why? He used to be a she.  Big deal, right?  Whatever.  I'm so on board with ABC for being open minded and bringing a transgendered person onto the show.  Oh, and he's partnered with the often wild Lacey, so that should be fun.

Here's how the night went...

Ron Artest (L.A. Lakers star) & Peta Murgatroyd
Dance: Cha-cha-cha
Scores: 5, 4, 5
Len called it the "same old shimmying about" and "all sizzle and no sausage".  Bruno said Ron had power and presence, but he needed to work on technique.  Carrie Ann said Ron was eccentric and sexy, but the technique was "wwllaaaghhh"... whatever that means.

Ron is obviously not a dancer, but he didn't do a bad job.  His hips were stiff, but he tried to swivel them, which is something a lot of men are afraid of at first.  He's foot placement was bad too, but I think he's got some promise.  And Petra looks like she's gonna be fun!  Her choreography was great, even if there wasn't a whole lot of Cha-cha in it.

Rob Kardashian (reality star) & Cheryl Burke
Dance: Viennese Waltz
Scores: 6, 5, 5
Bruno said Rob looked petrified, and he needed to take control.  Carrie Ann said she saw potential, but he needed to flow more.  Len said he wasn't impressed, but he wasn't depressed, either.

I fall on the side of Bruno and Len here.  As often happens with Cheryl's partners, it looked a lot like she was leading him in the dance.  That's something non-dancer men seem to have issues with, taking direction (or orders, in Cheryl's case) from their partners while still maintaining their strength.  This wasn't bad, but it wasn't good either.

Kristin Cavallari (reality star) & Mark Ballas
Dance: Cha-cha-cha
Scores: 7, 6, 6
Carrie Ann said she was excited, and Kristen did a good job keeping up with Mark, but shuffled her feet a little when she was on her own.  Len called the dance bright and lively, but thought she looked better in the rehearsal package.  Bruno said that her turns were unsteady, but she had the full package to be a "bad girl with hot hips".

When Mark said she had natural dancing talent in the rehearsal package, he wasn't lying.  She looked like she was having a great time, most of the time, and was as clean as could be hoped for on week one.  I'm looking forward to seeing more.

Chynna Phillips (singer) & Tony Dovolani
Dance: Viennese Waltz
Scores: 8, 7, 7
Len said it wasn't the best first dance he'd ever seen, but it was close.  Bruno said she looked like she was stepping out of a dream into his heart.  Carrie Ann called the dance gorgeous, even though she saw a few nervous moments.

Unlike the last dance, this rehearsal package was misleading.  I was expecting a disaster, you know, because of the confusion and the kicking Tony in his sensitive bits.  She was surprisingly good, though, once she took the floor.  I was kind of torn between thinking she looked stiff and thinking she just had good posture, though, and the dance wasn't all that memorable.  The judges didn't agree with me on that, but eh. Carrie Ann's 8 was a bit high for week one.

Nancy Grace (TV host and journalist) & Tristan McManus
Dance: Cha-cha-cha
Scores: 5, 5, 6
Bruno said her twins (not a euphemism for her ample bosom) should be proud, and that she had the moves but didn't seem to believe in herself.  Carrie Ann said she was spunky and sassy, but she had to work on remembering the choreography.  Len said she was neat and precise, but had no attack.

She started out better than I expected.  Which doesn't translate to good, but it says something.  Half-way through, though, it looked like she got a little lost and it knocked the wind out of her sails.  I doubt she'll go far, but it was a good effort.  And Tristan was adorable, with his thick Irish brogue.

David Arquette (actor and producer) & Kym Johnson
Dance: Viennese Waltz
Scores: 6, 6, 6
Carrie Ann said he got lost in the dance, and has a beautiful vulnerability, but was trying too hard.  Len said he was "very, very impressed".  Bruno said he looked the part of the romantic leading man, but he lost it and started going from one character to another.

David got a little wobbly at points, and made a couple of mistakes, but he did very well.  He really didn't look like he was having fun at all, though.  I wish I had more to say about this dance, but... I don't.

Elisabetta Canalis (model and actress) & Val Chmerkovskiy
Dance:Cha-cha-cha
Scores: 5, 5, 5
Len didn't like the bed prop at the beginning of the dance (big surprise there), and that she was a little brittle.  Bruno said she was good in bed (nudge, nudge, wink, wink), but thought she fell apart when she was out of Val's hold.  Carrie Ann said agreed Bruno.

Elisabetta was much better in the rehearsal package than she was on the dance floor.  Must have been a case of the nerves.  And Val, a newbie to 'Dancing', has got nothing on his brother.  Overall this dance was a bit of a yawn.

Hope Solo (goalie for U.S. women's national soccer team) & Maksim Chmerkovskiy
Dance: Viennese Waltz
Scores: 7, 7, 7
Bruno said she had a bright future in front of her, but needed to work on control.  Carrie Ann said the body contact and hold were really impressive, and that she and Maks were very connected.  Len said the hold, posture, and movement was good, but that she needed more fluidity.

Like Chynna, this was another case of the misleading rehearsal package.  She looked completely devoid of grace on the tape, and I got worried my hopes for Maks were going to be dashed.  But she put on a great dance when it came to the real performance. I didn't see the "muscling" Carrie Ann was talking about, but maybe I missed it.

Carson Kressley (fashion commentator and former star of 'Queer Eye') & Anna Trebunskaya
Dance: Cha-cha-cha
Scores: 6, 5, 6
Carrie Ann said it was her favorite dance of the night, and said he was "something else", though not great technically.  Len said there was "Jagger, swagger, and stagger", and he hoped Carson didn't get eliminated because he was such fun.  Bruno said Carson was redefining camp as an art form, and it was "full out, outrageous fun".

That dance was crazy, both in good ways and bad.  Carson definitely has the energy and this was a good dance to show that off in, but sweet little Anna looked more aggressive than him.  The flamboyance is part of why I like him so much, though, so I'm going to give him a pass this week.  Maybe Anna can whip him into shape and get him to calm down a bit.  But then again, do we really want to see Carson Kressley get all serious on us?  Probably not.

J.R. Martinez (actor and U.S. Army veteran) & Karina Smirnoff
Dance: Viennese Waltz
Scores: 8, 7, 7
Len said J.R. stood for "Just Right", he was one of the top dances of the night, and he would see him next week. Bruno said he did very well, and he was looking forward to the Latin dances.  Carrie Ann said he brought genuine emotional quality, and had confidence, beautiful fluidity and musicality.

I have to say this first, I'm not someone who tends to coo over veterans, even if I do fully support the men and women who defend us.  J.R., however, is coo-worthy.  He has an amazing outlook on life and positivity that I know I would not be strong enough to have if I were in his shoes.  That said, he really did a great job!  He was leading Karina, who's no shrinking violet.  I was impressed, both with him and his dancing.

Ricki Lake (actress and talk show host) & Derek Hough
Dance: Viennese Waltz
Scores: 7, 6, 7
Bruno said the chemistry was good, and the underarm passes were smooth.  Carrie Ann said she looked like a princess, and that she and Derek finished each other's moves like they were one person.  Len said the footwork wasn't good, but she was elegant and fluid.

Again, I didn't quite see what the judges saw, but I think I was looking to see something else from Ricki, to be honest.  She did very well, and the dance was pretty, but it seems like she would be better suited for a more energetic dance.  Maybe my expectations were off, because it was good, but not something I'll remember.

Chaz Bono (author, activist, and son of Cher and Sonny Bono) & Lacey Schwimmer
Dance: Cha-cha-cha
Scores: 6, 5, 6
Carrie Ann said she thought he lit up the room, and was precise.  Len called him "razamataz Chaz", and said he had good footwork.  Bruno called Chaz cheeky and cuddly, and said it was a great debut dance.
Of course, they saved the most controversial star for last, and maybe it kept the audience tuned in for the whole show to see what happened, but it made the show end on sort of a "meh" note.  I kinda disagreed with the judges, obviously, though it seems like they exaggerated with what they said, based on their scores.  He started out great, and surprisingly light on his feet, but he ran out of energy pretty quickly.  If he stays, hopefully he'll drop a few extra pounds and build up some stamina.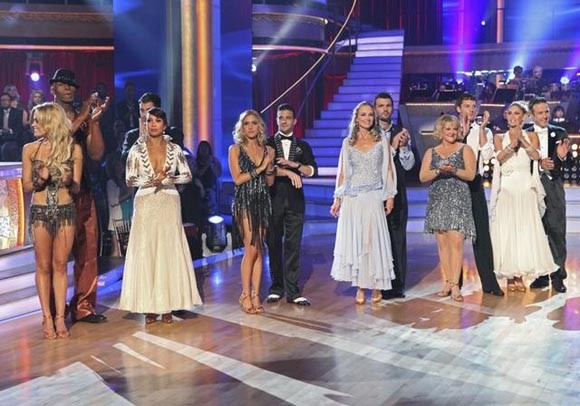 Overall, it was a great first night on 'Dancing'.  There was not actually anyone who I would have called terrible, no Kate Gosselins or Mike Catherwoods to be found.  I would wager that Nancy, Ron, or Rob are going to be the first out, and I expect David, Chaz, and Elisabetta to show the most growth throughout the season.  That is, if Elisabetta can survive the model curse that takes so many of them down early.

Only time will tell if my predictions pan out, but right now I'm basing my votes mainly on who I don't want to see go home yet, even if they aren't the best.  I'm dividing my votes between Chaz, Carson, David and Hope.  What about you guys?