'Dancing With The Stars' Week One Elimination: Ron 'Metta World Peace' Artest Leaves The Dance Floor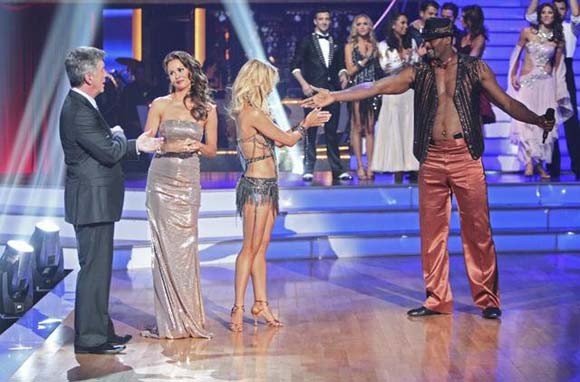 Who gets the boot first on DWTS?  That's the question on the minds of viewers, dancers, and stars alike going into the first elimination of the season.  Well, any elimination, really, but the first one is always the worst.  It's the one where the excitement of the new season gives way to the "oh yeah, there's a sucky part of this too."

But before we got to the elimination show, we got an hour to "meet the cast".  Highlights included a clip of Chaz admitting he's scared of Cheryl, Carson excitedly announcing a crush on Maks while trying on Maks' clothes, and J.R. giving us a glimpse of his fantastic sense of humor.  The encore dance came during the pre-elimination-show show, and went to Carson and Anna.  It was just as wild and fun as it was the night before, and it made me hopeful for Carson even more than I was before.

And then we jumped right into (the drawn out process of) voting someone off the dance floor.  Here's where our leader board stood last night:

1. J.R and Karina - 22
1. Chynna and Tony - 22
2. Hope and Maks - 21
3. Ricki and Derek - 20
4. Kristen and Mark - 19
5. David and Kym - 18
6. Carson and Anna - 17
6. Chaz and Lacey - 17
7. Rob and Cheryl - 16
7. Nancy and Tristan - 16
8. Elisabetta and Val - 15
9. Ron (Metta) and Peta - 14

Out of the gate, Ricki and Elisabetta are safe, and Rob is on shaky ground.  We got a clip package of the stars and dancers getting to know each other, and then the amazing Harry Connick Jr. took the stage.  I'll admit that I'm not going to run out and buy anything by him, since it's just not my style, but every time I see him, his voice just melts me.  Oh, and he's pulling for J.R. and Chaz, which made me smile.

Hope, and Kristen were saved next, and Ron--er, Metta--was on the chopping block.  Ron changed his name to Metta World Peace before the season premiere, and I was surprised they were using Ron last night.  Well, one night was enough of that Ron nonsense, and we've switched to Metta now.

They showed off the new dance troupe, because so many viewers care?  Seriously, if anyone out there cares, explain it to me, because it's just filler in my eyes.

LMFAO performed their Billboard hit next, and I loved Lacey's (and some other guy's) dance, but they have a tendency to stick Lacey in some really unflattering costumes, and this was no exception.  Seriously, her derriere is not that big, wardrobe department.  By the time the song was over, Carrie Ann and Bruno were on top of their judges' table dancing... with Bruno half naked.  "Bruno 'WTF' Tonioli", as Tom called him.

Chynna, J.R., Chaz, David, and Carson all got the green light to next week after that, which left Nancy in the bottom three with Rob and Metta.  Did I call it, or did I call it?  Well, I got two of the bottom three right, anyway.

Who went home?  Metta.  You mean I relearned the name for nothing?

It really isn't much of a loss, though I would have rather seen Nancy go.  I just liked his personality better than hers.  It's too bad we lost a new dancer so soon, too, but that's the way it goes.  Anyway, there's no heartbreak just yet, and the remaining stars have to get cracking on next week's dances now, if only for us and the judges to pick them apart with glee next week.