'Dancing With The Stars' Week Four: Say Goodbye To Chynna Phillips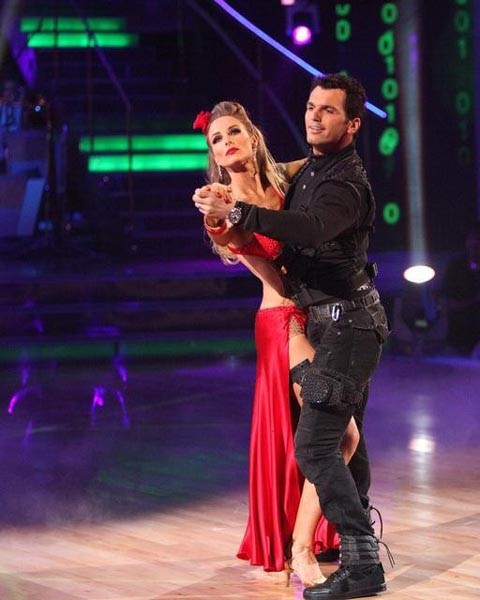 Last Tuesday I was so sure that Chaz was going to go home... and then he didn't. A much better dancer did.  It made me worried for Carson going into last night's elimination.  Then again, Chynna fell from a second place standing to being tied for second to last place with Nancy and Chaz.  That is not a good place to be at all.

Here's where the leader board stood Monday night:

1. Ricki and Derek - 29
2. J.R. and Karina - 26
3. Hope and Maks - 24
3. Rob and Cheryl - 24
4. David and Kym - 23
5. Chynna and Tony - 21
5. Nancy and Tristan - 21
5. Chaz and Lacey - 21
6. Carson and Anna - 20

Raphael Saadiq opened the show with his version of "Soul Man", which earned him a standing O.  Being a Blues Brothers geek, I got a huge kick out of that.  And being an unabashed Pee-wee Herman geek, I also really got a kick out of Paul Reubens (who's been turning up regularly to support his buddy David Arquette) being featured in the audience clips.

Before we got to any results, the amazing Susan Boyle took the stage, but didn't shine quite as much as I would have expected.  Then we had to get down to business.  Ricki was safe (it would have been a travesty if she hadn't been), and so was J.R..  Rob, on the other hand, was told he had to wait to find out his fate.

Julianne Hough, Derek's sister, two time 'Dancing' winner, country music singer, and star of a couple D-list movies, returned to the ballroom.  I've adored her ever since she danced with Apolo Anton Ohno in season four.  And she's just so adorable.  Anyway, she danced a couple songs (one of which was a terrible version of "Holding Out For A Hero") to promote the remake of Footloose which is coming out soon, the mention of which always provokes derisive remarks about all the remakes today from my husband.

Chaz was deemed safe next, and I will give him that he had a good night on Monday.  He still should have gone home last week, but I'll get over it.  Carson was safe after that, and I did a little cheer before they revealed that Chynna was not safe.  Ouch.

I got another geek out moment when Julianne came back to dance with her brother.  They are fantastic together, and danced to "Shake A Tail Feather"!  Yes, I know the Blues Brothers only covered these songs, but I was a kid when I fell in love with them, so you have to give me that.  Still, I can never see Julianne and Derek dance together without thinking about them dancing the rumba together, which was awwwkwaaaarrd.

My moment of the night came just after that, when they showed backstage footage of Tristan telling Nancy to keep her nipples in and not to fart during the dance.  I'm mentally twelve sometimes.  Hope and David got saved next, which put Nancy in the bottom three with Chynna and Rob.  

So who should have gone home from that group?  Nancy.  Who did go home? Chynna.  

Really?  Chynna was a good dancer who had one bad dance, and it's such a shame.  She could have gone so much farther.