'Dancing With The Stars' Week Four Goes To The Movies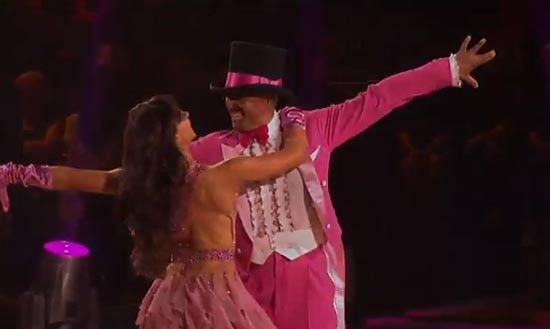 In a week, we lost another dancer, Brooke got a new last name (congrats, Mrs. Charvet!), and all the stars started freaking out.  Yep, week four is about that time for the pressure to kick in, especially after the last elimination. The voters at home decided last week that sometimes dancing ability won't save you.  

Two weeks ago, I predicted that Kristin would make the top five.  Well, I guess not.  Meanwhile Chaz is still dancing.  I swear, I'll tear my hair out if we have another Bristol Palin phenomenon. I have a hard time seeing that happening, but it has before.

Anyway, this week was movie night, which is a personal favorite of mine.  This is how it went:

Chynna Phillips (singer) & Tony Dovolani
Dance: Tango
Scores: 7, 7, 7
Len said he thought they got the character of the dance right, but she lost it and panicked.  Bruno said Chynna lost the plot, but the little that she did was good.  Carrie Anne reminded her that it's not a serious competition, apparently in hopes that next time she messed up, she would come back strong and enjoy it.

I honestly think this was Chynna's worst dance so far.  You could see in the rehearsal footage that she was unsure about the dance, but I thought she'd probably gotten past that by performance night.  Not so much.  She looked blank-faced and distant to me, a little timid.  I was bored half way through, and tangos are usually fun.  It was a great song to tango to, too.  What a shame.  I thought the sevens were too high.

David Arquette (actor and producer) & Kym Johnson
Dance: Paso Doble
Scores: 8, 7, 8
Bruno said he loved the way David cracked his whip.  And his tight muscles in tight pants.  Carrie Anne said that this week there was a new strength and bravado, and she loved every minute.  Len called it a temple of doom, with stomping feet, no shaping through the body and bad hands.

We went from Chynna's worst dance, to David's best dance, in my opinion.  David looked strong and focused.  He nailed the character, and... well, he swung onto the stage by a rope.  How cool is that?  I loved it.  And the standing O from the audience only proves Len is crazy sometimes.

Carson Kressley (fashion commentator and former star of 'Queer Eye') & Anna Trebunskaya
Dance: Viennese Waltz
Scores: 7, 6, 7
Carrie Anne said it was like being on the Pirates of the Caribbean ride, and he was his most butch performance, but the technique was bad.  Len said it was like childbirth, terrible when it's happening, but a joy when it's over.  Ouch.  That was harsh.  Bruno said the sword fight turned into a cat fight, and he lost his spot a few times.

I'm not quite sure what to think of this dance.  Some of it was really good, and some of it was just way off, like when their side by side turns wound up with him almost barreling Anna over.  Carson is fantastic, and the parts he got really showed how far he's come since week one.  But it wasn't great.  He seemed too serious at times, and while serious would be good for this dance usually, Carson's strength is his lightheartedness.

Nancy Grace (TV host and journalist) & Tristan McManus
Dance: Paso doble
Scores: 7, 7, 7
Len said his dancing was competent, but it lacked performance.  Bruno said Nancy needed to become a ball breaker, and it needed to be more truthful.  Carrie thought they needed to give Nancy more credit, but that she needed to connect to the audience more.
When this dance started, I had such high hopes.  And no, not just because the rehearsal package included her asking Tristan, "Is there any remote chance that I can kill you in the end?"  I just thought this would be better, and when she raised up from her crouched position in the first few bars, she looked determined.  But alas, it just didn't pan out.  She got a little awkward, and I honestly didn't care for Tristan's choreography.  Paso is my favorite dance, though, so I guess my standards are higher. Plus Flash Gordon music?  Really?!

Hope Solo (goalie for U.S. women's national soccer team) & Maksim Chmerkovskiy
Dance: Foxtrot
Scores: 8, 8, 8
Bruno said he loved it, and that when Maks was nice, Hope was nice.  Carrie Anne said she smiled the whole way through, and that it was unexpected and fun.  Len said he gets frustrated because Hope could go all the way, but he didn't think she was working hard enough.  Um... what?!

Wow.  I was worried after the rehearsal footage, but I thought this was fantastic.  Hope was able to play the character and show a little girly side.  I loved that she appeared to have put so much trust in Maks, as athletes tend to not want to let their partners take 100% control.  It looked like she put herself completely in Mak's hands, and it paid off fully.

Rob Kardashian (reality star) & Cheryl Burke
Dance: Paso doble
Scores: 8, 8, 8
Carrie Anne said she liked the way he moved, very steady and strong, and he took it up a notch with that dance.  Len said he "didn't mind it", but he walked around like a waiter giving out hors d'oeuvres.  Bruno said it was time to leave Smallville and take on the world.
Rob really put a lot of work in this week, and it showed.  I really feel like I've seen him grow more and more each week.  I can't go into fits about it, but it was pretty good.  The eights were a little high, though.

Ricki Lake (actress and talk show host) & Derek Hough
Dance: Tango
Scores: 10, 9, 10
Len said that Ricki always delivered, but sometimes she dropped her chin.  Bruno called it a blockbuster performance, and a great tribute to Hitchcock.  Carrie Anne called it brilliance in the ballroom.

I always find it annoying when the stars start talking about quitting, but it's especially annoying when the stars in question are really good.  Suck it up, Ricki.  That said, wow.  This dance, yet again, shows what an amazing choreographer Derek is.  That was a really hard song (the theme from 'Psycho'?!), and they nailed it.  I was very impressed by them both. And the silhouette parts were pretty awesome, I must say.

Chaz Bono (author, activist, and son of Cher and Sonny Bono) & Lacey Schwimmer
Dance: Paso doble
Scores: 7, 7, 7
Bruno said Chaz had the true spirit of Rocky, and he kept getting stronger.  Carrie Anne was crying, and couldn't figure out why.  Okaaaaay.  She said he got under her skin and made her root for him.  Len said it wasn't a knockout performance, but it was his best dance in the competition so far.
I'm not sure what to think of this.  There was definitely an improvement, and it had it's moments.  Chaz's steps seemed quicker than normal, and maybe Lacey's endurance training helped.  But he totally flopped at the character of the dance.  And in this dance, that's a huge failure.

J.R. Martinez (actor and U.S. Army veteran) & Karina Smirnoff
Dance: Foxtrot
Scores: 8, 9, 9
Carrie Anne said she thought it was "ok", but the performance fell flat and the humor didn't work.  Len said it was the best male dance of the night.  Bruno said he had great ability and versatility.

Wow, they replayed a nanosecond of last week's performance, and I got weepy.  So it was a bit of a jolt to get the 'Pink Panther' theme this week.  I loved his entrance across the stage, and the dance was fine, but I thought it was one of his weaker dances.  I have to go with Carrie Anne this time.

Well, Carson dropped to the bottom this week, which was disappointing, but Chynna dropped from being tied for second place last week into second to last place with Chaz and Nancy.  It seemed like there were a lot of sevens this week.  Other contestants were flowering, though.  I was especially impressed with Hope this week.  It felt like she moved forward in leaps and bounds.  I'm crossing my fingers that she keeps it up.

So who's going home this week.  Well, after last week, I have no idea.  Hopefully Kristin's exit will light a fire under people to keep the better dancers.  I must say, though, that even though Carson fell to the bottom this week, I still think Chaz or Nancy should go.  Your thoughts?