'Dancing With The Stars' Week Four Gives Us Classics & Another Leader Board Shift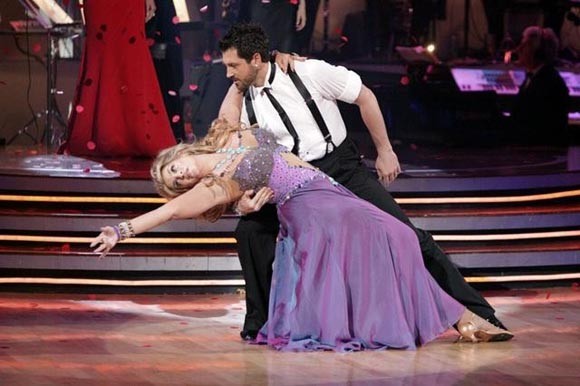 Tchaikovsky, Rota, Bocelli, Williams... It's Classical Week on 'Dancing With The Stars', and the band has gone and multiplied into a 46 member orchestra.  On top of that, we had some amazing guest stars, like violinist David Garrett and singer Katherine Jenkins.  I'm not a huge fan of classical music, but I enjoy it enough, and this was one of the best theme nights I can remember in recent seasons.

The stage was really quite amazing to see, and it brought a whole new element to the show.  Last season they did Acoustic Week, and that was uneventful in my eyes, but this was a game changer.  The stars had to perform dances to classical scores, without defined beats, and often without lyrics.  Some of the scores were so well known for one thing or another that the dancers also had to overcome the preconception the audience would more than likely have to the music.  It threw me a little just watching it, so I know it must have been hard on them.  I thought overall we got some good results, though.

Romeo Miller (Rapper and Actor) and Chelsie Hightower
Dance: Paso Doble
Scores: 7, 8, 8
Len said the dance was full of passion, attack, and intensity, but it lacked precision.  Bruno called it focused, powerful, and action-packed.  Carrie Ann thought his posture was a little strange, but that he had swagger.

Well, I have to first say that it was a much more dramatic change in doing the classical music than I thought it would be, so that took a moment to get used to at the beginning of the show.  Then there was the unnecessary, distracting fire effects, and Romeo ripping off his vest at the end, so it was a little hard to focus on the dancing.  That said, I thought it was very strong, though he got a little hunch-backed in weird places.

Kendra Wilkinson (Reality Star) and Louis van Amstel
Dance: Viennese waltz
Scores: 6, 6, 6
Bruno said she messed it up, and she knew it.  He was upset that she didn't really live the emotion of the song.  Carrie Ann said she could tell Kendra was trying hard, but she looked like she was holding back.  Len thought it flowed, even if there were some mistakes.

I loved the song, but really didn't feel a whole lot about the dance.  Kendra actually looked uncomfortable in parts, particularly during the spin that she freaked out about in the rehearsal package.  Once that happened, fairly early on, she never quite recovered.  What a disappointment after such a good rumba last week.

Sugar Ray Leonard (Retired Boxer) and Anna Trebunskaya
Dance: Viennese Waltz
Scores: 7, 7, 7
Carrie Ann said it was like watching a sixth grade performance with because of the excitement level.  She admitted he sometimes jogged when he was supposed to glide, and his shoulders came up at times, but she loved it.  Len said said Sugar Ray became the Sugar Plum Fairy, and he was entertained.  Bruno called it charming and good entertainment.

This was great.  And weird.  And adorable.  And bad.  Did I mention weird?  Weird because I liked it so much, even the parts that were not so great.  At times I thought, 'Wow, he looks ten times better than before!', then it would go right back to 'hmm, maybe not, but how cute!"  Carrie Ann hit the nail on the head with the sixth grade play analogy.

Also, Anna during the package: "No, it's not your foot; it's my foot, because you're my student now."  Priceless.

Petra Nemcova (Supermodel) and Dmitry Chaplin
Dance: Paso Doble
Scores: 8, 7, 8
Len wanted it to be a little crisper, but he was "more impressed than depressed".  Bruno called Petra a femme fatale...while stripping off his jacket and writhing.  He worries me a little sometimes.  Carrie Ann said Petra was on a roll.

I don't have any strong feelings about this one myself, except that it was better than I thought it was going to be.  Not great, but Petra managed to look powerful instead of just beautiful and cute.  It was well done. And man, she's keeping herself near the top again this week.  She's turning out to be a surprise contender.

Ralph Macchio (Actor) and Karina Smirnoff
Dance: Waltz
Scores: 8, 8, 9
Bruno called it achingly romantic and brilliant storytelling.  Carrie Ann loved his honesty and the emotion he portrayed.  Len said Ralph was in the wilderness for two weeks, but was back now.

Wow.  Ralph IS back!  Well, honestly, while I realize he hadn't lived up to week one since then, I never really thought he went anywhere.  The judges did, though, and this dance knocked some sense right back into them!  The music helped with the mood, of course, because we all associate that song with Romeo and Juliet, but it was still an outstanding performance.  I especially loved the side by side spins near the end.

Hines Ward (Football Player) and Kym Johnson
Dance: Paso Doble
Scores: 9, 8, 8
Carrie Ann said he was in the zone, and it was a touch down of a paso.  Len said Hines was the most determined of any of the stars this season, and he was doing great.  Bruno called the dance truly explosive.

It wasn't really a surprise that Hines did well, but it was interesting to see his serious face this week.  Like Brooke pointed out before the judges gave their scores, we've gotten so used to his smile.  It took me a minute to adjust, but when I did, I loved it.  And like Ralph and Karina, the music they danced to was perfect for them.  

Chelsea Kane (Disney Star) and Mark Ballas
Dance: Viennese waltz
Scores: 9, 8, 9
Len said he always saw something he didn't like, and he was unhappy that Mark took a 300 year old dance, the most traditional of the ballroom dances, and made it so modern and distracting.  Bruno said it was magical, fabulous, beautiful and bewitching, and he thought it was technically the best of the night.  Carrie Ann  said that sometimes she agrees with Len, but tonight she agreed with Bruno.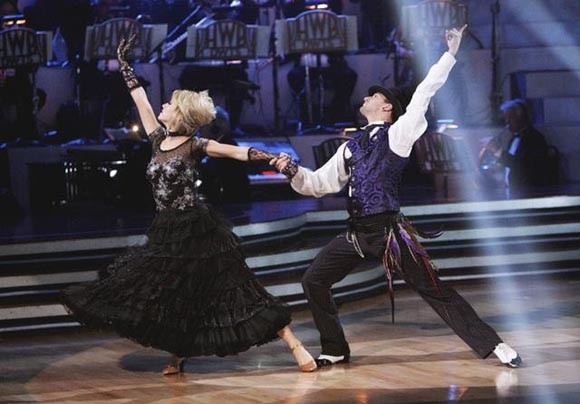 I did not like this at all.  Look, I know I said that Ralph and Karina's recognizable Romeo and Juliet music was a good thing for them, but the Harry Potter music was way too modern for ballroom dance.  I've seen Harry Potter music used in 'Dancing' before, and I didn't like it then either.  And they of course tried to tie in the wizardy theme, and Mark threw in a bunch of weird moves when they were apart, and it didn't work for me.  Maybe I have a little Len Goodman in me.  I cannot believe it was the top dance of the night, or that Len even gave it an 8!

Chris Jerico (WWE Wrestler) and Cheryl Burke
Dance: Paso Doble
Scores: 8, 7, 8
Bruno called Chris the God of Thunder, and said he got all the accents in the music well.  Carrie Ann agreed that he had a great connection to the music.  Len said he started out with menace, but he didn't keep up with the music as it got more aggressive.

You know, I didn't really feel this at first watch, and I think that was the music choice.  It seemed very slow at the start, and while I liked it, it took me a second watch to appreciate the build up.  Yep, still have a tiny crush on Chris Jerico.  How did that even happen?!

Kirstie Alley (Actor) and Maksim Chmerkovskiy
Dance: Waltz
Scores: 7, 7, 8
Carrie Ann said Kirstie was the queen of the unexpected mishaps, but she didn't miss a step.  She thought Kirstie seemed disconnected from the dance until her shoe fell off, then there was more joy.  Len said it was okay, but everything needs to improve.  Bruno said she did amazingly well.

Her shoe fell off.  Seriously.  Last week they fall, this week her shoe comes off, and while it wasn't exactly the lightening strike I joked about last week, they really are settling into a pattern of mishaps.  That said, this dance was just okay.  Not spectacular, but sometimes the waltz is just blah to me anyway.

Yet again, we see the leader board shift.  Chelsea skyrocketed to the top this week, with the best score of the season so far, on a performance that I didn't really think deserved it.  If this non-traditional 300 year old dance was a 26, how was their week two performance (which was equally non-traditional, but in a much more modern dance) an 18?!  

There's probably a reason why I'm not sitting behind that judges' desk.

Kirstie fell a little, and Ralph jumped up a bit, and deservedly so on both counts.  Most worrying is Kendra, though, who slipped from a tie for second place last week to last place this week.  She is in the bottom two with Sugar Ray, and I couldn't tell you who I'd rather see go.  I like Sugar Ray a lot more for his personality and charm, but I think Kendra has the potential to be a better dancer.  It'll be interesting to see which way Tuesday night goes.