'Dancing With The Stars' Week Five Sends Petra Packing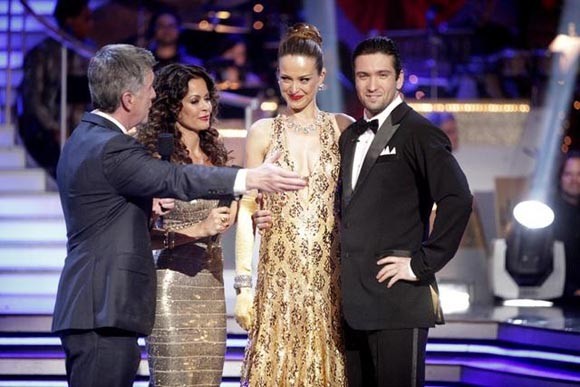 American Week performances were hit and miss, so I'm glad we're putting that behind us, and I'm looking forward to next week's "guilty pleasures" theme.  But of course there is the business of who has to go home to deal with before we can move on.  Let's take a look at where Monday's judges' scores left us:

1. Hines and Kym - 27
2. Chris and Cheryl - 26
2. Chelsea and Mark - 26
2. Romeo and Chelsie - 26
3. Kirstie and Maks - 23
4. Ralph and Karina - 22
4. Petra and Dmitry - 22
4. Kendra and Louis - 22

We started out this results show with the fates of the top scorer, Hines, and Kirstie, who landed in the middle (at third place!).  First, I love that Kirstie said that she and Maks "hooched it up" Monday night.  Anyway, Hines was safe, as if anyone expected different, but Kirstie was in jeopardy.

Romeo and Chelsie got the encore dance, and I liked it better this time than Monday night.  That seems to happen for me (is it just me?).  Maybe the nerves are off and the stars relax more.  Regardless, some of the obvious timing missteps from Monday were fixed Tuesday.

Toby Keith was our musical guest this week, which gave our pros more Americana to dance to.  Chelsea, Romeo and Chris talked to Brooke next, and we got a taste of Romeo's gangsta alter-ego.  If you can call it that.  It was funny, whatever it was.  Chelsea and Romeo were safe, but my new favorite, Chris, was on shaky ground.  Noooo!

In a blast from the past (if we're going to be dramatic about it, seeing as it's only been a few weeks), Mike Catherwood got his own little bit on Tuesday's show.  He did a segment of clips "exposing" embarrassing backstage shenanigans... like Hines passing gas, Cheslie losing her "mechanical bam bams" (in Romeo's words), Carrie Ann and Bruno annoying Len off camera, and Maks calling himself "a stick that was dipped in a boiling pot of sex."  Pretty sure he was implying he was "sex on a stick".  In which case, he's right.  But let's just hope for all your sakes that he keeps clothed for the rest of the competition so you don't have to listen to me going on about it anymore.  Sorry 'bout that.  Moving on...

Macy's Stars of Dance were next, featuring Jamal Sims (choreographer for Madonna, Britney Spears, and the "Step Up" films).  They did an urban inspired, upbeat number to Janelle Monae's "Tightrope".  I thought it was a lot of fun, and loved the way the "scenes" flowed together so well.

Then Ralph and Kendra were told they were moving on, but Petra's fate was uncertain, which left her in the "bottom three" (though not necessarily really at the bottom in overall points) with Kirstie and Chris.  Okay, I really am surprised that Kendra didn't wind up in the bottom of the pile.  On top of that, two out of the three in the bottom, Chris and Kirstie, were my favorites!  I had just decided who to throw my votes behind this week, so I was actually a little nervous for the first time this season.  

I was lucky not to lose anyone I voted for, though, because Petra was not so lucky and got sent home.  While I'm happy we still have Chris and Kirstie, I am disappointed to see Petra go.  She was a good dancer, and I feel like we lost another good person.  Last week, the "heart of the show" Sugar Ray left us, and this week another genuinely sweet person bit the dust.  But at least she lasted longer than most models do on this show, so that's saying something.  Best wishes to you, Petra.