'Dancing With The Stars' Week Five Salutes The Red, White And Blue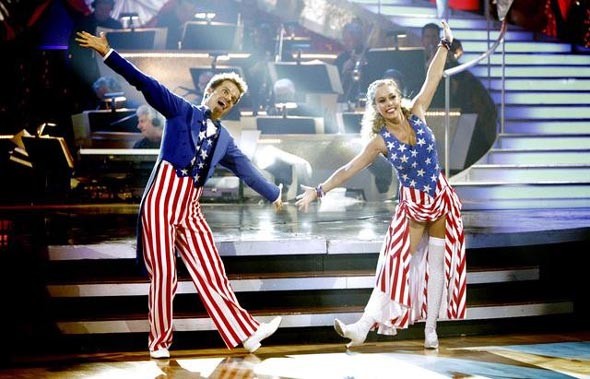 It's American Week on 'Dancing With The Stars', and Monday was a night of odd music choices mixed with dances that didn't fit them.  As a result, there were a lot of awkward performances, and mixed reviews. I think they may have started out with a good idea for a theme, but didn't carry it out very well.  After last week's classical theme, it was a definite step down.  But the show must go on, and 'Dancing' has always got to have a gimmick, right?

Ralph Macchio (Actor) and Karina Smirnoff
Dance: Samba
Scores: 8, 7, 7
Len said that he was disappointed in Ralph's inconsistency.  He said it wasn't terrible, but it lacked in a lot of ways.  Bruno said he could not disagree with Len, and it needed "fire down below".  He wanted Ralph to give him sex.  Ummm, moving on...  Carrie Ann said the combination of Americana with samba was a crazy concoction, but she thought it was a great, energetic performance.

I thought it was all kinds of adorable.  At the start Ralph was a little stiff and a little crazy, but he reigned it in.  The "spatula hands" were back too.  It wasn't great, and I don't think Ralph is all that strong in Latin dances (like Len said), but he makes up for what he lacks in entertainment value.  I can't disagree with what Len and Bruno said at all, but I can't disagree with Carrie Ann either.  I liked it.

Chris Jerico (WWE Wrestler) and Cheryl Burke
Dance: Viennese waltz
Scores: 9, 8, 9
Bruno called Chris "big, yet graceful" and the dance elegant with a sweeping sense of romance.  Carrie Ann said she thinks they may have underestimated Chris, and that his technique was amazing.  She called him a real contender.  Len said it was nice of Cheryl to show off the "rocky mountains" for American Week.  He said it was a little flat footed, but his hold and posture was good.

I have to admit that Cheryl's dress was distractingly sexy, as even Len pointed out.  Funny how she could be almost covered (it was a long dress with sleeves, for crying out loud!), and just the sheerness of it in certain angles made it... well, yeah, you get it, right?  Anyway, Viennese waltz is not too exciting to me, but it still surprises me how graceful someone who made a career out of wrestling can be.  I'm not sure if Chris can win this competition, but he's slowly becoming one of my favorites.  It's been hard to pick this season with all the shifting on the leader board, but I have liked him every week since week two.

Petra Nemcova (Supermodel) and Dmitry Chaplin
Dance: Quickstep
Scores: 7, 7, 8
Carrie Ann said that Petra took a step back this week, and they got out of sync a couple times.  Len said she coped well with the speed, but she needed refinement.  Bruno disagreed with Carrie Ann and Len.  He called her the "golden goddess of speed", but pointed out there were a couple of mistakes.

Petra is obviously gorgeous, and in this dress she was stunning.  I actually think the graceful look of it helped her look better in the dance.  First Cheryl's dress, then Petra's, I clearly couldn't focus... but we're not going to sit here and pretend that the "pretty factor" isn't part of the spectacle that draws us in to 'Dancing', are we?

She looked a little unsteady, and a couple times it seemed like Dmitry was tugging her along.  I can't help but like her, though.  She's sweet and optimistic and it seems totally genuine.  Like Sugar Ray, sometimes her personality makes up the difference when her dance is lacking.

Romeo Miller (Rapper and Actor) and Chelsie Hightower
Dance: Foxtrot
Scores: 9, 8, 9
Len said the parts in hold had control, and the parts out of hold had a lot of flair.  Bruno said he's never seen such a cheeky foxtrot.  Carrie Ann said the dance was cool and sophisticated.

I actually wasn't such a fan of this dance.  There were a couple of spots where it seemed like he was off timing, and the end was very jerky in movement.  I think it was the choreography I disliked more than Romeo's dancing, but I'm surprised every week at how much more the judges like him than I do.

Hines Ward (Football Player) and Kym Johnson
Dance: Rumba
Scores: 9, 9, 9
Bruno said it had ease of movement and musicality.  Carrie Ann said he made the dance look easy, and he had good hip action.  Len said there was an naturalness about it, and he thought it was Hines' best dance.

Wow, what a bizarre song to rumba to!  I just couldn't get into it.  Not only was the song/dance combination weird, but Kym was beaming like she'd won the lottery, which seemed a little too perky for the rumba.  Plus, what is it with 'Dancing' putting Kym in all these costumes with asymmetrical fringe.  Yes, I was apparently distracted by costumes all night last night, but they do this all the time with Kym, and I can't not stare at it every time!

Kirstie Alley (Actor) and Maksim Chmerkovskiy
Dance: Foxtrot
Scores: 8, 7, 8
Carrie Ann said it was bold and borderline crazy.  She thought it was Kirstie's best dance.  Len said it had attitude, but it wasn't his cup of tea.  Bruno called them the American Woman and the "Russian gigolo" (except he's Ukrainian!), and said the Cold War was definitely over.

Okay, speaking of costumes... How on earth was I supposed to focus on anything that happened during Kirstie and Maks' dance when Maks was wearing leather pants and no shirt?!  Seriously, how?  I'm sorry, I try not to indulge in too much Maks obsession in my reviews (even if he is my imaginary boyfriend), but I think my blood pressure skyrocketed for a few minutes here.  Jeeze.

Ahem... I did my best in rewatching it (like ten times) to really focus on the dance, and I actually found it a little blah.  I was kind of bored, which is exactly what you don't want when you have a song as amazing as 'American Woman'.  Then again, like Hines and Kym's song/dance mismatch, Foxtrot wasn't very well suited to the song.  The judges liked it, though, so maybe I just wasn't able to focus well enough.  On the plus side, there were no mishaps for Kirstie and Maks this week.

Kendra Wilkinson (Reality Star) and Louis van Amstel
Dance: Foxtrot
Scores: 8, 7, 7
Len said it was much better than last week.  Bruno said she was sweet as apple pie and more in character, though he could still see her thinking too hard.  Carrie Ann said this was the most confident that she'd seen Kendra.

Well, if there was an award for cutest costumes of the night (I should start giving them out in my head at this point), Kendra and Louis would have won it.  I wasn't enthusiastic about the dance, and then Kendra made a point to remind us that she had PMS last week.  We get it, okay?  Enough.  I want Sugar Ray back.

Chelsea Kane (Disney Star) and Mark Ballas
Dance: Samba
Scores: 9, 8, 9
Bruno said she had all the positive energy of America, and all the sizzle of Brazil.  Carrie Ann said Chelsea and Mark dance really well together, and she thought it was fantastic.  Len started off his review with "Yum, yum, what a bum!"  Can we just leave it at that?  Thanks.

This was a fun dance, and I liked it a lot more than last week's.  I am starting to get a little annoyed at Mark, though, because it feels like every week he's upstaging Chelsea.  He's always doing something a little spastic, which is totally cute to a certain point, but it's getting old.  Is it just me?

This week we ended with a bunch of ties again.  It's still really close and everyone is within five points of each other.  Hines pulled in the top spot this week, but my guy Chris pulled in at a second place tie with Chelsea and Romeo.

Each season it takes me a few weeks before I start voting, trying to get a better grasp on each contestant.  This week we all got eight votes, and most of mine went to Chris.  I'm still on Team Kristie and Team Ralph, too, so I threw them a couple, but I'm starting to sway.  Of course, given this season, everything could change next week.

So who is going home next?  I wouldn't be heartbroken seeing Romeo go, but he's been scoring well, even if he doesn't float my boat.  I really hope it's Kendra's time.  I think she peaked with her rumba, and even if she has potential to rise again, I'm not really interested anymore.