'Dancing With The Stars' Week Five Performances Are Totally Bodacious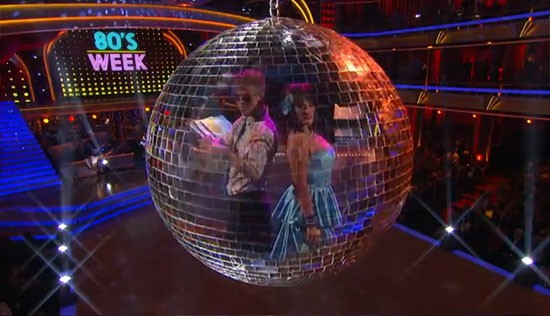 Last night 'Dancing With The Stars' brought back side ponytails, leg warmers, and music that either inspired nostalgia or mild embarrassment.  Or both.  Yep, it was 80s night, and while I was young in the 80s, it's a decade that was hard to forget for anyone who lived through it.  Honestly, I'm pretty sure everyone in the fashion and entertainment industries went insane for about ten years.  Pants with stirrups? Check. Movies where mannequins came to life? Check.  And I'm pretty sure I had an enormous sweater covered in graffiti of every color that was totally radical, dude.

Here's how our bedazzled and glamed up stars did with the decade of decadence for inspiration:

Hope Solo (goalie for U.S. women's national soccer team) & Maksim Chmerkovskiy
Dance: Tango
Scores: 8, 8, 8
Len said that Hope was lacking strength, but he liked the attack.  Bruno thought she got the 80s "super bitch" down perfectly.  Carrie Ann said she agreed in part with both Bruno and Len.
I'm not exactly sure why, but this dance seemed sloppy to me.  At the beginning, I thought maybe Hope's ridiculous coat was making her look off, but they still looked a little off after she tossed it aside.  And I kept just waiting for her to trip over the coat, or the purse she threw, which didn't make it out of their ways at all.

Carson Kressley (fashion commentator and former star of 'Queer Eye') & Anna Trebunskaya
Dance: Jive
Scores: 6, 6, 7
Bruno said the dance was loopier than the Loony Tunes, and was a crowning achievement in madness.  Carrie Ann said it was fun, but she didn't see much technique at all.  Len said if he was judging with his heart, Carson would be back next week, but judging with his brain, he wasn't sure it was good enough.

This was yet another dance of Carson's that had it's good points and bad ones.  The jive is super hard, so I knew Carson wasn't going to be particularly strong, and I almost hate to be hard on him, but... the start was bad, and didn't pick up for several bars.  He looked often like he was watching Anna, waiting for her cue to start any given sequence of kicks/spins/etc..  Watching this, I thought maybe it was finally time to stop voting for him.  Of course, that won't happen until Chaz goes home.

Nancy Grace (TV host and journalist) & Tristan McManus
Dance: Rumba
Scores: 7, 7, 8
Carrie Ann said she wanted to see real passion, and she didn't feel a connection to the dance.  Len thought it was simple, but effective.  Bruno agreed with Len, and said it was one of her best performances.

Booooooring.  In the 'blah' spectrum on rumbas, this was about a 3.  Carrie Ann got it right.  I think part of the trouble, at least this week, is what an odd couple Nancy and Tristan are.  The age difference is hard to ignore.  That's not always a problem (look at Kirstie and Maks last season!), but it seems to be here.  I just couldn't buy the "story" here.

J.R. Martinez (actor and U.S. Army veteran) & Karina Smirnoff
Dance: Samba
Scores: 9, 9, 10
Len said he was going to use J.R. as an example of how men should dance the samba from now on.  Bruno called J.R. a loin-shattering (ouch) sex machine.  Carrie Ann said it was amazing.

I actually clapped when this was over, all alone in my living room.  Don't judge.
Anyway, J.R. really nailed the hip action here, in a dance so many men fumble the first time around, almost like they don't think it's manly enough.  The samba roll was a great show off move too.  They seemed to lose sync for a few moments at the end, but otherwise I thought it was great.  I'm not going to complain about the way those pants he was wearing fit him either.  Ahem.  Back me up, ladies.

Rob Kardashian (reality star) & Cheryl Burke
Dance: Rumba
Scores: 9, 8, 8
Bruno said they were starting to see Rob the heartthrob.  Carrie Ann said it was strong and sexy.  Len said he pulled off being masculine, and that he took control in the dance.
This dance really didn't inspire much reaction from me at all.  He was sexy (which they worked on in rehearsal) during all the moves that had to be, but the rest of the dance, he was just going through it.  It wasn't bad, at all, but I wasn't very impressed either.

Chaz Bono (author, activist, and son of Cher and Sonny Bono) & Lacey Schwimmer
Dance: Samba
Scores: 7, 7, 7
Carrie Ann said it was the most dancing she'd seen from Chaz so far.  Len said it was a good effort, and he liked that Chaz "gave it a go".  Bruno said Chaz did very well, but after J.R., it didn't hold up.

Remember what I said up there about continuing to vote for Carson until Chaz went home?  This dance made that seem like a much harder promise to keep.  I love an underdog, and it seems like every season I wind up rooting for the person who finishes third.  Chaz is still not great, but this week felt like a massive step forward.  I think Lacey bringing her father in to coach Chaz made a huge difference.  I could not stop grinning through the whole dance.

David Arquette (actor and producer) & Kym Johnson
Dance: Tango
Scores: 8, 9, 8
Len said the dance had a great feel, and said David was fantastic.  Bruno said David had the attitude of Billy Idol, and was in charge.  Carrie Ann said David's hold was improving, but he needed to improve his musicality.

Firstly, this song wins for being just perfectly suited to the tango.  David stepped it up a notch from last week, but the mood of the tango and the paso doble are very similar, so it was like a building blocks.  His posture was good, and he looked in control.  I didn't love it, but I liked it a lot.

Ricki Lake (actress and talk show host) & Derek Hough
Dance: Foxtrot
Scores: 8, 8, 8
Bruno pointed out that Ricki went off timing during the Roger Rabbit moves, and they didn't gel.  Carrie Ann agreed, but she said she still loves how well they work as a team.  Len said there was no body contact in hold, and the footwork was hit and miss, but it wasn't her worst dance.

I'm not quite sure what to say here.  It felt like a let down, and maybe it's just because last week's dance was so amazing.  I think just about any dance they did would have paled in comparison.  She was great as usual, but it just fell a little flat.
So this week I'm worried about Carson.  His charm has pulled him through so far, but it's starting to lose it's gleam. Chaz, on the other hand, rebounded spectacularly this week.  If the viewers kept him around after all his previous dances, then chopped him this week, it would be a shame.

But maybe both of them will get lucky and Nancy will go home.  I've said before that she dances like an old lady, and this week highlighted that.  Not good.  If she makes it through, Tristan really needs to start chipping away at her walls as much as possible.