'Dancing With The Stars' Week Eight Sees Romeo Fall Just Short Of The Semi-Finals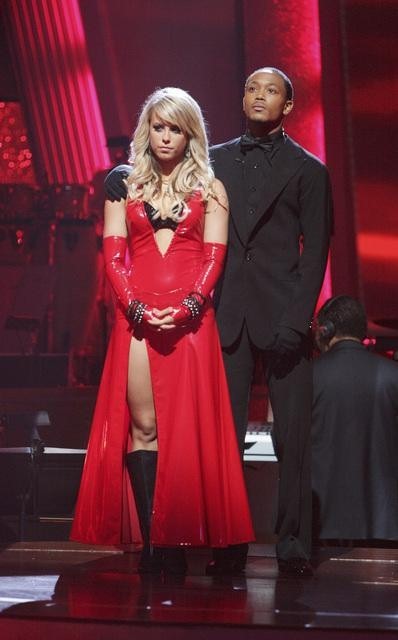 Monday night, Ralph took a tumble all the way down to the bottom of the leader board, falling a full six points behind his closest competitor.  With the competition as tight as it is, it could have been his demise.  The fans sometimes surprise us, though, and they did this week (or at least surprised me) in our last elimination before the semi-finals.

But first, before we got to the results show, we had an hour of a recap show.  Because heaven forbid we actually watch something educational.  I love this show, but that decision was frustrating.  On top of that, this week wasn't even a performance recap, but a collection of clips from past results shows!  Because people watch the results shows for the acts?  I don't think so.

Here's where the scores left us Monday night:

1. Chelsea and Mark - 55
2. Hines and Kym - 54
3. Kirstie and Maks - 53
4. Romeo and Chelsie - 52
5. Ralph and Karina - 46

Kirstie and Maks got the encore dance with their Argentine tango, then stood and awaited their fate with Hines.  oth of them were safe, and it was on to one of the only results show segments that I actually look forward to each season, DanceCenter.  It's 'SportsCenter' Dancing style, with Kenny Mayne, Jerry Rice, and Len, giving us silly examinations of fake star statistics.  Some highlights this season included the doctored commercial for the Ukraine's version of 'The Bachelor' (which Maks starred in) featuring Kirstie, and Hines making out with his pillow.

Micheal Bolton and Delta Goodrem gave us a musical performance, followed by a dance routine by three young men, the Tuitas, who overcame the death of their father through dance.  Sweet story.  The show threw some girls into their dance, and that took away from it, but when the boys danced on their own, it was impressive.

Adele, who got sidelined from being the main musical act of the night due to voice issues, performed next.  She has a great voice, and it's a shame we couldn't hear more.  There was no time to fret, though, because the elimination came next.  

Chelsea was safe, which left it down to Ralph and Romeo.  I was sure Ralph would be leaving, but it looks like the viewers rallied around him in spite of his injury, and it was Romeo who left us.  I really hope Ralph's leg heals enough that the viewers didn't waste their votes.  

It took me a while to really appreciate Romeo as a dancer, but I got there, and at least he went out on what was probably his best performance.  Fingers crossed that the fans made the right choice.  With Ralph's inconsistencies in Latin dances, I'm not so sure they did.