'Dancing With The Stars' Week 6 Results Show Is A Shocker!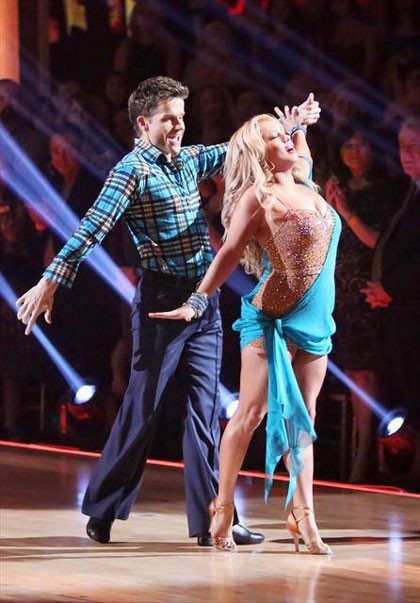 Results night on "Dancing with the Stars" brought twists and shocking revelations for celebrities, pro dancers, and fans on week six of the dancing reality competition.
After an encore performance of a Viennese Waltz by Apolo Anton Ohno and Karina Smirnoff, host Tom Bergeron announced the first results.  The lowest scoring couple of Emmitt and Cheryl are safe.  They were joined by the second lowest scoring couple Kelly and Valentin.
The first guest performance of the night was from Grammy Award winning singer Jason Mraz who performed "I Won't Give Up" as Chelsie and Mark danced.
Derek announced that due to a neck injury, he would not be dancing next week, but has asked friend Mark Ballas to step in.  Mark was Shawn's original partner when she won the mirrorball in season 10.  Shawn and Derek are safe.
Giles and Peta and Kristie and Maks are also safe.  With the first five couples announced safe it meant that the top three scoring couples were in jeopardy and one of them would be going home.
The Macy's Stars of Dance paid tribute to the French Revolution with a high flying routine.
On performance night, host Tom Bergeron announced that next week the couples would be performing a fusion dance.  A fusion dance is one song and two different dances.  The second twist of the night was that the couples would once again be choosing the dances for each other.
Meliss and Tony – Tango and Cha Cha
Giles and Peta – Argentine Tango and Samba
Sabrina and Louis – Tango and Foxtrot
Kristie and Maks – Quickstep and Samba
Shawn and Derek/Mark – Tango and Paso Doble
Emmitt and Cheryl – Rumba and Samba
Kelly and Valentin – Cha Cha and Foxtrot
Apolo and Karina – Cha Cha and Paso Doble
Country star Taylor Swift performed "We Are Never Ever Getting Back Together" from her new album "Red" as the DWTS Troupe performed on the dance floor.
Time for the final results and elimination…
…of the three couples in jeopardy Melissa and Tony, Sabrina and Louis, and Apolo and Karina – Melissa and Tony were safe meaning one of the couples who earned a perfect score for their dance would be eliminated.
The couple eliminated was…
…Sabrina and Louis!  When she appeared in season five, Sabrina was also eliminated on week six in what was called one of the most shocking eliminations in show history.  Sabrina was the fan choice to appear on the All Star season. 
Next week is the fusion dance, a Swing Dance marathon, and another week of no eliminations.