'Dancing With The Stars' Week 5 Results: Who Was Kicked Off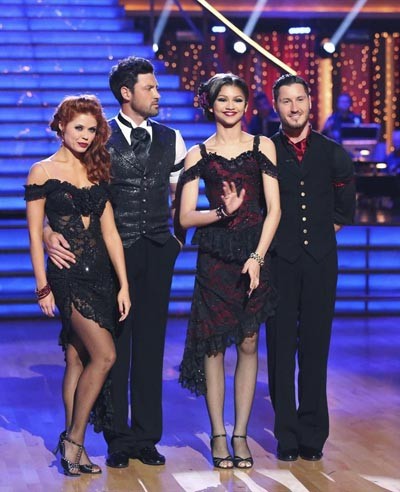 After head judge Len Goodman challenged the celebrities to match dance steps with the professional dancers in his side by side challenge; the couples were eager to learn who would be safe and who would return for a musical celebration next week - when mega pop star Stevie Wonder comes to the Ballroom for his 50th musical anniversary to perform all of the songs live.
Professional dancers Mark Ballas and Derek Hough choreographed an out of this world space disco for the opening dance number complete with flashing lasers.
Getting right to the first results Kellie and Derk were declared safe but Ingo and Kym became the first couple in jeopardy and would have to wait to learn their fate.
The fifth week of competition would prove to be footballer Jacoby Jones lucky week; not only did he earn his first nines of the season on performance night, he would be chosen along with partner Karina, Anna, and Maks to give the encore performance.
In the next set of results Zendaya and Valentin were safe but Victor and Lindsay again found themselves in jeopardy.
Before that happened, he country music brothers and sister trio The Band Perry performed "Better Dig Two" while Whitney and Tristan danced.
After the encore performance, Jacoby's good luck continued when he and Karina learned that they were safe; Aly and Mark were also safe.
Next week the team dances return with the Paso Doble to "Higher Ground" and the Samba to "Superstition." As the couples with the highest scores Kellie and Derek and Zendaya and Valentin were named team captains.
Award winning choreographer Stacey Tookey provided the choreography for the Macy's Stars of Dance performance to a live performance of "Love Me or Leave Me".
Pop star Selena Gomez made her network television debut of the new single "Come and Get it."
Sean and Peta and Andy and Sharna are safe but comedian D.L. Hughley and Cheryl are the third couple in jeopardy.
Host Tom Bergeron reveals that Ingo and Kym are safe leaving boxer Victor Ortiz and Lindsay and D.L. and Cheryl as the bottom two couples once again.
After consistently finding themselves at the bottom of the leader board, D.L. Hughley and Cheryl were eliminated from the competition. D.L. said that he had a ball and would miss Cheryl.
Next time it's Stevie Wonder week.