'Dancing With The Stars' Week 4 Results: Ready For A Shocker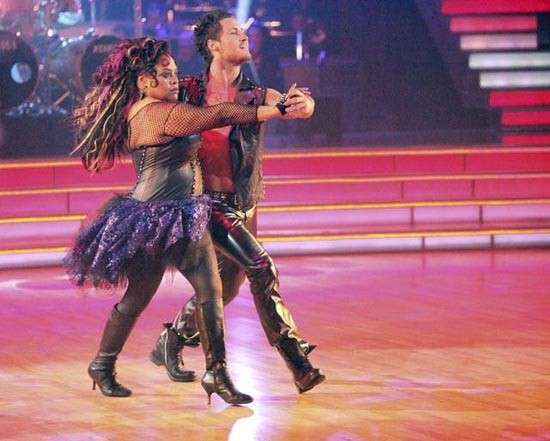 Are you ready for a shocker? That seemed to be the overall theme for last night's results show. "This really is one of the nights where you look at the quality of the cast and have no choice but to be shocked," said Tom Bergeron. And yes we were, and unfortunately another wonderful dancer was sent home. The judges scores going into elimination were the following in ranking order.

1. Katherine Jenkins & Mark Ballas- 105
2. Roshon Fegan & Chelsie Hightower- 100
3. Maria Menounos & Derek Hough- 99
3. William Levy & Cheryl Burke- 99
5. Donald Driver & Peta Murgatroyd- 98
6. Jaleel White & Kym Johnson- 95
7. Sherri Shepherd & Val Chmerkovskiy- 91
8. Gavin DeGraw & Karina Smirnoff- 88
9. Gladys Knight & Tristan MacManus - 86
9. Melissa Gilbert & Maks Chmerkovskiy- 86

KISS kicked off the evening with a huge bang, which brought everyone back into the rock mode from Monday night. Also, during the evening season thirteen winner Karina Smirnoff dazzled with her steamy performance of the Argentine tango with Jose Manuel Carreno, to the tunes of "Santa Maria" performed by the Gotan Project. The night also brought a sexy encore performance by week four's favorites Donald and Peta, and towards the end of the show, there was a sneak peek of the Dancing With The Stars' amazing show live from Las Vegas.

The results for the night were as follows:

Gavin and Melissa were the first to receive their results and were both safe. Unfortunately, Melissa was not in attendance because of the concussion she incurred on Monday night; but Maks told the crowd that she was doing fine, and was looking forward to the performance next week.

Next, Maria, Gladys and Jaleel were called up for results, and were all saved. Gladys' save was a bit of a shocker, considering that she had the lowest scorer of the week; but I guess she has a lot of people out there rooting for her.

The results continued with Donald and Roshon who were both top scorers from Monday night, but that didn't mean much since Roshon was the first to be placed in the bottom. Next came Katherine, Sherri and William, and by this time everyone was on the edge of their seats wondering who was going to be eliminated. For this round of results, Katherine and William were both saved, but Sherri was placed in the bottom with Roshon.

So, who went home? Sherri Shepherd

"I just want to say thank you for letting me live a dream that I've always had. And I want to say to every person out there: That thing that scares you the most, that makes you say, 'I don't know if I can do it, I'm scared, run toward it because it's so amazing on the other side," said Sherri after the elimination.

Shocker? Yes! Going into the results show, I was pretty confident that Gladys or Gavin would be sent home, but after the two were saved I had no idea who would be saying their final goodbye. This was so unfair and just wrong.

What are your thoughts on last night's elimination? Was it wrong for Sherri to be eliminated?