'Dancing With The Stars' Week 3: Jack Wagner Gets Undeserved Elimination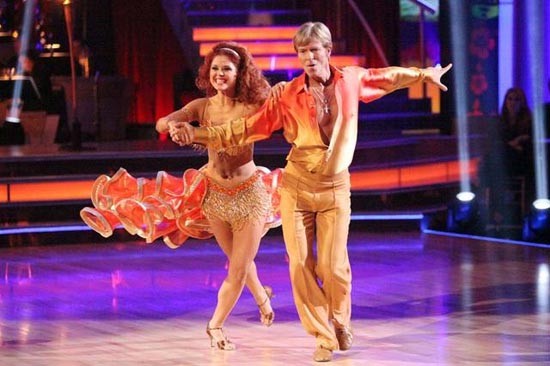 Coming into last night's results show was a bit difficult, since all of the stars performances were so amazing for week three. Even Len, who is usually overly critical, spoke about how unbelievable the performances were; and tried to convince the producers that no one should be sent home.
But, the tears and emotions from Monday's heartfelt night had to be pushed aside, and the time came when someone in the group would have to say goodbye. The judges scores going into elimination were as follows in ranking order.

1. Katherine Jenkins & Mark Ballas- 81
2. William Levy & Cheryl Burke- 77
3. Roshon Fegan & Chelsie Hightower- 74
4. Maria Menounos & Derek Hough- 73
4. Jaleel White & Kym Johnson- 73
6. Donald Driver & Peta Murgatroyd- 71
7. Sherri Shepherd & Val Chmerkovskiy- 70
8. Jack Wagner & Anna Trebunskaya- 68
9. Gladys Knight & Tristan MacManus - 66
10. Gavin DeGraw & Karina Smirnoff- 65
11. Melissa Gilbert & Maks Chmerkovskiy- 64
Performances:

Seal kicked off the night with his rendition of "Lean on Me." And, during the show Anna and returning pro dancer Jonathan Roberts performed a beautiful dance for former dancer, Julia Milena, who is currently living with stage four cancer. Also, Rascal Flatts hit the stage to ease some of the tension during the night, with the performance of "Changed."

The results were as follow:

Katherine, Maria, Gavin and Roshon were all called to the front, and out of the four Gavin was placed in the bottom. Gavin continues to show improvement every week, but with Katherine, Maria and Roshon, it was a no brainer that he would be placed in the bottom.

Next, William, Gladys and Jaleel were called up for results, and Gladys who had performed the foxtrot was placed in the bottom. Gladys had improved in her week three performance, but considering that she was up against William and Jaleel, I knew that she would be placed in the bottom.

For the next bottom placement, producers tried something different by bringing out an envelope to announce who would be the first to be safe out of the third group. The third group included: Sherri, Donald, Melissa and Jack; and when the envelope was opened, Sherri was chosen as the first to be safe. Afterward, Donald, Melissa and Jack were left to be judged; and unfortunately Jack was the one to be placed in the bottom.

So, who went home? Jack Wagner
Shocker? Yes! Going into the results show, I didn't even think that Jack would be placed in the bottom three, let alone eliminated. My picks for the bottom three were Gavin, Gladys and Melissa; and out of the three I thought that Gavin or Melissa would be the one to go home.

What about you? Did Jack deserve to be eliminated?