'Dancing With The Stars' - Week 2 Results And It's A Shocker!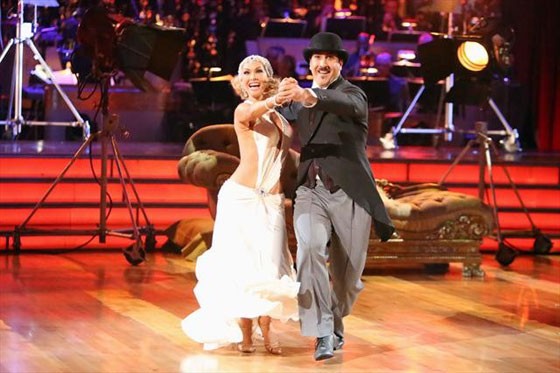 It's results night on "Dancing with the Stars" and after a night of performances one more couple will be eliminated from the competition.
Before any results were revealed head judge Len Goodman announced that the encore performance the judges wanted to see was the top scoring Quickstep from Sabrina and Louis.
The first couples to learn their results were Sabrina and Louis, Joey and Kym, Drew and Anna, and Emmitt and Cheryl.  The first couple safe on week two was Sabrina and Cheryl; Emmitt and Cheryl and Drew and Anna joined them; but Joey and Kym were in jeopardy and would have to wait to learn their fate.
British pop star Cher Lloyd performed "Want You Back".  After a break the first Macy's Stars of Dance of the season was an acrobatic futuristic battle royale.  "So You Think You Can Dance" winner Benji Schwimmer and his sister SYTYCD alum and DWTS pro Lacey joined the DWTS Troupe for a performance of dances previously performed by DWTS couples.
Shawn and Derek, Bristol and Mark, and Kristie and Maks were all safe; but Kelly and Valentine were in jeopardy.
Classical singing stars Katherine Jenkins – who was a finalist last season on DWTS – and Placido Domingo performed "Come What May" as Anna and Valentine danced.
The last four couples – Helio and Chelsie, Melissa and Tony, Giles and Peta, and Apolo and Karina – learned their results.
Apolo and Karina, Melissa and Tony, and Giles and Peta were all safe; but Helio and Chelsie were in jeopardy making the bottom three couples Kelly and Valentine, Helio and Chelsie, and Joey and Kym.
Kelly and Valentine were saved leaving either Helio and Chelsie or Joey and Kym as the couple that would be eliminated from the competition.
The second couple eliminated in season 15 of DWTS was Joey Fatone and Kym Johnson!  After the announcement Joey could only talk of how much fun he had and that while he appreciated the votes they got he didn't really care about them.
Next week the couples must produce some eye popping performances as the celebrities take creative control of the dances; and on the Tuesday results show, two couples will be eliminated.