'Dancing With The Stars' Week 2 Elimination: Elisabetta Canalis Dances Her Last Dance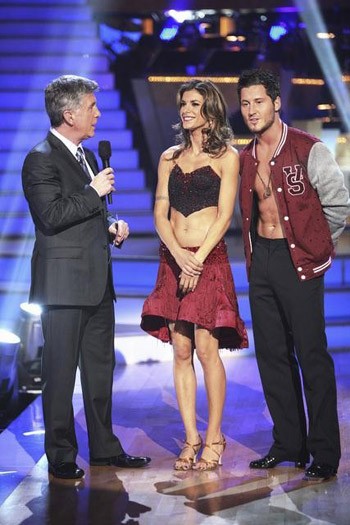 It was a mostly lackluster Monday night on "Dancing With The Stars," but that's bound to happen when you throw a bunch of almost-celebrities together in a position totally out of their comfort zones.  Some weeks it just works a lot like herding cats.

Well, that's probably a little harsh, but the day I start taking this show too seriously, it's time to stop watching.  That time hasn't come yet, obviously, so last night it was time to sit down and watch all the flashy filler, waiting for the only thing I wanted to hear, who was going home.

Here's where the leader board stood as of Monday night:

1. Ricki and Derek - 23
2. Kristen and Mark - 22
2. J.R. and Karina - 22
3. Chynna and Tony - 21
3. Rob and Cheryl - 21
3. Elisabetta and Val - 21
3. Nancy and Tristan - 21
4. Hope and Maks - 19
5. Carson and Anna - 18
5. David and Kym - 18
6. Chaz and Lacey - 17

Until I typed this list, I didn't realize there was a four way tie for third place!

Jumping right in, Carson and David got called up first.  Carson made it through to next week (much to my excitement), but David was in jeopardy.  Ricki and Derek got the encore dance, and tore up the stage.  I would have loved to see J.R. again, as I think he would have got the top score if it wasn't for those lifts and the lindy hop content, but Ricki was still great.

They gave us a silly 'MTV Cribs' parody, showing off the rehearsal space they use, and then The Script played some mediocre pop song.  Again, probably harsh, but my ears refuse to sugar coat things for me some times.  It was nice to see Chelsie Hightower dancing, though.

Next Ricki, Kristen, and J.R. were given the green light to next week, and our first Macy's Stars of Dance performance came and went.  Am I allowed to say I didn't get it?  I mean, it was pretty, and I enjoyed it, but was there a story I missed?  The lead dancer looked so angry.  And she looked that way even before she accidentally got whacked with a huge feathery prop, so... yeah.

Chaz was the next to land in the bottom three, while Rob and Nancy went through to week three.  Demi Lovato sang after that, accompanied by... ladder dancing?  Performed by dancers that I'm pretty sure were having synchronized seizures.  Yet again, I didn't get it.

The bottom three was rounded out when Hope and Chynna got a pass, leaving Elisabetta right down there with Chaz and David.  I was surprised to see David in the bottom, since he's just so likable.  I was even more surprised that he was in the bottom two, since Tom told us that this weeks' bottom two really were the couples with the lowest score.  Ouch.

So who went home? Elisabetta.  

I was so relieved.  I would have been okay with Chaz going home, but not David.  It was too close for comfort.  Maybe next week I'll spread my votes out a little more.

Did the right person get the boot?  I think so.  Now I'll cross my fingers that David can pick himself up and blow us away next week.