'Dancing With The Stars': Switch-Up Challenge And Surprise Results In Week 6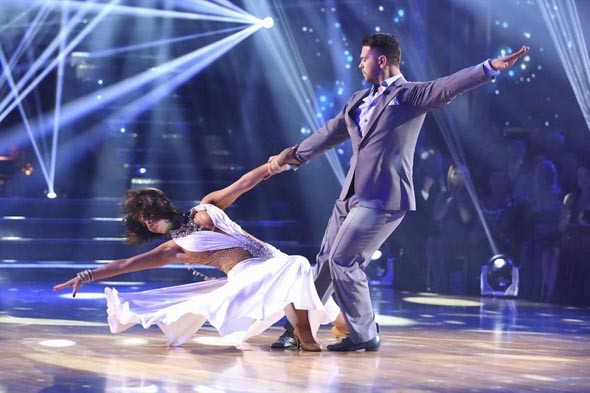 With only eight competitors left in week six of Dancing With the Stars, this will be an intense week of competition. The stars will face the Tango, Paso Doble, Waltz, Foxtrot, Samba, Quickstep, Cha Cha and a special improvisation dance with our favorite redneck, Bill Engvall and his partner Emma Slater up first. It seems odd to watch the couple dance the 'serious and sexy' Tango to "Cheeseburger in Paradise" but they somehow made it work and score a 23 with the judges. Next up are Elizabeth Berkley and Valentin Chmerkovskiy who will tackle the Cha Cha. After an emotional breakdown from Elizabeth recounting her past movie, Showgirls and how she thought she might never get past that stereotypical role, she pulls herself back up and is determined to wow the judges. And wow them she did with a perfect score of 30. 
Last week, Leah Remini and Tony Dovolani were at the bottom of the barrel and are determined to pull themselves to the top this week with the Quickstep. After a little pep talk from her best buddy, J Lo, will she impress the judges this week? We can definitely tell that her confidence is high after her routine but what will the judges think? Carrie Ann thought her Quickstep was the biggest turnaround yet while Len and Bruno thought Leah was impressive and scored a 27 tonight. Bottom of the barrel, what??  Brant Daugherty and Peta Murgatroyd are the next couple to perform the Tango and with Brant's Pretty Little Liars costars and fans behind him 100%, he is ready to kick some butt. Not only were his facial expressions very Tango-tastic, he certainly kicked some butt with a score of 28– his best performance yet.
Top couple to beat, Amber Riley and Derek Hough will perform the Samba next and perform the Samba did they. Holy hotness! But will the judges agree with us? Bruno couldn't find one misstep in Amber's performance, Carrie Ann was giddy but Len was the self-proclaimed party pooper and called out an extra lift in the routine. Despite Len's criticism, the two scored a 28. Boo, Len, boo! Jack Osbourne and Cheryl Burke will perform the Paso Doble next while his sister Kelly, his mom and wife and daughter cheer him on in the audience. We thought he did a pretty good job but weren't crazy impressed by his moves. We can tell that the judges feel the same way when Carrie Ann starts off by saying, "well, we like that you put your heart into it." Jack and Cheryl score a 25 for their dance.
Our last two couples, Corbin Bleu and Karina Smirnoff and Nicole "Snooki" Polizzi and Sasha Farber will close out the night with their dances before the switch up improvisational challenge. Snooki and Sasha build us up like buttercups with their Foxtrot but will the judges feel the love? We had to shake our head when Bruno calls Snooki "elegant" but agree that she had improved immensely and walks away with a 27. Corbin and Karina will perform the Waltz to the theme song from Game of Thrones. Corbin is overly excited as that is his favorite TV show but will his dancing skills impress the judges? Apparently his lines were off though (completely obvious, right?) and he and Karina scored a 23. Ouch! 
As round one comes to an end, Mika and Ariana Grande take the stage to perform "Popular" from the Wicked soundtrack. In round two, the stars will be dancing together while the music is changing, with no rehearsal and no preparation. Initially, Leah Remini walks out but decides to come back and perform with her partner. Whoever dances the best the longest gets the most points. It's hard to tell who will win this completion. With Elizabeth and Val on top, the stars are broken up into two teams- Jack, Corbin, Bill and Snooki vs. Leah, Brant, Amber and Elizabeth. The switch up challenge is actually very hysterical to watch as we go from Jazz to Hip Hop in a matter of minutes. Corbin and Karina are the last couple standing in the first group and will earn 4 bonus points. The next group looks on nervously and finally it's their turn to hit the dance floor. Leah and Tony are first to be tapped out as Amber and Derek sweep the round and earn 4 points.
As we close out week six, the leader board is as follows: Elizabeth and Val and Amber and Derek are tied for first place, followed by Brant and Peta, Snooki and Sasha, Leah and Tony, and Jack and Cheryl with Corbin and Karina at the bottom of the leader board. But who will be the next couple kicked out of the competition?
No one is going home this week due to a technical error last week. "The incorrect phone numbers were shown, resulting in votes accidentally cast for the wrong couples," explained host Tom Bergeron. "In fairness, we decided to discard all viewer votes and not eliminate anyone this week."
Tune in next week to see what couple will be kicked out of the competition.