'Dancing With The Stars' Steamiest Night Falls On Latin Night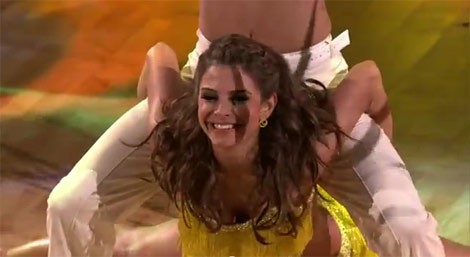 Last night marked the halfway point of season 14, and the stars came one by one heating up the floor with their sexy moves for Latin Week. For the shows steamiest week, the contestants had the option to either dance to the samba, salsa or Argentine tango.

Carlos Santana was the performer for the night and kept things hot, with the sultry sounds from his guitar. The evening filled with energetic performances was amazing, and I can say one of the best nights of the competition.

My favorite performance of the evening was by William. As for my least favorite, it would have to be Gavin. Here is the full recap from last night's show.

Let me know your thought down below.
1. Jaleel White (Actor) & Kym Johnson
Dance: Samba
Song: Gloria Estefan- "Rhythm Is Gonna Get You"
Scores: 8, 8, 8
Judges: Carrie Ann said this week you came out with attack and fire. Just one thing. When you pull your arm out, watch your hold. Bruno said you got the party started. That wiggle, you've done that before. Len said one of the keys to the samba is rhythm and you had it. Your bum was going like you were chewing taffy.

My Opinion: Jaleel came out this week with a lot of energy and fire, and I loved the extra wiggle. His performance was a great way to start off the night.

2. Melissa Gilbert (Actress, Writer and Producer) & Maksim Chmerkovski
Dance: Salsa
Song: Marc Anthony- "Aguanilé"
Scores: 7, 7, 7
Judges: Carrie Ann said it's beautiful to see the confidence you've developed over the weeks. You take steps that are a little too big for you at times, but you looked beautiful and did well. Bruno said my darling I tell you, maximum fire, but you have to be on it. You have to control it, and go with it. Len said great rhythm and feel, but there were some parts that weren't too good.

My Opinion: I have to agree with Carrie Ann. It's amazing to see how much Melissa has grown over the weeks, but she still needs to loosen up a bit more.

3. Maria Menounos (Actress, Author and TV Host) & Derek Hough
Dance: Salsa
Song: Ricky Martin- "The Cup of Life"
Scores: 9, 9, 9
Judges: Carrie Ann said Wow! That was hot. Maria your upper body is so still and elegant, but I don't think you needed the kiss. It was a sell out. Bruno said three questions. Was it legal? Do you want to get a room? Can I join in? Len said two things were revealed, Derek's body and your talent. I didn't like Derek's body too much, but I think you're a great dancer.

My Opinion: Each week Maria seems to get better and better, and tonight was one of her best performances.


4. Katherine Jenkins (Singer) & Mark Ballas
Dance: Argentine Tango
Song: Astor Piazzolla- "Tanguedia II"
Scores: 10, 9, 10
Judges: Carrie Ann said perfection. Your legs are the best that I've ever seen on 'Dancing with the Stars.' Bruno said fancy, the choreography was of the highest quality and the storytelling was played out well. Len said it was bittersweet and sharp.

My Opinion: Katherine and Mark won the judges over with their beautiful dancing, earning their top spot back.

5. Gavin DeGraw (Singer and Songwriter) & Karina Smirnoff
Dance: Samba
Song: Harry Belafonte- "Sweetheart from Venezuela"
Scores: 6, 6, 7
Judges: Carrie Ann said you were lacking a bit of the form. Love you for trying. Bruno said don't know if I should laugh or cry. You just let yourself go hoping for the best. Len said it was more of a shamba than samba. This is a hard dance, but I have to say it was a gallant effort.

My Opinion: I love Gavin's presence and personality, but he's just not a good dancer. Fans stop voting, he needs to go home.

6. William Levy (actor) & Cheryl Burke
Dance: Argentine Tango
Song: The Pussycat Dolls- "Buttons"
Scores: 10, 9, 10
Judges: Carrie Ann said I'm gathering myself. That was ridiculously amazing. You were like the latin James Bond out there. Bruno said throbbing intensity, sleek and sexy. Len said mood, passion and sensuality.

My Opinion: I couldn't take my eyes off of these two. Hands down it was the best and hottest performance of the night.

7. Gladys Knight (Singer and Songwriter) & Tristan McManus
Dance: Samba
Song: Little Willie John- "Fever"
Scores: 7, 7, 8
Judges: Carrie Ann said there is something about watching you dance. When you are out there you command the stage. Bruno said you have to play to your audience, and you did. Len said easy on the eyes and natural. This number was simple, but very effective

My Opinion: I loved Glady's performance last night. She looked amazing, and showed that she could really move.

8. Roshon Fegan (Disney Star) & Chelsie Hightower
Dance: Salsa
Song: Mohombi- "Bumpy Ride"
Scores: 9, 8, 9
Judges: Carrie Ann said you were sexy in a Disney way. Bruno said Roshon you are wired for salsa. The energy and timing was wonderful. Len said I like your enthusiasm. You're like a young guy with a new car, but sometimes you have to just slow down to enjoy the ride.

My Opinion: Amazing performance by Roshon, and I love his footwork. I'm hoping that he doesn't end up in the bottom again or get sent home, because he is definitely one of the best.

9. Donald Driver (NFL Football Star) & Peta Murgatroyd
Dance: Argentine Tango
Song: Otros Aires- "Sin Rumbo"
Scores: 10, 8, 9
Judges: Carrie Ann said that was divine. There is so much technique involved in lifts and you were in control. Bruno said the build up was amazing. Ready for the kill. That was a great show. Fantastic job! Len said I thought the lifts were spectacular.

My Opinion: Everyweek the chemistry between Donald and Peta gets stronger, and I thought their performance last night was very hot and one of the best of the night.