'Dancing With The Stars' Siblings Julianne And Derek Hough Open Up About Their 'Crazy Childhood'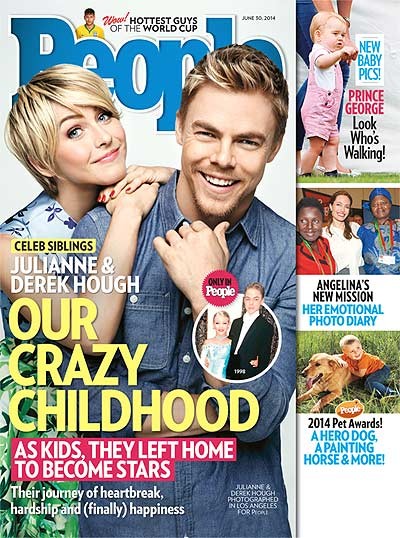 Raised in a Mormon household by their parents in Salt Lake City, Dancing with the Stars' siblings Julianne and Derek Hough performed at school and state fairs. "My dad would tell Derek, 'No hip thrusts onstage!' - which I now think is so funny because he earns a living doing that," Julianne tells PEOPLE in this week's issue. Their careers took a much more serious spin when Julianne turned 10 and Derek was 13. Their parents, who were divorcing, made the tough decision to send the two ballroom-dance prodigies to the prestigious London dance school Italia Conti Academy of Theatre Arts, forcing them to leave their three older sisters and sheltered Utah life behind.

"It was a very difficult time for our family," says their father Bruce, who like their mom, Mari Anne, visited them periodically. "We didn't want them to have to choose between their parents, and they had a great opportunity in England." The siblings endured a grueling schedule that had them leaving the house every morning at 6:45 am, taking the subway by themselves and heading to school. After a long day of dance and academics, Julianne and Derek would eat dinner and then go back into the studio until 11 pm. "It was hard," admits Derek. "There were moments when I just wanted to go and have fun."

More stories are featured in the 6.30.14 issue of PEOPLE; on newsstands now.

*Also in this week's PEOPLE*:
Photo Exclusive: Angelina Jolie's New Fight
Exclusive - Michael Douglas: In His Own Words
2014 'People' Pet Awards: A Hero, A Painting Horse, And More!